Meraki Medical Associates LLP will begin offering COVID-19 vaccinations Friday, Aug. 20, at 1001 Dunbar Street in East Waco. The opening is planned in conjunction with August being National Immunization Awareness Month.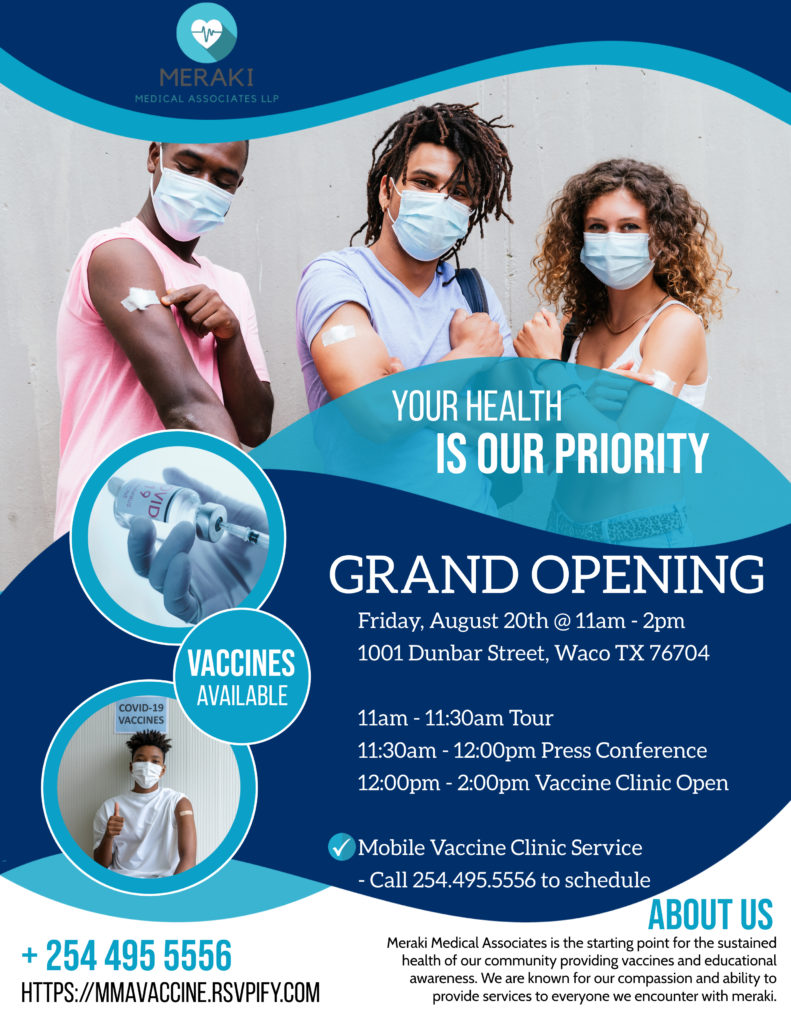 CEO Sophia Strother formed Meraki "to create access and awareness for communities of color in the East Waco," she said. Meraki is Greek for doing something with soul, creativity, and love. "It's important to always put something of yourself into what you're doing, whatever it may be. We are a starting point for the sustained health of our community. We will be known for our compassion and ability to provide services to everyone we encounter with meraki."
Strother is passionate about helping communities of color fight against COVID. After having over 10 family members directly affected by the virus, she decided she needed to take action. Partnering with Living Word Church of God in Christ, Meraki is set to open its clinic Aug. 20 to provide community-focused health awareness on the importance of vaccine-preventable diseases. It will provide vaccination clinics and educational opportunities statewide that will target underserved communities and special populations. 
Meraki is at 1001 Dunbar St., Waco. This building has housed Living Word Church of God in Christ, Meals on Wheels, and Community Food Pantry for all of 20 years. Meraki believes "every person deserves an opportunity to be given a health experience that inspires them and enhances their quality of life. The team hopes to partner with other faith-based organizations, community organizations and corporations to administer vaccinations to individuals 16 years and older." Sophia is passionate about helping others through faith, knowledge, and resources. 
Aug. 20 Events at Meraki
11 a.m. – 11:30 a.m. – Tour
11:30am – noon – Press Conference
Noon – 2 p.m. – Vaccination Clinic
Strother also owns a logistics company and was recently featured on HGTV's "40 Year Old Property Virgin." Connect with Sophia online here.
The Act Locally Waco blog publishes posts with a connection to these aspirations for Waco. If you are interested in writing for the Act Locally Waco Blog, please email Ferrell Foster at [email protected].