Candidate for City Council, District 1: Andrea J. Barefield
By Andrea Barefield
Waco is a city on the move. I've never known our city to remain stagnant, but something feels new, exciting, daring and bold. District One is the epicenter of this movement.  I am honored to have had a front row seat to a transformation of a community that has worked hard to survive and has had the audacity to thrive.  I often speak of District One using the words Truth, Vision and Voice.  These three words embody District One's will to push forward and its destiny to pull through.
Truth
Every community has a story, but District One's can best be described as a legacy.  Driving down Elm Avenue, Clifton Street and Waco Drive fills me with childhood memories of bustling corridors of small businesses leading to a bastion of higher education, Paul Quinn College.  Many things have changed, but so many more remain the same.  The unchanged truth about District One is the mighty entrepreneurial spirit that runs through it.   As City Councilwoman and Mayor Pro Tem, I am dedicated to sharing that truth, when and wherever I can.  In return, I am equally committed to transparency. Being truthful to the residents and constituency of District One, regarding the City's plans for and responses to our community, is a must.  Truth telling resulted in non-compliant property owners making improvements to living conditions for District One residents or facing legal consequences. Truth telling brought forth the development of equity policies for the City of Waco, so that we all have a seat at the table of opportunity and growth.
Vision
District One sees itself as worthy of this city's best efforts.  I have tried to champion this vision and bring it to fruition.  I have called for an Equitable Economic Development Plan that includes resources for all chambers to benefit our community.  The vision has brought forth tangible results, such as increased local incentive funding and working with developers to ensure the soul of our community is kept intact.  Additionally, the first full-service bank in District One, since the 1930s, is now being built for our community's convenience.
Voice
Ultimately, truth can't speak itself and visions don't work until people do.  I wholeheartedly accept these challenges on behalf of District One. I am humbled to have been given this opportunity to be the voice of District One's purpose and passion, but I don't take this responsibility for granted. I have initiated City Hall 101, a learning track for citizen engagement, because my voice isn't the only one that needs to be heard. I host quarterly On The One Community Conversations to make sure I hear, understand and fight for the needs and wishes of District One. Additionally, I partner with other local elected officials to pursue seamless delivery of information and resources to our communities.
Together, we've gotten a lot accomplished, but there is still much to do.  The advancement of District One continues to be my priority.  That looks like building access to capital.  That looks like creating more pathways to workforce development and education.  That looks like building affordable housing.  That is what re-electing me, Andrea Barefield, looks like.  From McLain Stadium to the Elm Avenue corridor to Cameron Park to MCC and TSTC  – District One has Truth, Vision, and Voice to guide us through this moment of building bridges from our historically rich past to our dynamic future.  I am raising my own children in the city that nurtured my hopes and dreams.  I am honored to nurture the hopes and dreams of District One.
In this election, whether you are voting by mail, early, or on Election Day, I urge District One residents to keep standing with Truth, Vision, Voice and vote to Re-Elect Andrea J. Barefield, Waco City Council, District One.
---
Biographical information for Andrea Barefield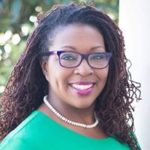 Andrea is the Executive Director of the Texas Brazos Trail Region – part of the Texas Heritage Trails Program.  Texas Brazos Trail's mission is to educate, engage and promote cultural and heritage tourism in the 18 county Texas Brazos Trail Region.  Before joining the Texas Brazos Trail Region, Andrea was the Main Street Manager for City Center Waco.  There, she was able to develop, cultivate and grow a sense of community in Downtown Waco through historic preservation, economic development, and placemaking.
Andrea was elected to serve on the Waco City Council representing District 1 in 2018, and is currently Mayor Pro Tem.  She serves on the Texas Ranger Hall of Fame Museum board, the Airport Advisory board, and she continues her love for working with young people by serving as Council Liaison for the Waco Youth Council. She is coaching them in civic leadership training and helping them cultivate special projects like recycling and educating other young people about their carbon footprint.
She serves on the Texas Downtown Association Board, Waco ISD Foundation Board, Prosper Waco Board, Creative Waco Cultural Arts Task Force, NAACP Executive Committee as 2nd Vice President and Economic Engagement Chair, Communities in Schools Board, StartUp Waco Board, Community Visioning Board and Texas Lyceum.    Andrea is also a proud member of the Waco Alumnae Chapter of Delta Sigma Theta Sorority, Incorporated.
Andrea has a Public Relations degree from Sam Houston State University, Huntsville, Texas, where she met husband Elijah, and they have been happily married for 17 years.  They have two beautiful sons, Drew and Jaxon.
(Visited 628 times, 1 visits today)