Candidate for City Council, District 3: Josh Borderud
By Josh Borderud
Striking a Balance During the Pandemic. The most pressing issue is striking a balance between vigilance on public health during the pandemic and continuing the momentum of Waco's economic growth of the past decade. On city council, I will strive to listen carefully to our public health authorities, our school districts, our business owners, and the community in making all decisions. There is no road map or handbook for how to navigate such an unprecedented time in our history, but I will draw on my experience, local expertise, and community input to provide informed, dependable, and responsive leadership.
A Focus on District 3. The city needs to significantly prioritize District 3 to ensure it receives a fair share of resources. With the ongoing rapid growth in residential construction, I would advocate for parks, libraries, community centers, road improvements, and increased police patrols in in the district. As your city council member, I will work to persuade my colleagues on city council and on city staff to share my belief that the district needs sustained attention. As a neighborhood association past president, I know first-hand the impact of city decision-making on neighborhoods. Many neighbors in District 3 are passionate about maintaining the character and integrity of their neighborhoods amid the increase in commercial development, the boom in residential construction, and the popularity of short-term rentals. As chair of the Waco Plan Commission, I have paid particular attention to the perspectives of the surrounding community whenever there is a zoning change or development that seeks to alter the character of a neighborhood.
Managed growth. As the chair of the Capital Improvements Advisory Committee, I share the emphasis on long-term thinking as we manage our growth. A focus on strategic planning, economic development, and infrastructure is key. We want industry and entrepreneurship to continue to flourish in partnership with the city. Growing our tax base responsibly will enable the city to continue to deliver quality services to all Wacoans.
If elected, I plan to continue the council role as bridge builder between Wacoans, our city, our county, our school districts, nonprofits, and businesses. Having worked closely with numerous officials in the last decade on boards and committees, I will carry on the work of achieving positive outcomes for District 3. I will continue to be a strong and responsive advocate for the neighborhoods, businesses, and nonprofits of the district.
To learn more, please visit:
https://www.facebook.com/Josh-Borderud-for-Waco-City-Council-Dist-3-101743101288110
---
Biographical information for Josh Borderud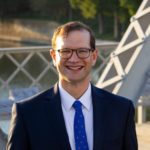 Josh Borderud has served on City of Waco boards and commissions since 2012. He currently serves as the chair of both the Plan Commission and the Capital Improvements Advisory Committee, and is a member of the Waco Metropolitan Planning Organization Policy Board. He is a past chair of both the Zoning Board of Adjustment and the Animal Welfare Advisory Board. He serves on the boards of the Austin Avenue Neighborhood Association, the Waco-McLennan County Bar Association, and the Heart of Texas Region MHMR Center. He is an alumnus of Leadership Waco and a past president of the Waco-McLennan County Young Lawyers Association. Recently, he spearheaded the effort to create the Veterans Treatment Court in McLennan County.
As the Director of Clinical Programs at Baylor Law, Josh mentors law students in providing legal services to veterans, first responders, and children. Previously, he worked as an attorney at the Waco law firm of Pakis, Giotes, Page & Burleson, P.C., representing clients in civil litigation. While in private practice, he was named the Outstanding Young Lawyer of McLennan County. He began his legal career in nearby Milam County as a prosecutor and legal adviser to the county judge.
Josh received a bachelor's degree in history, a master's degree in history, and a law degree, all from Baylor University. He is married to Jennifer Borderud, the director of the Armstrong Browning Library. They have two children and are active members of Calvary Baptist Church. As a family, the Borderuds enjoy Heart of Texas Soccer, Star Wars, and their Baylor football tailgate.
Josh is endorsed by former mayors Malcolm Duncan Jr., Virginia DuPuy, and Mike Morrison; councilman John Kinnaird; five Midway ISD school board trustees; two Waco ISD school board presidents; and the Association for Good Government.
(Visited 597 times, 1 visits today)