The best $5 I spent last year…
By Ashley Bean Thornton
Art on Elm was on April 13 last year. The night before, at the preview party, the organizers had arranged for a photographer. He had a big picture frame suspended from some wires and an assortment of goofy hats and other accessories to entice people to pose within the frame for a picture. My friend Ramona and I took full advantage — she wore the pink feather boa and I wore the huge crown. We had a blast.
The next day was one of those fine Texas spring days that make you remember why you love living here – perfect temperature, blue sky. I had breakfast at the Farmer's Market, then headed over to Elm Avenue to enjoy the art festival. I strolled through the booths, yakked with some friends, listened to some fantastic music and enjoyed a scone at Lula Jane's. On my way home from Art on Elm I decided to swing by the Habitat Restore on Franklin. They were having their annual half-price sale. The first thing I noticed when I walked through the door was a huge stack of big three-foot-square picture frames. Originally priced at $10 each, they were $5 each for half-price day. Who can resist that? I bought two.
One of my extra-curricular activities is managing a website called Act Locally Waco. The idea of the website is that everyone has a part to play in making our community a terrific place to live.  It is  kind of like an on-line Greensheet for getting involved in Waco.  It's full of local events, volunteer opportunities, announcements, resources… all kinds of things that contribute to the general greatness of Waco. Of course you can't have a website these days without also having a "social media presence," so I run the Act Locally Waco Facebook page as well. I am no social media expert by any means, but in my limited understanding, what makes Facebook fun is pictures.
It seemed providential that these $5 frames at the Re-store appeared in my life so immediately after having such a great time with a picture frame at the Art on Elm preview party. It sparked an idea: what if I take one of these picture frames with me on my adventures around town and catch people in the act of getting involved in Waco and then post them on the Facebook page? Why not? I bought a can of orange paint and painted one of the frames to match the orange in the website. Thus was born The Big Orange Frame.
In the course of a year I've lugged that frame to dozens of events and activities: The L.I.F.T. Workshop at First Baptist, Farm Day, Juneteenth, the Education Alliance Summit, the Farmer's Market, First Friday Downtown, the East Waco Library mural party, The Texas Hunger Initiative Summit, The Cultural Arts Festival, Winter Wonderland, so many more… I cannot possibly list them all in the space available here.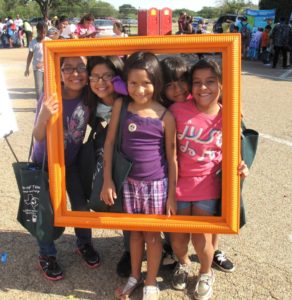 It turns out that more people than you might think find it hard to resist a middle-aged lady in red tennis shoes with a giant orange picture frame and a camera. I bet I've taken almost a thousand pictures this year. I have pictures of every size, shape, race and age of person you can imagine. I also have pictures of a fair number of dogs, one goat, and a chicken of some kind – all captured in the Big Orange Frame. That $5 investment has paid for itself over and over in laughter and fun.
It's been right at a year since the Big Orange Frame was born, and it struck me that it would be fun for the one year anniversary to try to put all the pictures on display somehow. My friend Susan Mullally in the Baylor Photography Department and John Orr at Frames, etc. on Bosque came to my aid, and thanks to them we figured out a way to get about 350 of them printed and framed in five giant posters in time to show them off at Art on Elm this year. That's not nearly all of them, but it is an impressive chunk.
While working on that project I spent one entire afternoon looking at the years' worth of pictures. It turns out I am not that great of a photographer. Many of the pictures are too shady or too bright…oh, but the people, the faces…each one is incredibly beautiful. Looking at the faces of our community, one after another – kids and middle aged folks and older people, every color and shape, smiling and shy, in groups and alone – struck a chord deep inside me, a chord that I don't always attend to in the midst of my busy life. I cannot adequately describe how precious we all seemed to me in that moment. I got teary-eyed looking at those faces, and I'm getting teary-eyed again writing about it.
It reminded me of a quote from the Trappist monk Thomas Merton that I heard a long time ago. He had his epiphany watching the busy crowds walk by at the corner of Fourth and Walnut in Louisville, Kentucky. I had mine at a computer looking at beautiful faces from Waco, Texas, but the sentiment is the same: "I'm a member of the human race just like everyone else. I was suddenly overwhelmed with the realization that I loved all those people, that they were mine and I theirs, that we could not be alien to one another even though we were total strangers. …. A member of the human race! To think that such a commonplace realization should suddenly seem like news that one holds the winning ticket in a cosmic sweepstake. …I have the immense joy of being a member of the human race: if only everybody could realize this! There is no way of telling people that they are all walking around shining like the sun."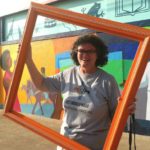 This Act Locally Waco blog post is by Ashley Bean Thornton, the Manager of the www.www.actlocallywaco.org website and the editor of the Friday Update newsletter.  The Act Locally Waco blog publishes posts with a connection to these aspirations for Waco.  If you are interested in writing for the Act Locally Waco Blog, please email [email protected] for more information.
(Visited 37 times, 1 visits today)