Exploiting Our Citizens: Predatory Lending and its devastating effects on our Waco economy
by Ryn Farmer
 Each year, nearly 9 million dollars are drained from the Waco economy because of excessive fees charged by predatory lenders.
Recently, a documentary came out called "Spent: Looking for Change." It follows the lives of four different families who are struggling to get by and end up using payday loans and auto title loans to help supplement their income. One of the individuals in the documentary states, "It's not an irrational choice. It's just not a productive choice… and it's a costly choice." And sometimes working families do not have any other option. You can watch "Spent" by clicking here.
Payday loans and auto title loans emerged in the 1990s. They were developed as a way to provide small cash advances to individuals who had poor credit and could not get a loan from a financial institution. Gary Rivlin with AlterNet writes, "By 2006, the payday loan was a $40-billion-a-year industry with more storefronts scattered around the country than the combined numbers of McDonalds and Burger King, each offering a kind of fast-food finance to the working poor at annual interest rates as high as 500 and 600 percent, depending on the state." ("Meet the Man Who Made a Fortune Exploiting the Poor With Payday Loans")
This issue has garnered much conversation, both in the state of Texas and in Waco, over the past several years. In many other states payday and auto title lenders are highly regulated, but in Texas few regulations exist to keep these entities in check. Because of the lack of regulation, there has been a tremendous growth of payday lenders in Texas. They use coercion to reel in consumers and then extort them by keeping them in a tangled web of debt through excessive fees and multiple refinances of the loan.
Under the current state law:
No limits on fees
No limit on interest rates
No limit on the size of the loan
No limit on rollovers or refinances
No limits on ability to repay based on income
The impact on consumers is devastating. In Texas, the loan rate can be upwards of 500% APR. The average amount borrowed in Texas is $500 for a payday loan and $800 for an auto title loan. The average payday borrower in Texas pays $840 for a $300 loan. Many payday borrowers take out additional loans to cover previous loans resulting in a vicious cycle of debt. In the greater Waco area, there are 65 storefronts and 55% of consumers refinance their payday loan (Citizens for Responsible Lending, 2014; Texas Appleseed, 2013).
All of this seems absolutely ridiculous, right? So how is it legal? The diagram gives a short explanation. The consumer pays the money to the Credit Service Organization (CSO) or the Credit Access Business (CAB), which is the storefront, and only interacts with them. The storefront (the CSO/CAB) is unregulated in Texas and can charge any amount they want in fees. The lender (usually a bank) provides the loan capital at a 10% interest rate to the CSO/CAB and the lender does not have a direct relationship with the consumer. The consumer pays the 10% interest plus the additional fees that the CSO/CAB adds to the loan.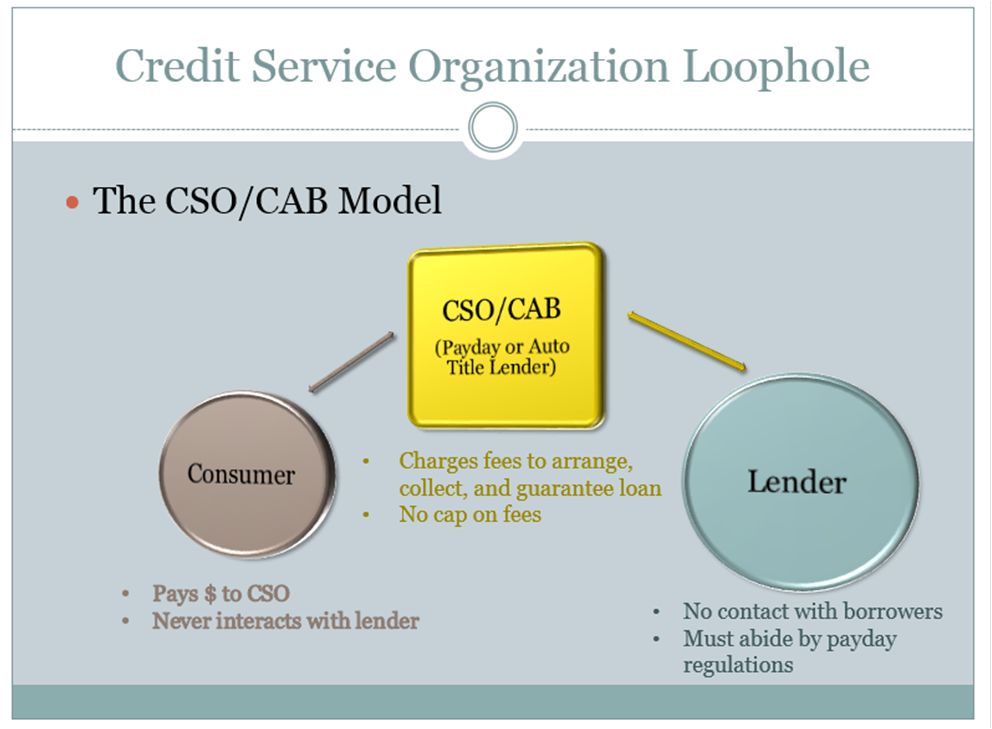 A woman from Waco tells her story about using a payday lending service after experiencing some unforeseen difficulties: "My husband was injured at his work place and had to go on disability. That meant we were on a fixed income. I started with a cash store because I saw an ad on TV. I got $300. Every 2 weeks there was a repayment due. I would pay $67 or $70 in fees to refinance the loan. I'm on a part time income. I have paid $150 in interest and I still owe $300. Because I couldn't pay it back I got another one and another and another one to pay back my other loan. My husband also took out 4 other loans. After a year of this they let me break down the loan into 4 payments, but you have to ask for this plan. They don't advertise it, and you have to qualify. We barely had enough money for food… I closed my bank account and stopped paying on the loans. I know it's probably on my credit report. If you're going to do work with legislation you should tell them to offer payment plans to customers. The payday lenders don't tell their customers about that option. It would help to have payment plans instead."
Little is being done at the state-level to address these concerns. There has been a push in the state of Texas to pass ordinances at the local city level and to create ethical alternatives. So far, 18 Texas cities have passed ordinances to limit payday and auto title lenders. Waco has worked to address this in the past and is currently ramping up efforts. However, few viable alternatives exist in Waco so far.
Citizens for Responsible Lending is a group of individuals from a variety of sectors in Waco who have formed several task teams to work on addressing predatory lending. They are looking at what type of ordinance could be passed within our city and in the greater Waco area to limit payday and auto title lenders. They are also seeking to develop an alternative to these negative business practices that exploit our citizens. If you are interested in joining Citizens for Responsible Lending or would like more information about this issue, please contact Ryn Farmer or Alexis Christensen at 254.235.7358 or email them: [email protected]  or  [email protected].
This Week's Act Locally Waco Blog post is by Ryn Farmer. Ryn is a Community Organizer at the Waco Community Development Corporation (Waco CDC). Waco CDC helps to inspire and cultivate healthy neighborhoods. They consider a healthy neighborhood to be one that is safe, clean, and diverse; one in which it makes economic sense for people to invest and one where neighbors manage change successfully. If you would be interested in writing for the Act Locally Waco blog, please send an email expressing your interest to [email protected].
(Visited 44 times, 1 visits today)