Waco-Centric Resolutions for 2015
by Ashley Bean Thornton
These are exciting times in Waco! Let's keep that ball rolling with some community-centric resolutions for 2015. Here are a few ideas to get us started. I'm sure you can think of many others…
Spend more time downtown – So much great stuff is happening downtown! The more we take advantage of the opportunities, the better they will become. If you haven't been downtown lately, "First Friday Waco" (find it on Facebook) is a good way to stick a toe in – lots of downtown shops and other places stay open late the First Friday of each month. Or check out the scene at the Waco Downtown Farmer's market. I don't even like vegetables (maybe a resolution for next year!), but I love going to the farmer's market and watching the parade of dogs and babies. If you don't want to spend much (or any) money, there are lots of free activities downtown throughout the year: Brazos Nights Concert Series, Fourth of July Fireworks, Waco Cultural Arts Fest, Waco Wonderland, Baylor Gameday, and the biggest free gift of all – Cameron Park. Check out www.chisholmcrossing.com to get the details about downtown happenings.
Spread good news about Waco ISD – Whether we have school age children or not, every single one of us has a stake in Waco ISD.   A thriving public school system is a "must have" for Waco to achieve its potential as a terrific community. Resolve to be a cheerleader for our school system. Google "Waco ISD enews" to find the website where you can sign up for the Waco ISD "In the Know" newsletter. It comes out a couple of times a month and is full of examples of great things happening in our local schools. It will make you proud of what our students and educators are doing, and it will give you plenty of good news to spread. If you want to get even more involved, google "WISD Community Partnerships" to find information about volunteering, or participating in the Adopt-A-School program. You can also find wish lists from various schools in the district on that same site     .
Use social media as a force for good – I love Facebook. I love seeing pictures of my friends' at play. I'll even admit to enjoying the occasional cat video or "dog shaming" slideshow. Our devotion to Facebook, Twitter and other social media can be a boon for our local non-profits. These media provide an inexpensive way to get the word out about events and services. They can be extremely effective channels of communication especially if we will all help by sharing and retweeting.   Most of the non-profits in town have Facebook pages and/or Twitter accounts. "Like" or "follow" your favorite organization. When you see something intriguing from them in your newsfeed, resolve to share it. Of course I have to mention the Act Locally Waco Facebook account/Twitter feed. It's a great way to keep up to date on all kinds of neat things going on that make our community a great place to live. When you see something you like, share it!
Reach across a line that divides us – Waco is a beautifully diverse community. There are lots of opportunities for us to work together, play together, worship together, and get to know each other. Make a special effort this year to learn more about what it's like to be a part of a race, ethnicity, religion, sexual orientation or income level different from your own.   Go to a meeting of the Community Race Relations Coalition, the Waco Interfaith Conference , or Waco Interweave. Worship at Church Under the Bridge or visit another place of worship that is very different from your own. Read something or watch a documentary about people who have a different point of view from your own. I'll go out on a limb here and say this is especially important if, like me, you identify as a member of the White, straight, Christian, middle-class. It is the path of least resistance for those of us in the majority to stay cocooned in our own majority culture. Resolve this year to make the effort to at least begin to break out of the cocoon. We don't have to agree with or like everything we see in the world outside of our comfort zone, but we will all be richer for the increased understanding.
Advocate for Arts in Waco – I've never thought of myself as a particularly "artsy" person. I used to think of the arts as a "frill," something to give us a little break from wrestling with the "important" issues of jobs, health, and education. Now I understand more clearly that the arts are how we nurture the hope, strength, understanding, honesty and wisdom to be able to work together to chip away at these complicated challenges. Participation in the arts builds passion, compassion, insight, creativity, confidence and discipline. Arts programs in our schools, The Waco Arts Initiative , The Waco Cultural Arts Festival, Mission Waco's Jubilee Theatre and Urban Expressions program, Nuestra Voz at the Art Forum of Waco, Art on Elm, Miriam's Army Girl's Dance Troop at Restoration Haven, The Word Gallery, Teen Speak Out… these are just a few examples of arts initiatives that are strengthening the roots of our community. So, make your own art. Support a program that makes the space for others to participate in the arts. Or, resolve to enjoy seeing more art. Make this the year you get involved with the arts in Waco.
I have learned through the years that if I set too many goals, the chance that I will do ANY of them decreases dramatically. I'll be keeping my list short this year, maybe even just one or two resolutions. We don't all have to do everything. Even if each of us just makes one "Waco-centric" resolution, and sticks with it, we will be a stronger community a year from now. What will yours be? Happy New Year, Waco! Here we go!
---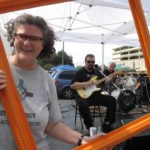 This Act Locally Waco blog post is by Ashley Bean Thornton, the Manager of the www.www.actlocallywaco.org website and the editor of the Friday Update newsletter. The Act Locally Waco blog publishes posts with a connection to these aspirations for Waco. If you are interested in writing for the Act Locally Waco Blog, please email [email protected] for more information.