Imagine Waco's Future, Together as a Community
By Alfred Solano
What do new bike lanes, the Hippodrome reopening, Franklin Place, Dichotomy, Lula Jane's, Muddle, Tinsley Place, Barnett's Pub, and McLane Stadium all have in common? They're all recent developments that have collectively changed the landscape of Downtown Waco during the past few years.
In 2010, we, as a community, began to dream and imagine what we want our city to look and feel like. The Imagine Waco plan was developed and adopted. Five years later, we look around and see a new, livelier downtown—one which we proudly call home. However, there is still much to accomplish. As we plan for the next five years of growth and development, we need to update the Imagine Waco plan and include everyone's voice.
When the Imagine Waco plan was adopted in 2010, goals included activating the riverfront, building connections for people to get around, and creating an organization that implements development in Downtown Waco. More than two-thirds of Imagine Waco's proposed action items are in the realization process. Over the past five years, public space investments have included improvements to sidewalks and crosswalks, added bike lanes, and new trees that have been added along streets to upgrade the walkways. Future shared spaces will include the transformation of the Heritage Square parking lot and the riverfront. Some of the private sector developments (leveraged by public investments) include Franklin Place, Tinsley Place, the Hippodrome, and Lula Jane's. A small area planned for the "Near Northside" area around 15th and Colcord resulted in increased public and private investments, including streetscape improvements that beautified the intersection.
Organizational developments included the creation of the Downtown Development Corporation, 1,000 Friends of Waco, and efforts by the Sanger Heights and North East Riverside Neighborhood associations to improve their areas and business districts, according to the Imagine Waco plan.
Behind the scenes, the City of Waco has embedded principles from Imagine Waco into planning and engineering decisions. This paradigm shift has changed the design and the feel of projects and Downtown Waco altogether.
As we look at the first years of Downtown Waco's renaissance and the series of projects that have been accomplished by private investors and the City during the last five years, we look ahead with excitement and anticipation about what is next for our city.
Five years ago, the Waco community dreamed together…and now it's time to dream again!
What makes The Imagine Waco plan achievable and exciting is that it is designed by the people who live and work in the Waco area for the benefit of the entire Waco community. We want your dreams and aspirations to be a part of the Imagine Waco update. Next week, there will be severral opportunities for your voice to be heard. Everyone is invited and encouraged to give their input about the future of Downtown Waco.
Monday, April 13th, The Jubilee Theater @ 6PM
(1315 North 15th Street, Waco, TX 76707)
Tuesday, April 14th, The Cen-Tex Hispanic Chamber of Commerce @ 6PM
(915 LaSalle Avenue, Waco, TX 76701)
Wednesday, April 15th, The Greater Waco Chamber of Commerce—1,000 Friends of Waco Meeting @ 10AM
(101 South 3rd Street, Waco, TX 76701)
Thursday, April 16th @ The Eastern Waco Development Corporation, 6PM
(715 Elm Street, Waco, TX 76704)
Is there something that was missed or left out of the initial plan? Are there some good things in Waco that could be made great? What do you want Downtown Waco to be known for? Come share your thoughts and let us know.
Waco's beautifully diverse culture deserves your continued support. Let's continue to work together to build up Waco in a way that benefits everyone!
---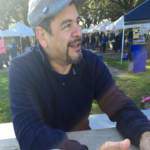 Alfred Solano was raised in Waco and is the Sales Manager for Texas Document Solutions. He and his wife Rachel are passionate about our city's current trends and future possibilities. Alfred is the Vice President of the Business Resource Center, Waco's downtown development corporation. He has served on the Board of Directors since its formation in 2011, representing the Cen-Tex Hispanic Chamber of Commerce.
The Act Locally Waco blog publishes posts with a connection to these aspirations for Waco. If you are interested in writing for the Act Locally Waco Blog, please email [email protected] for more information.