By Ashley Bean Thornton
So, I ran for city council and I lost.
It's been two weeks. I spent the first week taking naps, binge-watching "House of Cards" and eating ice cream and chips for dinner every night. (Really Blue Bell? You had to pick this year to have your big melt down?) Now, with two weeks of perspective under my belt, my mood has improved considerably. I'm not quite skipping yet, but there's definitely a new spring in my step.
I know it sounds like sour grapes to bring it up at this point, but the truth is I wasn't just chili red hot to run for city council in the first place.
When Toni Herbert, our retiring city council person, suggested I should run, I resisted strongly. My initial response was, "Not one single cell of my heart leaps up with joy at the thought of doing that."
So why did I agree to do it? Well, I love Waco of course. And, I have been working really hard for several years on various committees and projects and pieces and parts that seem to finally be coming to fruition under the umbrella of the Prosper Waco initiative. I thought being on City Council would put me in a good position to keep nudging that along. I didn't know anyone else who was thinking of running, so it just started to feel like the responsible thing to do. On top of that, I'm more susceptible to flattery than you might think, and  it's awfully flattering  to have your city council person ask you to run to take her place.
So why did I resist?  I'm 53 years old. I probably don't know as much about myself as I should at this point, but I do know a few things. I know that I am more of an "acquired taste" than a "first impression." I know that my most basic approach to life is, "Here I am. Take it or leave it."   I know that I am a friendly introvert — I like people, but people wear me out. None of this self-knowledge made me think, "Hey! You know what would be fun? Running for City Council!"
Also, I knew that I was already way, way too busy and I didn't want to be any busier. I knew that I would HATE asking people to vote for me. I know this sounds peevish, but I knew that I would HATE having my picture taken. I knew that running for office was going to make me feel over-exposed. I knew that, win or lose, the whole process would be embarrassing and that the MOST embarrassing thing would be to lose.
There I said it. I know it's a little bit immature, but one of the main reasons I didn't want to run is because I know that when you run there's a chance you will lose, and I thought to run and lose would be really embarrassing. And it is a little bit embarrassing. But…as it turns out…being embarrassed doesn't actually kill you.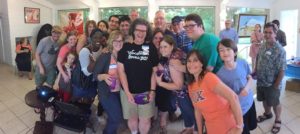 In fact, I liked it better than I thought I would. I was absolutely overwhelmed by all the kind, encouraging, enthusiastic support I received throughout the campaign. Some of this came from good friends, but even more came from people I hardly knew, some from people I didn't know at all and would never have known if I hadn't stepped out and run. I did a lot of door knocking, which was terrifying at first, but I learned that most people are pretty nice and some people genuinely appreciate you stopping by. (I also learned that there are a WHOLE lot of Chihuahuas in District 4. They are not always as nice as the people!)  My campaign team was a true joy. What a wonderful, talented, fun, funny, creative group of folks! I couldn't have asked for better people to help me, and I cannot imagine how I would have ever gotten to know them as well as I have if we hadn't taken on this project together. That alone was worth the price of admission.
I did hate asking people to vote for me, but I got better at it and it was humbling and empowering at the same time. I did hate getting my picture taken, but I've gotten over myself in regard to that too, so good for me! I was tired almost the whole time. I had to do lots of things that were uncomfortable, and it has definitely given me a whole new appreciation for the people who serve in city wide offices. I will be much slower to criticize from now on. Even though I lost, I feel, oddly, like I gained self-confidence instead of losing it.  (Maybe because now I know for sure that losing and being embarrassed doesn't actually kill you. )
In short, I grew. Even at 53, or maybe especially at 53, growing is not 100% fun, but looking back it was definitely worth it. I may have more profound thoughts on the nature of city politics from the distance of a few more weeks, but for now this is enough for me to turn off Netflix and put down the bag of chips and start thinking about the next adventure.
For the record, I fully support my former "nemesis," Dillon Meek. He seems like a great guy, and all of us will benefit from him being a terrific city council rep. I certainly intend to help him do just that! By "help" I mean cheering him on when I think he is doing a good job, communicating with him as honestly and positively as I can if I have concerns, and doing my part to serve in whatever capacity is most helpful. I hope my fellow D4 dwellers out there will do the same. I'm very impressed that he has already started to reach out to all kinds of different people in the district, some who supported him and some who did not. I think that is smart, and courageous, and overall just a good thing to do.
In fact I feel like I should be thanking Mr. Meek! I got a lot of benefit from participating in this campaign, and now he's the one who's going to end up doing all the work! (Wink!)
---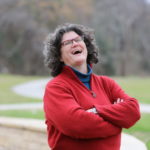 This Act Locally Waco blog post is by Ashley Bean Thornton, the Manager of the www.www.actlocallywaco.org website and the editor of the Friday Update newsletter: The WHOLE Enchilada. The Act Locally Waco blog publishes posts with a connection to these aspirations for Waco. If you are interested in writing for the Act Locally Waco Blog, please email [email protected] for more information.