Waco Hispanic Museum planned to acknowledge an important part of our history and culture
by Louis Gayton Garcia
Many of the families of Mexican descent living in Waco today are descended from families who arrived here in the late 1800's and early 1900's.
In 1719, using a map created by cartographer Guillame Delisle, French explorer Jean Baptiste Bena de la Harpe said he had found a place called Honecha or Houecha (WACO). The people there had black circles around their eyes causing him to remark that it was "Where the raccoon eyed people lived…"
In the early 1800's when the first white expeditions arrived in "Huaco," (which, by the way has been spelled at least 30 different ways through the years), they commented that the natives here were always fighting the Mexicans.   Writings from the 1830's say that the natives were living around a fresh underground cool water source. The site was located on what is now 6th St. between Jefferson St. and Waco Drive. The natives probably used the whole area from 6th St. to the Brazos River as their camp. Despite initial conflict, many of the existing tribes Huacos, Cherokees, Chiricahua etc… assimilated into the Mexican community after the arrival a of the white and black settlers, because of bounties placed upon them and the hatred towards them.
In later years a section of this area — from the Brazos River to 4th St and from Washington St. to Barron St. — was called "The Reservation." It could be the name came about because this is where the natives were gathered up before they were sent off to the reservations in Oklahoma, or maybe it was because Jacob de Cordova, who founded Waco, wanted land along the Brazos to be "reserved" for City of Waco for public use. Regardless of the origin of the name, "The Reservation" eventually became known as Waco's legalized red light district, and remained so until 1917 when prostitution became illegal.
This area was also home to a part of town known as Little Mexico, Mexican Sandtown. It later became known as the "Calle Dos" (Second Street). Many Mexicans arriving in Waco in the late 1800's and early 1900's moved into the Calle Dos area, especially after 1917.
In the late 1800's there was a Baptist Mission in the 300 Block of North Second St. In 1907 this became the Mexican Baptist Mission which is now the First Mexican Baptist Church of Waco at 4th and Jefferson. The building in the 300 block of North Second St. would become the "Sociedad Mutualista Mexicana de Jornaleros." Established July 6th, 1924. The purpose of the SSMdeJ was to assist the Mexicans with their rights, jobs, education, funerals, etc. (It is now located on LaSalle Ave.) The SSMdeJ became the center of gatherings in Waco for the Mexicans. All major celebrations were held there: Sept.16th celebrations, Cinco de Mayo, weddings, dances, and quinceañeras, among others. The St Francis on the Brazos Catholic Church was formed in 1924 blessed in 1925 at the corner of Third Street and Jefferson, adding to the sense of community.
Part of the reason that this neighborhood became so popular among Mexican people who were moving into Waco was that there were several fresh underground water sources in this area.  "La Pila" (the fountain), a significant source of fresh underground water, was a popular community gathering spot where residents would catch up with each other to share news and gossip while collecting the water they needed for drinking, bathing, etc.
The 1926 Waco City Directory shows that while many Mexicans lived on farms surrounding Waco — cotton was king in the early 1900's and many Mexican people worked in the cotton fields — Mexican families were especially concentrated in the Calle Dos area.
The Calle Dos are was cleared in the late 1950's and early 1960's by urban renewal and, with that, a neighborhood where Mexican families, and later their descendants, had been living as a community for generations passed into history.
I was born Luis Gaitan Garcia on a farm in Speegleville. I went to school on my first day and came home as "Louis Gayton Garcia." I am Chairman of the Waco Hispanic Museum (WHM), a 501(c)3 organization that got its start as in idea from City Council Woman Alice Rodriguez. The idea was to acknowledge the long history of the Hispanic/Mexican Community of Waco, many of us whose families arrived in the late1800's and early 1900's.
Many Hispanics still in Waco today have ties to the Calle Dos area. The WHM is working on several projects to make sure this part of Waco and Waco History is not forgotten.
We currently have an exhibit at the Historic Waco Foundation's Fort House, 403 South 4th St. It is open Sundays 1- 4 or by special request by calling 7535166. We are finalizing plans with the City of Waco to move into a section of the South Waco Community Center as we continue to raise funds for our Museum.
On September 5 we are having our Fourth Annual Dance to raise money for the museum. Music will be provided by Johnny Bustamante and the LA Band. Mosaic will be playing Tejano gospel music, and DJ Jam will be on hand. Cost will be a $10 donation. Time will be 8 PM to 12 AM. Location will be The Mutualista Hall, 2214 S 15th St.
On September 28th – October 4th, we will begin work to excavate "La Pila" (the fountain) that played a central role in the Calle Dos community. It was buried by urban renewal and is being brought back to life with the assistance of WISD, City of Waco and Central Texas Archaeological Resources (Katherine Turner–Pearson owner). The public will be invited to participate in this dig.
If you are interested in learning more about the Waco Hispanic Museum or getting involved, please contact me by email at [email protected] or by phone at 254.548.9730. Donations may be mailed to the CenTex Hispanic Chamber of Commerce, 911 LaSalle Ave, 76706 or Genco Federal Credit Union, 731 N. Valley Mills Dr., 76710. Please note on all checks that they are for the Hispanic Museum.
---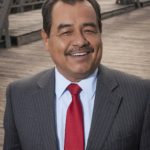 This Act Locally Waco blog post was written by Louis Gayton Garcia. Louis is retired from, American Railcar Industries. He started there in 1980 sweeping floors. He eventually became the Quality Assurance Manager at Longview, Texas, and a Quality Assurance Auditor, working in plants in the U.S., Canada, and Mexico. He is a deacon at Lake Shore Baptist Church where he enjoys singing in the choir and volunteering for the food pantry. He is President of the Board of Directors of Mission Waco/ Mission World, and a Member of Sociedad Mutualista Mexicana de Jornaleros est.1924 ( society of mutual Mexican journey men involved in the Hispanic community) and Chairman of the Waco Hispanic Museum. For fun he plays the accordion.
The Act Locally Waco blog publishes posts with a connection to these aspirations for Waco. If you are interested in writing for the Act Locally Waco Blog, please email [email protected] for more information.
(Visited 110 times, 1 visits today)