by Diego Loredo
Trying to decide what college to go is intimidating. While I was at A.J. Moore Academy, and later University High School, I never really thought about college and what I wanted to do with my life. It wasn't until senior year that I actually started thinking about it.
Senior year was hectic, and it was hard for me to figure out what I wanted to do. My mind was filled with all kinds of things: paying senior dues, filling out scholarships, applying to colleges, and other things outside of school. I eventually decided that I wanted to major in journalism and be a news reporter. I've always kept up with the news and I loved to write so I figured it would be a good choice for me.
After I figured out my major, I ended up applying to three colleges: Texas State University, University of Texas at Arlington, and University of North Texas. UTA was originally my first choice and I was planning on visiting the campus, but then I found out about UNT Preview, which was scheduled for November. UNT Preview is an event that invites high school seniors to take a campus tour and explore the different facilities available at UNT. So I ended up going with my mom to take a campus tour. It was cold, but I fell in love with the campus and upon leaving I knew that UNT was the college for me.
For the rest of senior year, I was just preparing myself for freshman year. I filled out my FAFSA, I won the Brazos Education Foundation Scholarship, completed my dual credit courses, etc. Before I knew it, I graduated from UHS and was already starting my freshmen year at UNT. I ended up being roommates with a good friend of mine. That made it easier to get used to the fact that I was in college!
Freshman year flew by. I took mostly basics and journalism classes. I learned so many things about myself as freshman year went by. I made new friends, experienced new things, and have matured more. I ended up switching from news writing to public relations because I found out that news writing wasn't really for me, despite being so excited for it in high school. Public relations is a lot more interesting to me, and to be honest I did it for the money.
Now I'm a sophomore living in an apartment with three other high school friends. I've taken numerous PR classes, I'm working with a nonprofit, and have been building up my resume to prepare me for after college. There's only three more months before sophomore year ends, even though technically I'm a junior based on my credits. During the summer I plan on doing an internship, though I'm not sure where yet. My plan is to do an internship with FC Dallas, an MLS team that is offering summer internships for college students, but if that doesn't work out then I will probably do an internship with a nonprofit in Denton or Waco.
Although it's been an extremely bumpy road, I'm glad I chose UNT and I highly recommend it for anyone who wants to go to college. It's great for journalism and PR students as well as for engineering and music. I'm continuing to learn new things as each new day passes by and I'm just trying to enjoy every little bit before I start my career in public relations.
---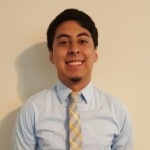 Diego Loredo is a sophomore at the University of North Texas. He is majoring in public relations. He graduated from University High School in 2014. Although he is still not quite sure what exactly he wants to do, he thinks he wants to work somewhere in sports PR (preferably soccer or college football). His hobbies include playing soccer and golf. He is 19 years old.
The Act Locally Waco blog publishes posts with a connection to these Aspirations for Waco. If you are interested in writing for the Act Locally Waco Blog, please email [email protected] for more information.