In the kitchen with kids: They're learning more than just cooking
By Meilana Charles
In April, Prairie View A&M University-Cooperative Extension Program's "Dine on 3," healthy living social media initiative focused on cooking with kids.
In my previous career as an early childhood professional I enjoyed preparing and cooking in the classroom with students. Taste tests, pumpkin carvings at the sensory table, creating salads from fruits and vegetables picked from the garden, and introducing different types of foods from different cultures were just a few of the activities implemented in my classrooms. And, as a young professional, I didn't even know the long-term benefits associated with cooking with kids!
As an extension agent in McLennan County, I have found that few parents know the benefits of preparing a meal with their children.  For example, in one of my classes I noticed a preschool-aged girl attentively focused, watching her mother prepare a fruit smoothie. When I inquired about her daughter's fascination, the mother replied that she'd never made a smoothie and her daughter wasn't allowed to be in the kitchen when the adults were cooking.
Children only get in the way, this is my "alone time," it's not safe… many parents seem adamant that children don't belong in the kitchen. To counter this resistance, I make sure to include information regarding the importance of cooking with children in my health and nutrition programs. I make sure to explain that parents need to introduce their children as early as age 2, to age appropriate activities when preparing meals. Additionally, I explain that aside from the cooking skills, there are nutritional, developmental and academic benefits associated with letting children assist in the kitchen.
In the end I hope that some of the information provided convinces parents to allow their children to take some role in preparing meals for with their children. The long-term benefits far outweigh the reasons to avoid having them help.

---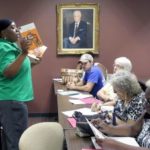 This Act Locally Waco blog post was written by Meilana Charles. Meilana is a Family and Consumer Sciences Extension Agent at Cooperative Extension Program at Prairie View A&M University. Meilana's priority areas for providing educational resources to McLennan County are general nutrition, money management and parenting. She has a M.S. in Child Development from Texas Woman's University and is a certified Human Development and Family Studies professional through American Association of Family and Consumer Sciences.
The Act Locally Waco blog publishes posts with a connection to these aspirations for Waco. If you are interested in writing for the Act Locally Waco Blog, please email [email protected] for more information.
(Visited 50 times, 1 visits today)