Learn How To Become A Brain Builder!
By Christina Helmick
Have you heard the saying "there is an app for that?" I have an app that automatically texts people when I am in a certain area, another app that keeps track of the steps I've taken, and an app that organizes my grocery list based upon food categories. What about an app that provides daily activities for adults to do with children to help prepare them for Kindergarten? Well, there is an app for that too!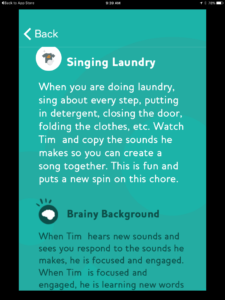 The Prosper Waco Kindergarten Readiness work group, along with other Prosper Waco community partners like the Cameron Park Zoo and the Mayborn Museum, are promoting a free parenting tool called Vroom. Vroom, which you can download on any smartphone, tablet or computer, provides you with daily, age-appropriate brain building activities to do with children ages 0 to 5. Each activity comes with science-based background information that allows adults to understand how that specific activity is building the brain development of the child.  To download the app, go to the App Store and search for "Vroom" or "Daily Vroom."
If there is someone you know that would enjoy practicing brain building with their infant, toddler or preschooler and doesn't have access to the Internet, give us a call at 254-741-0081 to receive physical copies of the Vroom activities.
Depending upon if you are an early childhood care provider, a community organization or a community member who wants to raise awareness about Kindergarten Readiness, there are different ways you can promote Vroom.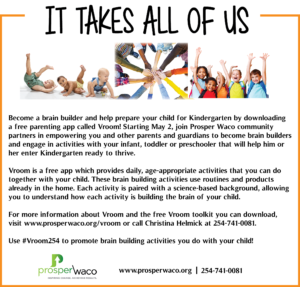 For example, if you are an early childhood care provider or an organization that directly deals with children ages 0 to 5 and their families, you can distribute information to your families about Vroom and hang posters around your facility! If you are a community organization like the City of Waco, you can hang posters around your workplace and include a Vroom flyer in your welcome packets to new hires. If you want to help promote Vroom on an individual level, bring Vroom flyers with you to meetings you attend and direct people to the Vroom tab on the Prosper Waco website so they can learn more about the app! To learn more ways to help promote Vroom within our community and the organizations working together to promote the app, visit our website.
Everyone in our community can use #Vroom254 to encourage brain building activities!
This free parenting tool is one element to addressing the Prosper Waco Kindergarten Readiness goal of increasing the percentage of Kindergarten ready students by 50 percent by 2020.
Don't hesitate to reach out to Christina Helmick [254-741-0081] with questions about Vroom or how you can help promote the free parenting tool!
---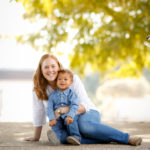 Christina Helmick is the director of communication at Prosper Waco. She is a recent graduate of Baylor University with a BA in Journalism, Public Relations & New Media. Originally she is from Washington, D.C., but has stayed in Waco post-graduation.  She is an active mentor at J.H. Hines Elementary School, enjoys spending time with her family and watching Baylor football. Sic 'em Bears!
The Act Locally Waco blog publishes posts with a connection to these aspirations for Waco. If you are interested in writing for the Act Locally Waco Blog, please email [email protected] for more information.
For more about Vroom see this recent Prosper Waco talk show that focuses on the app and brain building…