My Story of Homelessness, Hope, and a Mustard Seed
by Destiny Fernandez
In 2009, I was a quiet, goofy, friendly sophomore at University High School. I was a soccer player, a JROTC cadet, a member of the color guard, a cheerleader, and an absolutely terrible softball player. I enjoyed my friendships, took care of business in academics, and intentionally surrounded myself with community. All the while, no one knew of my homelessness. I wasn't trying to hide it from others so much as I was trying to hide it from myself. It was painful, frustrating, and discouraging if I thought about it for too long.
On the outside, I seemed to be doing great. On the inside, I wrestled with frustration as I coped with what was happening at home. One Saturday morning, officers entered my home and flipped everything upside down…my belongings, my life. We lost everything. My stepfather went to prison on drug-related charges, and from that point on, life for us was never stable. We moved often, with family members and friends. At times, my mother, brothers, and I were separated.
Although what happened was painful – and is difficult to remember, and difficult to share — I hope that it is a reminder to be patient and loving with people. It's true that you never know the battles they are facing.   Despite changing, unstable situations, I still went to school with a smile on my face (a little blue fish told me to "just keep swimming"). Most days, that smile was genuine; other days, that smile was there because it was better than answering anyone who would ask, "What's wrong?" You might wonder how I managed to hold it together when life was falling apart. When I look back, I can't believe it myself.
What I can say is that I was surrounded with people that cared for, loved, and encouraged me. Although in some ways I was broken, they didn't treat me like I was. Through every encouraging word, breaking of bread together, and moment of laughter, they unknowingly helped me pick up the shattered pieces of my life. "Homeless" is a painful, stigmatizing, and shameful word to use to define yourself. However, I am willing to own it only to encourage. To encourage students like me to see that life can get better. To encourage others to see the impact that is made when a student is surrounded with support, love, and encouragement on their journey. Each of our students has individual gifts, talents, and goals that need to be nurtured and believed in. They should have no doubt that they are important. They are valued. They are loved. I am where I am today because others believed in me; they said I could, so I did.
Today I have two college degrees sitting on my bookshelf: a bachelor's degree from Texas A&M University and a master's degree from Baylor University. I haven't taken them out of the tubes because they're difficult to look at. When I look at them, I'm reminded that my story is sometimes considered an exception. It shouldn't be. I don't want it to be. In the state of Texas, and across the nation, the homeless youth graduation rate is 25%. In Waco ISD last year, 100% of homeless seniors graduated. That should attest to the incredible resiliency, strength, and ability of our students.
Every student, including those experiencing homelessness, has unique gifts, talents, interests, passions, goals, and dreams. They should feel cared for, valued, and empowered enough by those around them to relentlessly pursue those dreams. Someone in my life was crazy enough to tell me that I was called, equipped, chosen, set apart, loved, and that all I needed was a mustard seed of faith to move mountains. I am so thankful for each person in my path that prepared the soil, helped me to plant, water, fertilize, give sunlight to, and nurture that mustard seed.
So many people have heard my story and in retrospect have said, "I wish I knew then; I had no idea…I could've helped; I could have done something." To which my response has been, "well, you can now." You can do something to support and love on our youth experiencing homelessness in Waco by supporting The Cove. The Cove is a teen nurturing center designed to provide a safe space for student experiencing homeless to access the resources they need to thrive.  It is an amazing place that will provide the care, opportunity, value, and empowerment that students like me need to walk in all that they were created to be. I urge you to support the Cove in any way that you can.
In order to open our doors to these deserving students this fall, we need to raise funds. The Cove has set a goal of $300,000 by December 2016. It is imperative for the well-being of our students and of our community. From the bottom of my heart, THANK YOU. To the countless people who helped change the trajectory of my life: THANK YOU. My life has not been the only one you've changed.
---
The Cove is a teen nurturing center designed to provide a safe space for student experiencing homeless to access the resources they need to thrive. The Cove's mission is to empower and equip youth experiencing homelessness. The Cove is truly a community effort to care for some of the most vulnerable youth in Waco. There are lots of ways you can join us. Check out our Philanthropy and Volunteer pages for more information. To learn more, to get involved or to donate, please visit the website: www.thecovewaco.org.
---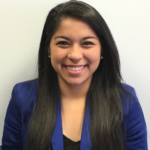 Destiny Fernandez is a Waco native.  She graduated from Texas A&M in 2014 and recently received her Master of Social Work degree from Baylor.  She is passionate about education reform and hopes to make a difference in Texas education.  To connect with Destiny, email: [email protected].  To learn more about and/or donate to the Cove, visit: www.thecovewaco.org.
The Act Locally Waco blog publishes posts with a connection to these aspirations for Waco. If you are interested in writing for the Act Locally Waco Blog, please email [email protected] for more information.