Entrepreneurs of Waco: Cuppiecakes
(Note: This post is part of a series called "Entrepreneurs of Waco."  The series is collaboration between the McLennan Small Business Development Center (SBDC), the Professional Writing program at Baylor University, and Act Locally Waco.  The McLennan Small Business Development Center offers technical assistance, business mentoring, training, and resources for all stages of small business. For more information, visit their website: www.mccsbdc.com.   To see all the posts in this series, click here: Entrepreneurs of Waco.  – ABT)
By Allison Le Grice
In what was once a popular saloon on Third Street in McGregor, Texas, Branda Pavlas and Susie Hughlett have realized their dream of owning a bakery. From Tuesday to Saturday, the small "Open" sign inside Cuppiecakes flashes, welcoming guests to enter the historic brick building to enjoy some savory treats.    Like a beacon, it has attracted customers from as far as ninety miles away.
Nine years ago, Susie met Branda at church, and they became inseparable. Often mistaken for sisters, Branda and Susie both stand at just about the same height with short blonde hair, inviting blue eyes, and eager expressions. "We're completely different though," Susie mentions. "She's the doer. She's made everything possible."  "Oh stop, this place wouldn't be here without you," Branda responds.
Susie had some experience with baking and was known around church for bringing her creations for the enjoyment of the congregation. When their pastor asked Susie to bake a cake for an upcoming church event, she invited Branda over to help. This one night of baking led to several more, and as word spread, orders started pouring in. Pretty soon, Branda and Susie's routine became staying up until three in the morning to finish cake orders while balancing the demand of husbands, children, and full-time jobs.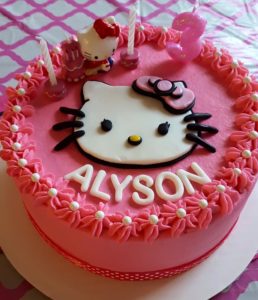 As they gained popularity, they decided to officially start a business. Although baking from the comfort of their homes worked, they dreamed of something more. "We wanted to be smart about it," Branda says. "We knew we were too old for debt, and we didn't want to get caught up in it for what seemed like some frivolous dream of baking cupcakes." So Susie and Branda consulted Jane Herndon, a business advisor at the McLennan Small Business Development Center, who helped them plan how they could start a business with their available resources. Finally, their goals appeared to be within reach. In May 2014, they settled on a location in Hewitt, where Susie lives. Unfortunately, they missed their opportunity to sign a lease by mere few hours. To make matters worse, Branda's husband had a heart attack that same week.
"As if things weren't stressful enough, my husband died."
"But he's alive now," Susie jokes, "We call him Lazarus… get it? Because they resurrected him." In the midst of these unfortunate events, Branda and Susie had faith. "We're firm believers in God," Branda says. "I had to constantly remind myself to be patient and trust in His timing. There were multiple times I broke down ugly-crying because nothing seemed to be working, but I reminded myself of all that I had to be thankful for. My family was well, and despite this business not taking off, I still had my job as a high school counselor. If I had quit that to focus more on the business, I wouldn't have had insurance to help after my husband's heart attack. That was a reminder of God's perfect timing. I took a step back and I heard Him say, 'Just wait.'"
Not long after, a close friend called to tell them about an available building she thought Susie and Branda would like in McGregor, Texas.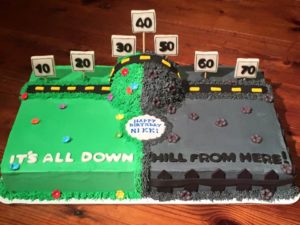 "McGregor? Really?" Branda rolls her eyes. "The three most important things you have to take into consideration when starting a business are one, location. Two, location. And three, location." With its approximate population of 5,000, they worried that McGregor was not ideal. But there was one thing Branda and Susie knew, church people love to eat and they love to talk. So despite the uncertainty of business from newcomers, they knew their loyal church community would visit their shop and help spread the word. Finally, they would have their own bakery… that's if the owners of the building decided to lease it to them. "We definitely understand why they were hesitant," Branda says. "Their main fear was that they'd be wasting their time on a business that was going to flop. It took a lot of convincing, but they agreed to meet with us."
"So we brought cupcakes," Susie adds, "and that's probably what won them over."
Today, Cuppiecakes lures customers in with a bright green awning and a huge image of a cupcake. Inside, a display case filled with a variety of flavored cupcakes beckons. Also, in one corner, tables are prepared for one of the many birthday parties Branda and Susie host. Attracting customers is something they no longer worry about. Even on Sundays and Mondays, the days Cuppiecakes is closed to catch up on orders, customers can be found knocking on their door, and on any given day, Branda and Susie can be found baking between 250-350 cupcakes while also completing custom orders for birthday and wedding cakes. Although they tried to wean off of the custom orders, they never stop coming in.
In addition to their baked goods, Branda and Susie have started selling coffee and even sandwiches. Despite this, Cuppiecakes is still best known for its cupcakes, served in small plastic cups. From "Cookies n' Cream" to "Snowball" coconut cupcakes to "Cup o' Joe" caramel and coffee cupcakes, Branda and Susie are satisfying all types of cupcake cravings.
"God's timing really was everything," says Susie. "It truly is amazing how it all happened." What started off as two women bonding and baking ultimately led to a booming business.
---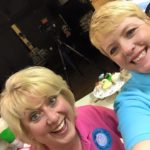 The Entrepreneurs… Susie Hughlett and Branda Pavlas are the owners of Cuppiecakes.  Susie is the wife of Kevin Hughlett and mother of Drew (17), Kara (14) and Lindy (11). The family makes their home in Hewitt, and they attend Lorena United Methodist Church. Susie attended the University of Sothern Mississippi on a volleyball scholarship and has been teaching and coaching for 20 years. She now teaches mornings at Woodgate Intermediate as a 5th grade PE teacher and then goes to work at Cuppiecakes in the afternoon.  Branda is married to Jake Pavlas, and the couple have 3 children; Jakey (19), Braylin (17), and Jadyn (14). The couple was also blessed to be able to share their home with Ashley Johnson (married to Matthew) who has given them 3 beautiful grandchildren. Branda atteded Texas Tech University and taught English for 16 years before earning a Master's Degree from Tarleton State University and working as a school counselor for 8 years. She now works full time at Cuppiecakes. Like Susie, Branda and her family also attend Lorena United Methodist Church where they met the Hughlett family. The "Pavlas Hughlett Clan" enjoy dinner together every Sunday night and sometimes take family vacations. Life is good at Cuppiecakes!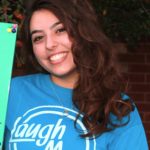 The writer…Allison Le Grice is an English student at Baylor University. She is passionate about literature, mental health, and recycling. In her free time, she is most likely binge-watching "Chopped." 
The Act Locally Waco blog publishes posts with a connection to these aspirations for Waco. If you are interested in writing for the Act Locally Waco Blog, please email [email protected] for more information.