Child Hunger Team Youth Ambassadors learn about Nutrition and Community
By Craig Nash
This summer, the great people at Share our Strength provided the Waco Texas Hunger Initiative Regional Office with two Youth Ambassadors—students who helped us operate and evaluate the Summer Food Service Program. Below is a reflection on the summer from Sydney Brown, one of the students who served alongside Leah Reed. Both Sydney and Leah provided us with a wealth of energy and wisdom as we sought to improve the Summer Meal experience for Waco children.
Plans are already underway for summer 2017, and I am putting together a Child Hunger Team of volunteers from the community to begin mapping out strategies. If you are interested in serving, please email [email protected].
***
My name is Sydney Brown. I'm originally from Kansas City, Missouri and currently a Junior Public Health major at Baylor. For as long as I can remember I have been interested in how nutrition directly affects the well being of local communities. This summer I was fortunate to have the opportunity to work as a Youth Ambassador for The Texas Hunger Initiative's Waco Regional Office, which has been a perfect mix of nutrition work and community interaction. I have had the privilege of being on the front lines of the USDA Summer Meals program and to see how hunger during the summer affects the lives of our young people. From serving meals at sites to playing with children at Summer Meals Celebration events, I have received a well-rounded look at what hunger in Waco looks like for children and what is being done to combat it.  
Having worked as a Youth Ambassador last Spring in THI's regional office, doing research on establishing meal sites, there were times when I could feel a little disconnected from the issue of hunger. But having the opportunity to actually be at the sites and to interact with the program and its participants has helped to give me a more full picture of the Summer Meals program. I have met so many incredible families that take advantage of the summer meals program, visiting with them and hearing their stories.  
One of my favorite events to participate in this summer was our Summer Meals Celebration event at Brame Park in Bellmead.  I have found that summer meal sites  which have heavy traffic in the beginning of summer sometimes have trouble maintaining that through the duration of the program. One of our goals with the Summer Meals Celebration event was to get kids excited again about  La Vega's "Meals on the Bus" program.  La Vega ISD has taken one of their school buses and converted it into a Lunch Meals Express, which transports food to areas where kids are highly concentrated and provides an air-conditioned environment for children to enjoy their lunch. 
We collaborated with La Vega ISD and St. Paul Lutheran Church as well as with some of Baylor's Campus Kitchen Americorps Vistas to provide fun games and activities for the kids. The kids were able to come out and play beanbag toss, mess around with water balloons, and try their best to win the three-legged race before eating lunch on the bus. I loved that through the games and activities this meal stop became more than just a place to get a free lunch, but now a place to come and play with friends. I got to talk to some of the families that were at the park and was told that many of them came to the park every day to enjoy lunch and had now become close friends with one another. I loved knowing that the summer meals program had brought people together as a community, not only in sharing a meal together but also in creating friendships with one another. The summer meals program has been such a joy to be a part of and I am so encouraged by it. This summer has allowed me to get plugged into the Waco community by being a part of an amazing program.
---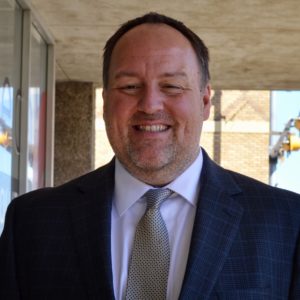 Craig Nash has lived in Waco since 2000. Since then he has worked at Baylor, been a seminary student, managed a hotel restaurant, been the "Barnes and Noble guy," pastored a church and once again works for Baylor through the Texas Hunger Initiative. He lives with his dog Jane, religiously re-watches the same 4 series on Netflix over and over again, and considers himself an amateur country music historian.
The Act Locally Waco blog publishes posts with a connection to these aspirations for Waco. If you are interested in writing for the Act Locally Waco Blog, please email [email protected] for more information.
(Visited 22 times, 1 visits today)