Where are Waco's public pools?
by Rachel Lynne Wilkerson
Spectators familiar with the BSR Cable Park's rise to internet celebrity a few summers ago might be surprised to learn that Waco has been a destination for water activities for a century. Before lazy rivers and slides that launch swimmers into the air, the Waco Natatorium built by Confederate army veteran Robert B. Parrotton at 4th and Mary Ave. offered mineral waters and baths. The indoor pool enticed bathers from all over to travel to Waco for a dip long before Waco was a viral water slide sensation.
Pools are critical gathering places for children and families in the summer months when school is out of session. They provide employment opportunities for older children, recreational activities for the whole family. A recent UK study found that swimming provides a positive boost on well being comparable to going to the library or playing music. Swimming is good for our physical, emotional, and social well-being. Additionally, public pools and baths in Waco and beyond have always played a tremendous role in creating community space. The ancient roman baths are the modern day equivalent of community centers—a place for lively discussion and a healthy exchange of ideas.
With these benefits in mind, I'd like to pose a question: why doesn't Waco have more public pools?
This was one of the first questions I asked moving back to Waco three years ago. While the options for high-flying (and high-priced) water parks abound, I couldn't find very many public places to swim laps. The public options seemed limited to the local Ys with limited time tables. The Center at Columbus Avenue Baptist Church, built in an old Y, offered an indoor pool at the odd length of two thirds of the standard competition dimensions. No city pools were in sight.
City officials have given various explanations for the closing of the pools: outdoor swimming pools are out of vogue, city-operated swimming pool usage is too low, refurbishing the pools would require raising taxes, splash parks are the best substitute. And yet, the absence of public pools is increasingly noticeable and a real loss as high summer in Central Texas continues.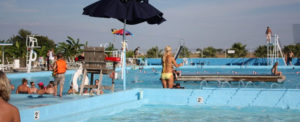 Waco's strained relationship with public city pools, and its history of valuing big ticket amusement water parks echo underlying tensions across neighborhoods in the city. Residents informed me that Waco closed all of its public pools over the last two decades. The last pool closing is well known as the site for Hawaiian Falls. Whatever their cost constraints for traditional outdoor pools, The City of Waco contributed 2.5 million to the construction of Hawaiian Falls. For those unable to travel to the park or pay the entrance fee, Waco offers splash parks. I do not have the numbers to substantiate the City's claims on the sustainability of outdoor pools, but I know that pools thrive in some other mid-sized and small cities, the Playdium Pool in West for example. As a lifelong swimmer and proud Texan, I can tell you that no one, for a moment, thinks a splash park is equivalent to submerging into a chilly summer pool on a hot Texas day.
The city of Waco and its residents have the chance to mend a longstanding rift. In 1964, the Waco Community Relations Committee, succeeded in desegregating all City park and recreation facilities except swimming pools. The current options for cooling off in the summer heat are geared towards a mobile segment of the Waco population—those who can pay the entrance fees and have access to transportation. Waco deserves better. To Dr. Roger Olson and other community advocates, city pools are "a local justice issue." As Waco grapples with its history, community pools could be a step towards mending fissures in our community.
Pools aren't cheap, but the merits of communal space, shared conversation, and a way to cool off in the summer outweigh the costs. The portrait of Waco as a water wonderland is not the whole story; our city has limited recreational options for children in the summer. Pools are a natural common space for parents and families to gather, for sun-soaked friends to exchange ideas, for each of us to meet people outside of our own ruts of social circles.  Traditional city pools are vital to communities, and Waco residents, all Waco residents, deserve access to public pools.
---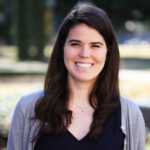 Rachel Lynne Wilkerson studies statistical modeling with an eye towards applications in the food system. A staunch advocate for pie as a catalyst for gathering neighbors together, Rachel thrives on open water swimming and front porch conversations.

The Act Locally Waco blog publishes posts with a connection to these aspirations for Waco. If you are interested in writing for the Act Locally Waco Blog, please email [email protected] for more information.