FALL for the Arts in Waco
By Jenuine Poetess
I love a good play on words.  I love community arts and culture.  I also love a good celebration.  So without further ado…*drumroll please*
CONGRATULATIONS WACO ON RECEIVING A UNANIMOUS VOTE TO BE DESIGNATED AS STATE OF TEXAS CULTURAL DISTRICT!!!!  WOOOOOHOOOOOOOOO!
While I catch my breath you might be thinking, "Whooooo!  Yay!  But honestly, what does that even mean?"  Great question, I'm so glad you asked!  According to the Texas Commission on the Arts (TCA), our state arts agency, Texas has a cultural district program that, "can designate special zones [cultural districts] that harness the power of cultural resources to stimulate economic development and community revitalization. These districts can become focal points for generating businesses, attracting tourists, stimulating cultural development and fostering civic pride."  TCA recognizes that, "A thriving creative sector is a powerful economic development asset. Cultural district development is one strategy that helps a community boost economies while realizing other cultural and civic benefits. The outcomes of cultural districts extend beyond the arts and benefit all members of a community."
There are a number of ways this designation will help Waco as a community as well as provide support and needed platforms for artists who are living and creating in Waco to continue our work and cultivate sustainable livings as artists.  If I haven't already made it clear, this is a HUGE win for Waco Arts and I am so proud to have joined so many others in the efforts to 1) create and sustain community-centered, inclusive, arts programming in our community and 2) be involved in the two-year Cultural District application process–directed by Fiona Bond of Creative Waco (You can read more about Fiona's work with Creative Waco in an interview blog I wrote last year).  It takes a village my friends, and this is definitely a moment to savor and celebrate.  Oh, and did I mention that Waco ranked TOP in the state out of all the cities applying for Cultural District designation this year?  Yep.  We did.
In many ways, our work is just beginning…and certainly our work is continuing.
Last week many artists participated in #WorldArtDropDay in which we distributed art works all throughout the city leaving them—with FREE ART tags—for people to find and enjoy.  Participation in this global project was inspired by Central Texas Artist Collective and in preparation, CTAC hosted several open community #artjam sessions at local libraries where for several hours people of all ages and artists of all disciplines could gather and create in a collaborative space with others.  CTAC had a wonderful turnout of 15-20 artists join us over the two sessions and based on the requests and feedback from community, CTAC will likely host regular community art jam spaces so stay tuned for all the details there (on their website and at Twitter, Instagram, and Facebook @CenTexArtists).  CTAC continues to foster creativity with the ongoing #ArtAbandonment project and is gearing up for their community booth at the 2016 Waco Cultural Arts Fest.  The artists at the CTAC booth this year will be Christy Town; Carlos Arias; Rhiannon Rosenbaum; Angie Veracruz; Steve Veracruz; Jenuine Artworks; and When Brothers Draw.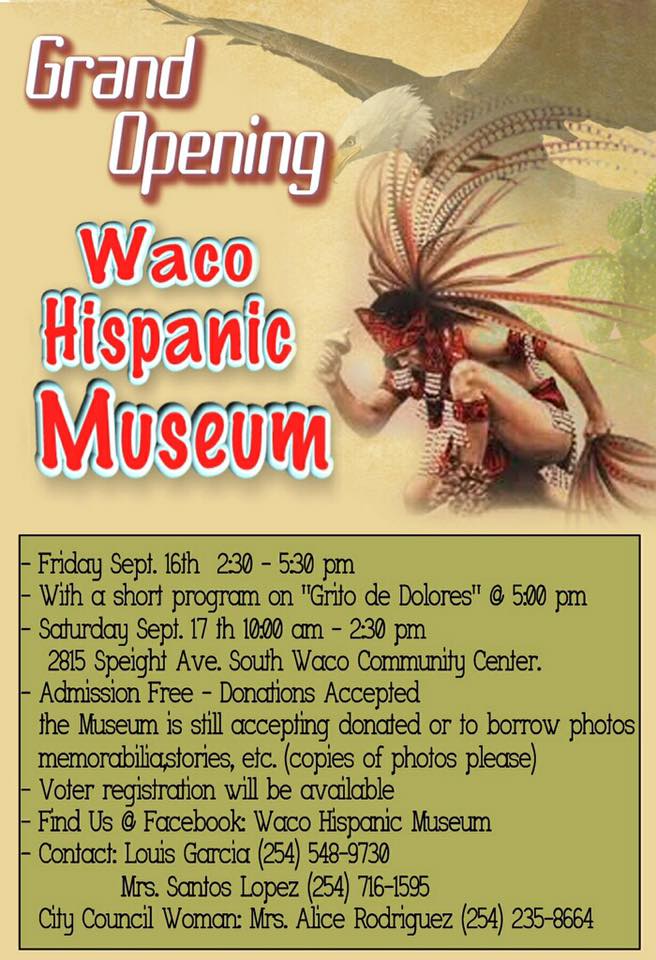 Coming up this week, Waco celebrates the grand opening of the brand new Waco Hispanic Museum–a collection of arts and cultural artifacts honoring the rich Latinx history and community thriving in Waco today.  The kick-off begins this Friday September 16th from 2:30-5:30pm with programming for all ages.  On Saturday the festivities begin at 10am and go until 2:30pm.  Located at the South Waco Community Center at 2815 Speight, this event is FREE and donations are appreciated.  In addition to the museum exhibit, there will be performances, Gritos de Dolores, and a voter registration booth.  For more information contact: [email protected]; 254-548-9730.
On Sunday September 25th from 4-8pm the Waco Hippodrome and Waco Poets Society presents Peace on the Patio a community open mic as part of the global project, 100Thousand Artists for Change.  This year marks the fifth year Waco Poets Society has organized this event for our community.  We are so grateful to our generous sponsoring venue, Waco Hippodrome for opening their patio to us for this event.  Beginning at 4pm Ninth Limb Yoga, LLC will be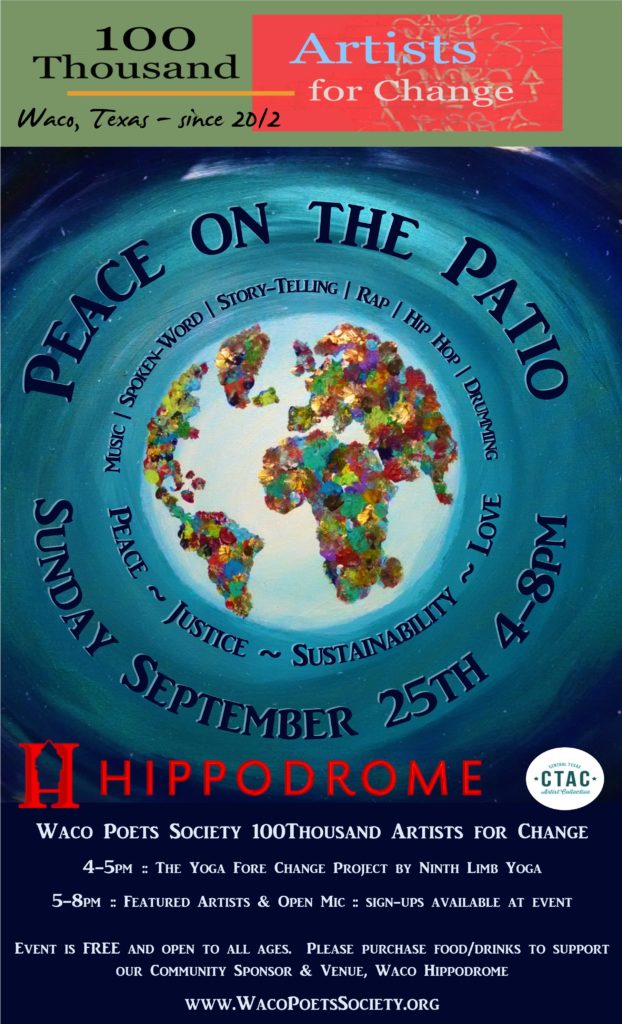 providing Yoga Fore Change Project yoga session ($5 suggested donation) until 5pm at which point the open mic, featuring singer/song writer, Katie Stewart, will begin.  This year's theme is Peace, Justice, Sustainability, and Love–so bring your songs, poems, stories, spoken-word pieces; bring your family, your friends, your neighbors, and co-workers.  Purchase some delicious food and specialty drinks as a way of saying thank you and supporting a local business who gives back so faithfully to our community!  Contact: [email protected].
The 2016 WCAF, taking place in Indian Spring Park and the Waco Convention Center September 30th-October 2nd, looks to be a delightful array of music, visual art, dance and performance, poetry and writing, African film, and science for all ages.  In addition to performances and interactive exhibits, art stations, and experiments, the festival draws a tasty selection of food vendors, vibrant artisan vendors, and authors from across Texas and beyond.  (For complete schedules and full details on each festival please visit the links above).
This week a new exhibit opens at the Art Center of Waco and will be available for viewing now through October 22nd.  While I Breathe, I Hope is a collection of abstract paintings by Caroline Lewis.  Also at the Art Center are a number of classes open to community participants and weekly Cookies and Coloring sessions on Friday afternoons.  Plan ahead and mark your calendars for the annual Fall Festival and Pumpkin Art Auction on October 29th—the theme for this year is Superheroes!
This post marks the two-year anniversary of me writing this monthly Arts and Culture blog, in honor of milestone, I'm starting a new hashtag…but more than a hashtag, I want to propel movement that has already been stirring in our community.  Are you ready?  Are you curious?  Remember when I told you I love a good play on words?  Well, here we go: #ArtLocallyWaco.  🙂  It seemed a completely natural conclusion especially when so many of us art (as a very active verb) locally, here in Waco.
If I've learned anything over the past 4+ years I have been creating and organizing arts programming in Central Texas, it is that showing up to the page, the canvas, the camera lens, the stage, the microphone, the textiles, the music, the wall, the materials—whatever they may be, the community is the single most important practice to have as an artist.  Sure raw talent and honed skills are valuable.  But what is vital for a thriving, creatively sustainable community, is at the very core so simple: it is we, showing up.
Sometimes that means to exhibit or perform, sometimes that means to set up and break down, sometimes that means lending a window or a wall as exhibit space, sometimes that means opening up your business as a performance or event venue, sometimes that means liking and sharing events on social media, sometimes that means our bodies physically showing up to be present, sometimes that means donating dollars to help financially sustain these powerfully effective community grassroots efforts doing remarkable good throughout our community, sometimes it is investing in local artists and writers buying their creations and books, sometimes it is advocating at city council or at the capitol or at the school board to ensure that funding and policy continues to make room for and protect the arts.  What I love about community-centered arts and cultural programming is that there is room for every person of every age, every skill-level, every talent, every strength, every expression, every style, every medium.
So I put this challenge out to you—how will you #ArtLocallyWaco this month and beyond?  Post in a comment, send us an email: [email protected], or tag us in your own social media post about how you will get or stay involved in the arts in Waco.  I'm proud of what we are creating here in Waco, it is an ever-evolving, community collaboration and such a magnificent work of art!
---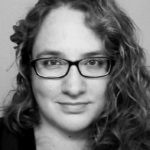 Jenuine Poetess is an artist, visionary, and community organizer. In 2010, she founded In the Words of Womyn (ITWOW), an international, grass-roots, written and spoken-word arts project with chapters throughout Los Angeles, CA; Waco, TX; and Lebanon.  Jenuine is the founder of Waco Poets Society and co-founder of the Central Texas Artist Collective.    She writes, organizes, and creates rooted in the fierce conviction that holding intentional space, access, and opportunity for all people to foster their creative health is a matter of justice and is a vital asset to the sustainable thriving of communities.  She currently lives and poems in Central Texas where she enjoys finding new ways to disrupt the homeostasis of her city.  You can contact her at: j[email protected].
The Act Locally Waco blog publishes posts with a connection to these aspirations for Waco. If you are interested in writing for the Act Locally Waco Blog, please email [email protected] for more information.