By Beth Armstrong
It was another warm September morning in 2015 when I was in my car driving to my next appointment for work. I was listening to the radio, as I often do, and heard the news of another, the fourth, police officer who had been shot and killed while on duty. His death was the most recent in a series of killings over the span of a few weeks that had taken place across the country last summer. Not wanting to deal with anymore horrific news, I turned off the radio and drove on in silence for the next few miles.  I thought to myself, someone should do something. Someone should change the conversation. Someone should stand up and DO SOMETHING; ANYTHING. In that moment, I heard a quiet voice whisper, "You're somebody. Why don't you?"
I am just a wife. I just a mom. I am just an employee. I am just a volunteer. I have no ties or connections to law enforcement. What could I possibly do? I drove on towards my destination that morning with that feeling that I should 'do something' lingering. As if a switched flipped in my mind, I thought about the national movement of "See You At The Pole" where students across the country gather at their flag poles one morning each September and pray for their school. What if we gathered at our local police stations and did just that? Prayed. Pray for safety; pray for integrity; pray for hearts to be changed? Whatever it is that you feel led to pray for, what if we prayed?
I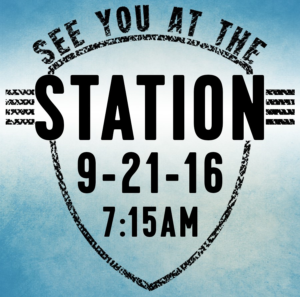 posted that simple idea on my Facebook page and within minutes had dozens of comments. A few hours later, I created a Facebook event page and titled it, "See You At The Station" in honor of the national, "See You At The Pole" rallies. In 36 hours, over 30,000 people had been invited. By the end of the second week, it had spread across the country to over 30 states. Our short window of 3 weeks, led to 65,000 people being invited in 35 states, hundreds of locations and thousands of people involved. Picture after picture after picture of people encircling their local police station gathered in prayer were posted the morning of the 2015 See You At The Station event. Pictures of groups of 1 or two people, dozens of people, and groups of hundreds were shared. For the people who came to pray or to be prayed over, I believe it changed them. For me, I know it forever changed me.
It is once again September. This month, we have two different opportunities to pray for our community.  For those of us involved with SYATS, we still believe that the men and women who serve and protect us across the nation could use our prayer. So, I'm inviting you to come; pray. On Wednesday, September 21 at 7:15am wherever you live in whatever state, find your nearest police station and go pray for the men and women who work there. The following week, on Wednesday, September 28, students and their families across the country will be gathering at flagpoles before the start of school to pray over their campus and all who step foot there.
We often talk about wanting 'Someone' to 'Do Something'. What if that 'Someone' is YOU? YOU could be somebody's miracle. YOU CAN DO SOMETHING. Sometimes it requires feeling a little unsure; a little uneasy but taking a bold step of faith and courage to make a difference. You praying for these men and women might change them and impact their life, but if you let it, it might also change you and your life. Will you join with me and pray on Wednesday, September 21 at 7:15am, wherever you live, go to your local police station and just pray? I hope to See YOU At The Station too!
If you'd like more information about SYATS or want to share it with others, please check out the Facebook page: https://www.facebook.com/seeyouatthestation/
---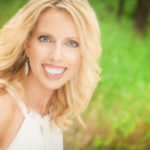 Beth Armstrong is married to Chris, and they have 2 kiddos: Hunter who is almost seven and Ella who just turned two. I addition to her fulltime job, she has been a member of the Junior League of Waco for 13 years.
The Act Locally Waco blog publishes posts with a connection to these aspirations for Waco. If you are interested in writing for the Act Locally Waco Blog, please email [email protected] for more
(Visited 12 times, 1 visits today)