The big stage! – How I went to St. Louis, performed in front of 10,000 people and made 10 great friends!
By Nick Atkins
On February 29th, I received the email. I had been accepted into the MUNY/Webster Intensive, a three-week musical theatre intensive in St. Louis, Missouri. (MUNY is short for the Municipal Theatre Association of St. Louis.) I would participate in workshops, take classes at Webster University, and 0perform in the MUNY's production of Mamma Mia with professional Equity actors in front of 10,000 people a night.
Four months earlier, Waco High's Technical Theatre Director, Cory Garrett, asked me to audition. He believed I could best represent not only Waco High, but also Waco itself. So I began the application process, including preparing three separate videos—a monologue, a song, and a dance performance. I didn't know at the time that only eleven students from across the country would be selected.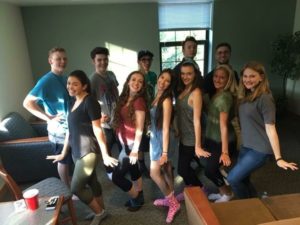 When I walked in to the boys' dorm, I found myself greeted with high fives, handshakes, and stories of our hometowns. Alex from Canada, Harrison and Miller were both from Kentucky, and the other Harrison was also from Texas. We were told to go to the living room for a "team meeting." While we were waiting for the girls, we heard thundering from the hallway. From around the corner, six girls came in, squealing in excitement that the last of the group had finally shown up. Brooke and Becca were from Florida, Karissa and Rachel lived in California, Tori was from a small town outside Boston, and Anika was a Rhode Island girl. Of my three weeks in St. Louis, that first day was one of the best. We all sat there in a circle, learning about each other, telling stories from our hometowns, listing the roles we had played in performances. It was that night that I realized how close theatre really brings people together. We all came from different places, different backgrounds.
The next two weeks were hectic, sweaty, and amazing. Every morning, we'd all wake up, get dressed in whatever our color of the day was, and head to rehearsal at 10 o'clock. The eleven of us were in the ensemble, meaning we learned the music for every song, and were on stage numerous times dancing. One day I was on the side of the rehearsal studio waiting for my cue to come on. There was an adult Equity ensemble member waiting with me named Kevin Zak. He noticed how quiet I was and decided to make some conversation. We started talking about theatre and how we got into it. I jokingly asked how many Broadway shows he had been in and he answered with, "Well I was in the original Off-Broadway Cast of Clinton: The Musical." My jaw dropped. I asked him what part he played. Ken Starr. I met the man that played Ken Starr in Clinton: The Musical.
Our evenings were different each night. We got to see the MUNY's production of both The Music Man and Young Frankenstein. We had three workshops and got to work on our college audition pieces with choreographer Josh Rhodes, actress Julia Murney, and actress Nancy Opel. One night, we went to a place called The City Museum. At first, I just expected a history museum with exhibits pertaining to St. Louis, but it was actually a giant playground. Three glorious stories of mazes, jungle gyms, and slides. We were all so tired after that, we totally forgot about our midnight tech rehearsal that next day.
At the MUNY, the musicals have two weeks to rehearse and one week of performance. When a show ends, the next musical has a "midnight tech" rehearsal in which the sound, lighting, and set elements are put to the test just hours before the opening. The Mamma Mia midnight tech rehearsal went so smoothly, we were headed home around 11:45. That afternoon, the cast got together for "sweat tech", a last minute run through of the show in the sweltering St. Louis afternoon.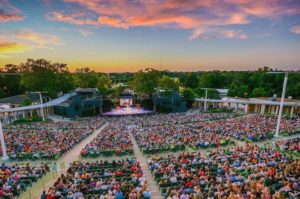 Then came the fun part. Opening night. We arrived thirty minutes early to get our microphones and costumes ready, and headed to our places. For most of us, our first dance number wasn't until a few scenes into the show, but a few of them were in the opening scene. After that first scene, they came back with their jaws dropped. It was packed. 11,000 seats, filled to the brim. My first number, "Lay All Your Love", where I waddled onstage with four other guys in flippers and goggles and did a little dance in front of two leads, I glanced out to the crowd to get a good look and I nearly forgot my dance and stopped right there. I had never seen that many people in an audience. It was truly beautiful.
During the performance week, we took classes at the Webster campus during the day. We all referred to it as "Webster Week". We took yoga, improv, dance, and acting classes. Lara Teeter, the head of the musical theatre program at Webster, worked with us on college audition pieces alongside Tim Ocel and Ron McGowan. Together, they helped us with every aspect of Musical theatre. I learned things that week that I can use in any part I play. I have already used some of the tips for my part in Waco High's production of The Little Mermaid.
T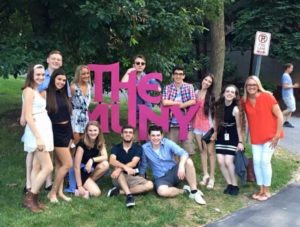 he one question I always get when talking about this trip is, "What was your favorite part?" That becomes harder and harder to answer every time I look back on it. I learned a lot in the Webster classes, and had a blast performing in Mamma Mia. However, those memories would not have been so amazing if not for the other ten people that were with me 24/7. These people are lifelong friends. Some of the most fun times were at the dorms after rehearsal when we crashed on the couches and talked. We shared every meal together. We would stay up late just to practice dances together so we knew we had it down. These ten people are all so talented; I have no doubt in my mind that they will all do amazing things in the future, not necessarily in acting. They aren't just great actors, great singers, or great dancers. They are all great people. In our workshop with Julia Murney, she said something that stuck with all of us: "You're worth more than a 5, 6, 7, 8".
---
Nick Atkins is currently a senior at Waco High School. He is involved with the varsity choir, show choir, theatre program, NHS, and mascot at WHS. He would like to thank his family and all of his directors for giving him the courage to pursue theatre. After high school Nick plans on getting a BFA in Musical Theatre.
(Visited 121 times, 1 visits today)