Sacred Journeys: Community and Purpose
By Trey Crumpton
What journey have you taken?  What journey will you take?  Do you have a friend or relative who has taken a journey according to his/her faith?  Might you have occasion to cross paths with someone whose faith tradition is different from yours?  These are all questions which we explore in our fall exhibit at the Mayborn Museum at Baylor University. Produced by The Children's Museum of Indianapolis and the National Geographic Society, Sacred Journeys focuses on important pilgrimages of five major world religions: Christianity, Islam, Judaism, Hinduism, and Buddhism.
It has been a privilege to listen and speak with people from our community who may think and believe differently, engaging in dialogue about our shared spirit and humanity.  People journey to add experience and context to their soul, and in some cases, to fulfill tenets within their given faith.  We learn together about each person's tradition, and one might say that this "learning journey" is a sacred one—binding together those who might otherwise remain separate.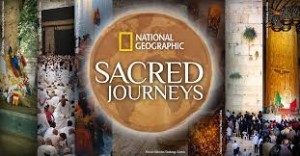 Over the past few weeks, we have participated in several events which highlight our shared emphasis on stories. The Mayborn hosted an interfaith prayer breakfast for the opening of the exhibit, and museum staff were invited to share personal faith journeys at a Cross Cultural Dinner hosted by Baylor Spiritual Life.  The panel discussion, Holy Journeys, Holy Destinations included four Baylor professors (Candi Cann, Robert Creech, Elise Edwards, and Matthew Whelan) who discussed what happens when we travel to holy places, how holy places can travel with us.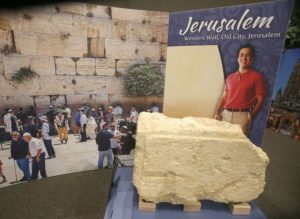 Throughout the fall, the museum will continue to host events which promote dialogue, including an Interfaith Student Panel Discussion on November 10, hosted by Baylor's interfaith group, Better Together BU.  Along with the Greater Waco Interfaith Conference, the museum will host a Festival of Faiths on October 30.  The National Geographic film, Jerusalem, will play during select showings on the weekends, through the duration of the exhibit, which runs through December 31.
A little more about National Geographic Sacred Journeys:
Each year more than 330 million people around the world journey to sacred places as part of their religious commitments. Some seek enlightenment or healing. Others perform acts of devotion that are expressions of deep faith. The new exhibit reflects this diversity of religious and spiritual pilgrimage through immersive environments created with photography from National Geographic. Families will be able to observe, discuss, and begin to understand some of the beliefs and sacred journeys made by people around the world.
Recreated places, spaces, and events invite visitors to learn more about the history and beliefs that support spiritual practices that take place at home and within our congregations. Featured sites include:
The Western Wall of the Second Jewish Temple in Jerusalem, Israel
Dome of the Rock, site of Muhammad's ascent to heaven in Jerusalem, Israel
The Church of the Holy Sepulchre, site of Jesus' crucifixion in Jerusalem, Israel
The Grand Mosque in Mecca, Saudi Arabia, to which all Muslims are expected to make a pilgrimage or Hajj once in their lifetimes
Tepeyac Hill and the Roman Catholic Basilica of Our Lady of Guadalupe in Mexico City, Mexico
Allahabad and Sangam at the confluence of three rivers sacred to Hindus at the Ganges River in India, site of some of the largest gatherings of humans on earth
Bodh Gaya, birthplace of Buddhism, and the Bodhi Tree where Gautama Buddha achieved enlightenment in Bihar, India
Caves in the bluffs along the Dead Sea in Qumran, Israel where the Dead Sea Scrolls were discovered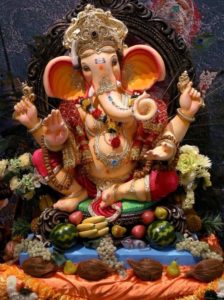 The exhibit will come to life through the personal stories of children and families who participate in sacred journeys or practices. Connecting with these experiences will allow visitors to learn how pilgrimage and revered artifacts reflect religious traditions and the cultures associated with those religions.
"The Sacred Journeys exhibit promises to be a very rewarding project. Many Americans associate the idea of pilgrimage with the Middle Ages, but in fact it is a huge reality in the present world, something that affects literally billions of people. Pilgrimage also provides a wonderful way of understanding religious impulses as they are expressed in different world faiths. So we are dealing with something richly educational, something that provides a unique way of understanding different religious traditions, but it's also breathtaking in terms of the beautiful places and buildings that will be explored.," says Professor Philip Jenkins, Distinguished Professor of History in the Institute for Studies of Religion at Baylor University as well as the Mayborn Museum's spokesperson for Sacred Journeys.
---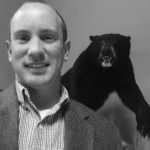 Trey Crumpton is Exhibits Manager for the Mayborn Museum Complex at Baylor University, where he has been on staff for 10 years.  He has lived in Waco since 2001, and has two energetic preschoolers who love to discover.  His beautiful wife Ashley is an early childhood educator, and together they are proponents of all things educational, enriching and fun.  Trey loves family, friends, the outdoors, dark chocolate, good books, pizza, and good film.
The Act Locally Waco blog publishes posts with a connection to these aspirations for Waco. If you are interested in writing for the Act Locally Waco Blog, please email [email protected] for more information.