Meals and Wheels: The need is great and you can help
By Melody McDermitt
Please don't stop bringing Meals on Wheels to me… I'm not sure how I will make it without you," has been the most common call we have received since the media attention focused on Meals on Wheels funding. We are reassuring our clients that their meal service will continue and making sure our donors and volunteers know how important they are to our ability to serve.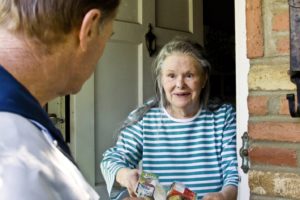 For fifty years our agency has served the community's most vulnerable populations and because of our strong community support, we will be here to continue caring for the people of Waco, McLennan, Hill and Falls Counties.
Below is information about our budget, program, and how you can help:
We receive approximately 45% of our funding from federal and state sources. Most of the funds are through the Older Americans Act, administered by the US Department of Health and Human Services. We match these funds with private dollars to serve people meals.  The combination of federal, state, and private funding is a great example of successful public-private partnership.
We have a waiting list of 87 people. Because funding is limited, we have had to start a waiting list.  In January we had a list of 50 people, but this list is climbing due to increased need.  We need community support to stop the wait and start the meals.
The average age of our clients is 80. If you were to deliver meals, you would most likely meet an eighty year old woman, who is living independently and alone.
Growing over time. Eight years ago, Meals on Wheels served approximately 650 people daily. Today, we prepare approximately 1,000 meals daily, the majority of these meals are delivered to client's homes and the rest are prepared for senior centers.
Meals on Wheels is a compassionate program, but it's also a fiscally responsible investment with proven success. It costs us $6/day to produce and deliver a meal. Research shows our program keeps seniors healthier, allowing them to stay in their homes instead of a Medicaid nursing home ($150/day) or being hospitalized for malnutrition and dehydration ($1,500/day). We can feed a senior for one year for approximately the same cost as one day in a hospital.
You can help by volunteering! For every route a volunteer delivers, we are able to save enough money to feed a senior for a week. We love volunteers who can deliver weekly, monthly, or during holidays. To sign up, go to our website mealsandwheelswaco.org.
You can help by donating! For just $30, you will feed a senior for a week. For $120, you'll feed one new client for a month. Every gift is appreciated and needed. Please consider a monthly gift. Donations can be made at mealsandwheelswaco.org/donate or mail to Meals on Wheels, 501 W. Waco Drive, 76707.
Share your Meals on Wheels story with friends and the community. As a client, volunteer, or donor, you are our best advocate. Please share your experience – in person and on social media. Tell your story or share ours. Our Facebook page – MealsandWheelsWaco and Twitter – MealsWheelsWaco –  are great places to leave your comments.
If you'd like additional information or have a story to share with us, please contact me at [email protected] . Thank you for your support!
---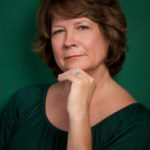 Melody McDermitt is the Executive Director of Meals and Wheels. She came to the agency in 1980 to work with the rural Senior Center Program. She came to Meals & Wheels from the Area Agency on Aging where she worked with programs in a six county area.  Prior to her work in Waco Melody was an Extension Home Economist in Oklahoma.  She has a degree in Home Economics and has done graduate work in Public Administration. Melody's gifts are for building a team of employees who value older adults, and work to help older adults be seen as valued members of the community.
The Act Locally Waco blog publishes posts with a connection to these aspirations for Waco. If you are interested in writing for the Act Locally Waco Blog, please email [email protected] for more information.