Creative Contagion: how arts blooming in Waco have inspired creative community building throughout Central Texas
By Nicole Metts
Ever since I can remember, I have been making art and writing. For me, creating things gives me the balance I need to survive in this stressful world. I was an emotional teen, and my first marriage was a disaster, but poetry and painting got me through it. Everyone needs an outlet for emotion; even when you are content in your life. I know some people do not understand this, but for an artist, you must create because it is as important as breathing. It does not have to be an immaculate piece though, because the creating of the art is the satisfying part. Writing and visual arts also show your life history. Time goes by so fast. Will you remember these moments; these spiritual changes in yourself ten or twenty years from now without them? I even save the bad ones, because it is a learning process and growing process.
Last summer, I came across a submission for artists and poets in an art and word collaboration called "Ekphrasis." I had never submitted any work of mine before, but I felt I needed to be brave and I sent it. Not long after, I received an email from Steve & Angie Veracruz of Central Texas Artist Collective about my poem. I was so excited I drove to Waco to meet them. We met at Tea 2 Go for Waco Poets Society open mic where I met Jenuine Poetess. I joined her group in poetry recital even though I was terrified and inexperienced. I certainly was not yet a master of confidence and rhythm like all the other amazing poets I heard that night. They were so supportive and it was wonderful to hear and speak with them. I was so inspired I decided I was going to start a writing group of my own. Jenuine told me she would be happy to give me guidance through the way and even come visit in the beginning if I needed help getting started for open mic. I drove home on cloud nine so excited about the upcoming Ekphrasis event and the idea of starting my own writing group with support.
For the Ekphrasis exhibit artists and writers were paired together. I was paired with Dana Helms.  She is a teacher, an animator and a fiber artist. We lived in different cities, but we had a lot of fun emailing each other. She created an amazing tapestry to match with my poem. Our relationship helped me build my confidence even more. I could not have been paired with a more amazing artist.
The Ekphasis pieces were hanging in the windows of businesses in downtown Waco for everyone to enjoy. My family and I admired each one, sipping old fashioned soda in glass bottles, and devouring sweets from the candy store. The main event was at the patio of the Hippodrome where some of the poets read their pieces with a copy of the artist's work on an easel beside them; it was beautiful and professional. I finally met Dana Helms in person and we had a delightful conversation about art forms that interested both of us.
My Garden
Tip toe amongst my Garden of Eden,
And you will find zeppelins amongst the clouds;
With acrobats hanging down and then,
Dancing dragons through the air and sounds
Music blowing through a band of trees
A lost fairy captured by the breeze
Lilies laughing from tickles of the bees
Burrowing deep inside entrails touching hearts and seeds
Through the aroma mist of storm and seas
Intoxicated in bliss and ease
I watch the sun and moon taunt and tease
The jealous shooting stars that fail to seize
A pinnacle above wonderland plain to be
Found only by elite and obscure who believe
There is more to life than what can be seen.
Waco is getting ready to have another Ekphrasis event soon . If this sounds like fun then maybe you could get involved or follow Central Texas Artist Collective or Waco's Poets Society to enjoy their happenings. Both groups are active in the community and are always up to something.
I have always loved the arts and believe it is essential part of our culture. If you think about it; what would your city be like without art?  No live music, film, dance, poetry, murals, museums, theater, sculpture, local art, and art focused events? Even the buildings, bridges, and landscaping are art. Waco has grown so much over the years and I can certainly see why. The right people are in place getting people excited about their community.
Now I am thrilled to tell you that I have started a group called Central Texas Writing Society. It was hard finding members at first. I started with hanging flyers and talking to the library about having meetings there. With the help from the library director Kevin Marsh, my first dedicated writer and now VP of CTWS David Hardin, my friend Briann Gonzalez (our tech guru), and the local Five Hills Art Guild supporting us on first Friday at Frames & Things in Copperas Cove, we are growing. My city has a long way to go to catch up to the community involvement of Waco, but I am determined to be part of the driving force to get them there.
I invite you into our group or into one in your community — get involved! I have met many amazing people, and they have been encouraging and full of wisdom. I cannot imagine living life without them now. Surround yourself with people with similar interests, and they can inspire you and help you grow in whatever it is you love. If you do not think that is your "cup of tea" I hope you support the arts and community groups in your own way because that is just as important. I am still a strong believer that art and word can change the world! It has certainly changed my world.
Get Involved!
To learn more about and to register for the 2017 EKPHRASIS Waco! Exhibit, please visit the CTAC Call for Artists page here.  All call for participants is open now through June 2, 2017.
---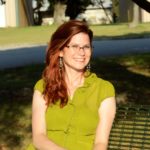 Nicole Metts is the founder of Central Texas Writers Society in Copperas Cove. She has been passionate about the arts since childhood. Besides being a poet, she is a painter, photographer, and enjoys exploring other medias as well. Currently; she is a full-time student at Central Texas College with plans to transfer soon to Texas A&M to achieve a B.A. in English with a minor in art. She also works full time as a supervisor, is happily married, and has two children. You can connect with her at https://www.facebook.com/CentralTexasWritersSociety/ or [email protected].
(Visited 40 times, 1 visits today)