Urban REAP project puts theology of "creation care" into action
By Katie Schaeffer
Jimmy Dorrell, CEO at Mission Waco, believes that "creation care" is not a side bar issue, but rather, "Christian justice demands that the creation must be protected, because every thing and every person is made in the image of God." That is why he has worked tirelessly to put together Mission Waco's Urban REAP (Renewable Energy & Agriculture Project). The project has commercial composting, rainwater harvesting and purification, solar power, an aquaponics greenhouse, raised grow beds, and a small training center for groups to come learn as a part of Mission Waco's effort to be about "creation care."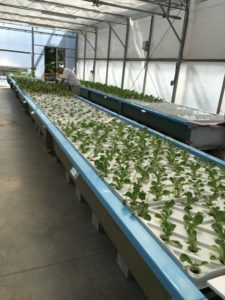 The passion Jimmy has about the privilege and responsibility God has given mankind to care for and harness his good gift of creation, and not abuse it for personal gain is based on the cultural mandate found in Gen 1:28, where he believes we receive God's expectation that everyone should be good stewards of creation.  Jimmy was also profoundly influenced in this area by the teaching of theologian Francis Schaeffer, who among many things, wrote Pollution and the Death of Man (1970).  Jimmy recently posted on Urban REAP's facebook page, a quote from the book, in which Schaeffer suggests that many in the church need an ecological conversion, "lamenting that much of evangelical Christianity had adopted a dualistic view of the world that did not take nature seriously." He posted "For Francis Schaeffer, our shared finiteness created a bond of common grace with the rest of creation that calls for responses of stewardship, regardless of one's religious worldview."  In another post, Jimmy expresses why creation care is so important, "Statistics profoundly show global deterioration of God's perfect ecology that affect basics of food, water, land and weather".  He hopes that Mission Waco's efforts in addressing these issues, will encourage individuals and corporations in Waco and the country to think about their impact on our ecology and what changes they can make to be better stewards of God's great gift.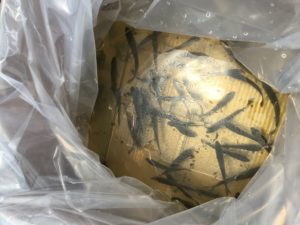 Ground breaking for the Urban REAP project, which was funded mostly through a generous grant from Green Mountain Energy Sun Club, began on January 18th, 2017. Every month since has seen the anticipated additions of the project come together. Just this week, 315 Hybrid Striped Bass fingerlings were added to the aquaponics system, which will provide organic produce to Jubilee Market, and up to 500 lbs of fish and 720 pounds of crawfish annually.  Next week the commercial composter arrives which will turn biodegradable waste from Jubilee market, local restaurants and businesses into compost. This compost will be available for purchase at the upcoming greenhouse nursery behind Jubilee Market.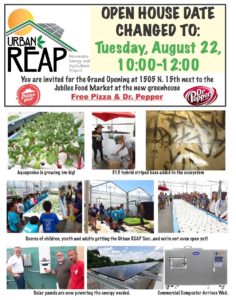 Come see and learn about all of these developments at Urban REAP's Grand Opening on August 22nd from 10am-12pm.  Those who can't make it are always welcome to drop by for a quick tour and sign up to be a volunteer! All this news and much more can be found on Urban REAP's Facebook page: mwurbanreap,  and Mission Waco's website.
---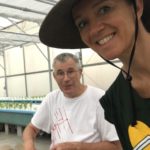 Katie Schaeffer and her husband Rick consider it a real privilege to be managing Mission Waco's amazing Renewable Energy Agricultural Project (REAP).  Katie and Rick came to Waco at the end of 2015, from CA. This week they are moving into a house they have been renovating, just a few blocks from Mission Waco and are really looking forward to being part of the neighborhood community.  Katie is happiest being in nature and tending to plants, and eating good food with friends and family.  She and her husband Rick are also grateful for the privilege and deep joy of raising two sets of twin boys, who are now amazing 23 & 24 year old men. That is Tony in the photo with Katie.  He is her "angel" volunteer who is there everyday she is, and the reason the aquaponics greenhouse is so beautiful and well run.
The Act Locally Waco blog publishes posts with a connection to these aspirations for Waco. If you are interested in writing for the Act Locally Waco Blog, please email [email protected] for more information.
.