Waco is my home and I am here to stay
By Gwendolyn McKnuckles
When I was a child my brothers and I would visit Waco and Valley Mills for the summer.  We did this for many years until we reached the age we no longer needed babysitting in the summer time.
I was one of 9 cousins, 8 of which were boys.  We stayed on the farm with my grandfather and grandmother, Robert and Sadie Slaughter.  We were collectively taken care of by my aunt Marilyn Slaughter Thomas and my sister Joyce Vance Gregory.  We ate, slept, played, fought, and disrupted the normal flow of life for them during that time.
On certain days, my two brothers and I would visit my uncle and aunt, A.J. and Jean Montgomery, and their son Alfred in Waco.  During these summers, I fell in love with Waco.  From a child's eye view, there was something about Waco that drew me in. I would like to think it was because everyone seemed to know each other and have history.  I was surrounded by people who grew up together to the third and fourth generation.  It felt good to walk into a place and everyone knew your people and you knew theirs.
When my wanderlust brought me to Waco in 2011 at the age of 57, I felt it was a dream come true.  In a sense, I felt I had come home. Perhaps surprisingly though, since coming here to live, I have often felt at a loss for connections to my community, for ways to be an active part of its growth and prosperity.  I am often questioned, "Where you from?", "Who are your people," "What church do you attend?"  My responses have often elicited, "Oh, you are not from around here."  At those points, I have felt left out and disconnected.
Sunday, I felt particularly disenfranchised and wanted to feel a part of something without being questioned.  My childhood memories of going to church in Waco include Toliver's Chapel on Elm Avenue.   On this particular Sunday they celebrated their 122 year anniversary.  I remember going to church with my Aunt Jean Montgomery and seeing my Uncle A.J. sing in the choir.  My Uncle Gerald and Aunt Dorothy taught in the Sunday school and my Aunt Sadie worked in the church.  My cousins were junior ushers and filled in other capacities.  But, because we were only visiting for the summer, we were relegated to sit on a bench and watch quietly.  I have great memories but still felt adrift and apart.
Sunday, I sought a place to feel a part and solidify my time and transition to Waco as home.  I sat in the back of the church and visited the caverns of my mind remembering the days when Toliver's Chapel seemed bigger, taller, and grander.  I experienced the pride of remembering how my family worked in their various capacities and I felt at home.   I was very grateful no one asked me who were my people or where I was from, or called out, "Oh, you are not from around here" (as if it explained why I didn't fit.)   I left rested and renewed in my quest to become an active positive influence in my community.  I felt once again Waco is my home and I am here to stay.
---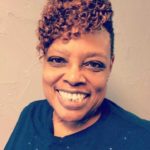 Gwendolyn McNuckles moved to Waco, Texas in 2011.  She is a proud to call Waco her home.  Gwendolyn's background is in human resources.  She enjoys public speaking, teaching and community service.  Gwendolyn is the proud owner of Connections and Reflections, an event planning company that works with individuals and organizations to plan any size event.