QR FIT Trail Systems in Waco Parks
By CeRon Ford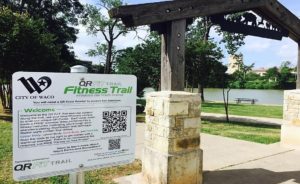 The summer climate and abundance of parks with green meadows make the City of Waco an ideal location for outdoor fitness. On a typical day, the sun is shining, the birds are chirping, and the breeze feels divine! Why confine yourself inside a gym for a workout? The QR Fitness Trail System allows you to replicate many gym exercises in the outdoors and all you need is your smartphone!
Through funding made available from the Texas Department of State Health Services and the Texas Healthy Communities grant, the Waco-McLennan County Public Health District and Live Well Waco have partnered with the City of Waco Parks and Recreation Department to have the QR FIT Trail system installed and ready to use in 11 neighborhood parks this summer. The QR Fitness Trail System will provide the perfect opportunity for community residents to lead an active lifestyle without the cost of a gym membership or fitness trainer.
The QR Fitness Trail System has been installed around walking and running trails in 11 parks throughout Waco:
Alta Vista Park
Bells Hill Park
Bledsoe-Miller Park
Brazos Park East
Brooklyn Park
Council Acres Park
East Waco Park
Gurley Park
Kendrick Park
Oakwood Park
Oscar DuConge Park
The QR FIT Trail is a high tech fitness course designed for individuals of all ages. It is comprised of a series of signposts placed along the parks, and each sign post or station features Quick Response or QR codes that link a user's smartphone to workout instructions and instructional videos. Park visitors will use the camera on their smartphones to scan the QR codes on each sign. Each workout station offers 4 workout options that focus on core, upper body, lower body and flexibility. For the users who may be intimidated by the difficulty of exercises, the fitness system provides users the option to select beginner, intermediate, or advanced. Free QR Code readers are available through smartphone app stores. Also, no additional fitness equipment is necessary in order to perform these exercises.
Alexis is a 27 year-old Waco resident who has set a goal to lose 15 pounds before her sister's wedding in the next couple of months. Like many others, money is tight for Alexis. She does not have the funds to hire a fitness trainer or pay for a monthly gym membership. Alexis heard an ad about the QR Fitness Trail System while listening to the radio on the way to work one morning, so she decided that she would try the QR Fitness Trail System later that evening. Alexis mentioned that she briefly played volleyball in high school, but she has not dedicated much time to her physical fitness since then. However, since using the QR Fitness Trail System at her local park, Alexis has lost a total of five pounds just within a couple of weeks. When asked how effective has the QR Fit Trail System been, Alexis responded, "I think this is a great tool with a great purpose. It's quick and easy for me to use, the trainers from the workout videos show me how to actually perform the exercise for my specific body area, and it costs me nothing!" Alexis also stated, "I would love to see more community members use this system, so I plan to invite my friends to use the QR Fitness Trail System so that they can get in shape too!"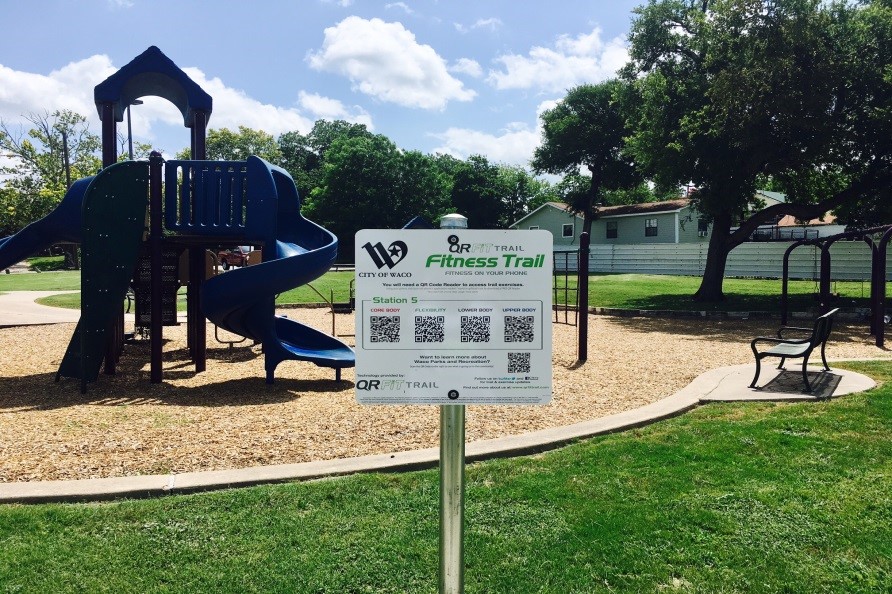 In the age of cable television, Facebook, YouTube and Instagram, it's a great idea to travel beyond the screen or the front door and use your smartphone for something that will benefit you in the long run—like your health! There are many physical and mental benefits of exercising outdoors.
Research has proven that exercise help control and prevent the following:
Heart disease
Stroke
Depression
High blood pressure
High cholesterol
Type 2 diabetes
Arthritis and much more
Studies have also shown that exercising outdoors can help people think more clearly, burn more calories, increase family time, meet your neighbors and save money. The right amount of fresh air and sunshine can be almost impossible to beat. Don't let the summer pass you by, get to one of these local parks and get fit!
The QR Fitness Trail System is an awesome way to promote health and fitness in the City of Waco. This system is the best thing since sliced bread! The fitness system allows smartphone users to lose weight, get in shape, explore the neighborhood, experience the outdoors, and enjoy the beauty of Waco. Pick up your smartphone, grab a bottle of water, and head to one of these local parks!
Have questions about the fitness system? Want to show off how you and/or your friends and family us the QR Fitness Trail System? Share your photos and videos with us (@livewellwaco) on social media, and remember to include the hashtag #WacoQRFit.
---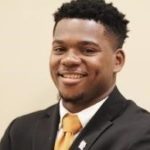 CeRon Ford moved to Waco in August 2013 to attend Baylor University. He received his Bachelors of Science in Public Health, and had the opportunity to intern at the Waco-McLennan County Public Health District as a Live Well Waco intern during his final summer in Waco. CeRon will further his efforts of pursuing public health by attending Morehouse School of Medicine's Master of Public Health Program in Atlanta, Georgia, In the Fall 2017.
The Act Locally Waco blog publishes posts with a connection to these aspirations for Waco. If you are interested in writing for the Act Locally Waco Blog, please email [email protected] for more information.
Photo Credits: CeRon Ford Photography, Courtesy of Waco-McLennan County Public Health District, 2017
(Visited 271 times, 1 visits today)