Of dreams, food trucks, and a class that changed a life
By Madiha Kark
It's still a few hours before Veronica Trejo-Evans, 43, will open her food truck at a busy strip mall on West Waco Drive. Nestled between car repair workshops and a beauty parlor, Dos Mundos Spud Shack is a labor of love. As a first-generation American, Veronica prides herself on the work ethic and sense of responsibility her Mexican parents instilled in her.  The classes she took at McLennan Community College helped to make her food truck dream a reality.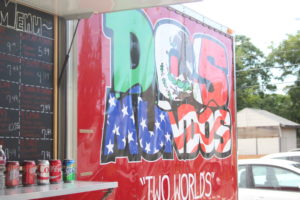 Veronica had never been in the food business up until five months ago.  She and her husband, Cyrus Evans, had fantasized about opening a food truck someday. It was one of those fantasies that would happen when life slowed down a little. Life did slow down for Veronica and Cyrus in an unexpected way, when she lost her 20-month-old son. His death left a void, forcing the Evanses to ask, "What next?"
The idea for the food truck came when the couple was on a trip to Mexico and saw a line form. Upon investigating, they found the culprit to be a guy selling a bag of Doritos with nacho cheese and jalapenos. "My husband was like, 'Wow!' And for me, it was so normal to see," said Veronica. Food trucks have been in the U.S. since 1872, but have become especially popular in the last few years.  Many restaurateurs who are hesitant to take on a new restaurant have turned to mobile canteens as a less expensive way to sell food and reach customers. For Veronica, the low cost was definitely a pull and something she was familiar with — food trucks and street food carts pepper the Mexican landscape. "I didn't want another taco stand or another burger joint. I wanted to do something different."
….
Behind closed shutters, Cyrus and a helper have been prepping the spuds and other ingredients for the lunch crowd since 8 a.m.  Veronica takes a short break from the prep work to reflect on what she learned in her class at MCC, "Even though you have plans and thoughts, you still have to do your work and do your research," says Veronica remembering the challenge of being in a classroom of students 20 years younger. A Texas Workforce program paid for her tuition, books, and supplies. The program is designed for professionals who, like Veronica, were once working but had to stop for some reason and needed some new skills.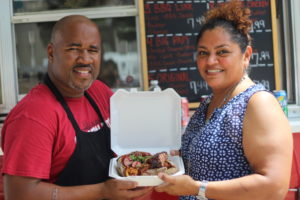 Of her time at MCC, Veronica says she wouldn't have had the food truck if it wasn't for what she learned in her classes. "I sat in the front every day – they (her teachers) were gonna know me, and I was gonna know them. They'll take the time; they'll meet with you. That was very valuable." Veronica says if you follow the blueprint the advisors give you, they won't let you down. "MCC was phenomenal especially coming in at an older age," she says. It gave her a chance to mentor and connect with her classmates in a different way and discover a new world.
Dos Mundos has been in business for a few months but has already made a name for itself among the local Wacoans. Their Facebook page has over 1500 followers and a five-star review. But Veronica still holds on to the paper from her marketing class with Margaret Sanders that says, "I believe you have something here." Veronica remembers her first day in that class.  When she found out what they would be covering, she was ecstatic! She knew then this was the missing puzzle piece for the food truck dream. "This is what I needed to make it happen," she said.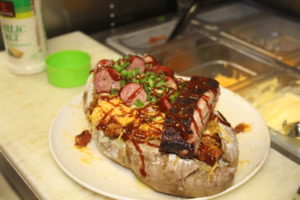 The Evanses didn't do any traditional advertising but utilized social media channels to spread the word. Veronica strongly believes that "every business leads through the heart of the owners." The couple loves to cook, but "a business is very different from a nice dinner at home." They had to find suppliers and develop their production process, learning along the way.  All of the recipes they've developed have come from their own kitchen. The bestseller at Dos Mundos is called the Big Papi (an homage to Veronica's Mexican heritage) — a spud topped with a rib, a link, and chopped BBQ.
On a slightly cool March day in 2017, as the sun shone above the sky, some 20 family members gathered outside the Dos Mundos truck to support Veronica. They were her first customers. Her parents came from El Paso, as well as aunts, uncles, and cousins for the ribbon-cutting ceremony. Veronica had practiced on her cash register, but still everything was a rush. When the couple closed the doors that day, they were overwhelmed with joy and tears, she says. Remembering the day like a fond memory, "The support from the family let us know we got this," Veronica tears up again, but still smiles with joy at a dream come true.
---
Veronica Trejo-Evans took classes at MCC through the Workforce Investment Act (WIA).  WIA is one of many Texas Workforce Commission (TWC) programs that helps employees get in to the workforce.  To be accepted into the WIA, Veronica passed an eligibility and aptitude test and a face to face interview.  Once accepted she began an Associates in Accounting program at MCC. For a list of eligibility requirements visit http://www.twc.state.tx.us/partners/workforce-investment-act#wiaEligibility
For a list of programs available see the TWC website: http://www.twc.state.tx.us/programs.  If you have questions about these programs or would like more information visit their website http://www.twc.state.tx.us.
---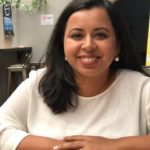 Madiha Kark is a Marketing, Communications and Photography Specialist at McLennan Community College. She holds an M.A. in Journalism from the University of North Texas. She loves to travel, cook, and read nonfiction books.