What the hurricane taught me
By Louise Henderson
In the wake of a hurricane affecting South Texas and Louisiana I am resolved that we as a community can do many great things when we work together. We can have an impact on our community when we  get our resources, manpower, and knowledge together. For five days I waited like other families for my relatives in the hurricane affected areas to respond, but as time passed I realized I could do more. So instead of worrying, I gathered what I had and asked other friends and neighbors to do the same. Within a few hours Trail Riders, Motorcycle Clubs, Social Clubs, and churches were able to load several trucks and send them not only to Houston but to other parts of South Texas.
So why can't we have that same impact in our communities where we live?  We can as groups start to come to together to combine all our talents to do health fairs, to share information about resources, to help those that are elderly and low incomes.
I am seeing a shift in attitude from " I am only going to help if it benefits me" to " I need to start doing more and working with others to make a change in my neighborhood." Groups are working systemically with each other to impact small areas of Waco. For instance, there are four different groups that have decided they can reach more children and families by collaborating their efforts and supporting each other in the Estelle Maxey apartments. Trail Riders and Motorcycle Clubs are starting to work to host back-to-school events that reach larger quantities of families. These are the types of changes we are seeing from groups working together.
I work with Kindergarten children and there is a story that most early childhood teachers read to their children it's called "Stone Soup." It's about a group that is hungry and so they convince the people in the  town to start bringing the little bits of food they are keeping to themselves to contribute to one big pot of soup that everyone can enjoy.  Sometimes we have to realize that even with the little you have you can feed a lot of people.
There are so many great groups and orgazianations we don't know about but are doing duplicate things. My hope is that we will see that if we stop waiting on outside help to come and start working together as a community we can rebuild our city.  With so many changes taking place we have forgotten that your neighbor is not just the person who lives next door, they are also the ones that we see on the streets of downtown and everywhere. We can achieve a level of self-sufficiency if we would take the time to realize that when we work as one unit, and not against each other, we can not only reach the stars, we can go the Milky Way! Age, gender, and social status are no longer excuses for us not to actively take part in what is happening in our community. What happens in East Waco will and can affect what is happening in China Spring and Woodway.  We can do this. We can make this Happen. If we come together and make this Happen.
---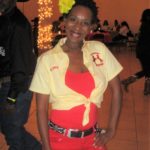 Louise Henderson has four daughters — one at Texas A&M (Elizabeth), two at University High School (Rachel and Naomi) and one at Cesar Chavez Middle School (Rebecca) — and puppy named Rico. She and her family have lived in Waco for six years and are very active in our community. She is a member of the Junior League of Waco, NAACP of Waco, and Waco Knight Riders.  She graduated from McLennan Community College with an Associate's Degree in Child Development and is working towards a Bachelor's degree in Child and Family studies at Tarleton State University.  She loves Taco Tuesday at Rosas Café and volunteering in Waco.  She is the founder of the Central Texas Divas, a social club for women and young girls to empower and educate about them about self-improvement and our community.