Prosper Waco 2017: The Year of Progress & Productivity
By Christina Helmick
Like any year, 2017 had its highs and lows. As we enter the holiday season, we choose to focus on the positive developments in Waco and look forward with excitement to the new year. You only have to drive around downtown to be reminded of how much Waco has grown in the last year—new development, new restaurants and businesses, new energy in the heart of our city. The mission of the Prosper Waco initiative is to harness that energy and growth to create an environment in which all members of our Waco community can measurably improve their education, health and financial security.
2017
What are some initiative projects that happened in 2017? The Waco Employer Resource Network (WERN) began its initial work of connecting employees of partner businesses to the support of local social service agencies to make sure that they get the help they need to keep their job when they run into financial and other challenges. The McLennan County Community Health Worker initiative has trained a dozen community members to serve as community health workers throughout the city. The Waco ISD high school internship program doubled in size as more employers provided opportunities for students to work, learn, and earn this summer. The Landlord Liaison Project connects people looking for housing to a housing navigator, case management, and potential landlords.
McLennan Community College began offering its Work Readiness Certificate, built with local employers, to help job seekers be prepared to get and keep a job in Waco. MHMR, in partnership with numerous local school districts, is offering mental health services to more than 100 students on school campuses. The McLennan County Reintegration Program has supported dozens of individuals as they leave the county jail and work to become productive community members. And 325 McLennan County households saved a total of more than $110,000 on their electricity bills through the first ever Waco Power Switch program.
For information on these efforts, download the 2016-2017 Prosper Waco initiative report.
2018
What's coming next? At the 2017 Prosper Waco Summit, initiative partners revealed exciting projects that will continue our community's important work in 2018. Waco Foundation has spearheaded the creation of a community plan to reduce teen pregnancy in McLennan County. This plan will take coordinated efforts from schools, healthcare providers, churches, families, and others. Only two percent of teen mothers earn a college degree, and the children of teen mothers are more likely to be raised in poverty. Providing the community education and support to our youth to reduce the number of children having children will improve long-term education, health and financial security outcomes in our county.
Family Health Center began a variety of new programs in its effort to become a Community-Centered Health Home, including offering guided fitness activities at its new Wellness Center; partnering with Greater Waco Legal Services to give patients access to the legal support they need to address issues that harm their health; and urban gardening and fresh produce for patients and neighbors. The Start Up Waco initiative will connect community members with resources and support to create new businesses. Connecting with other entrepreneurs and with experts at Baylor, MCC, and our chambers of commerce will allow young and old Wacoans to become their own boss. And a downtown co-working space will be a place to make the magic happen. Click here to watch this month's Prosper Waco television show on the City's Cable Channel to learn more about these three efforts.
As 2017 comes to an end, it is important to take a step back and look at what our community has accomplished by working together to improve education, health and financial security outcomes in the Waco community.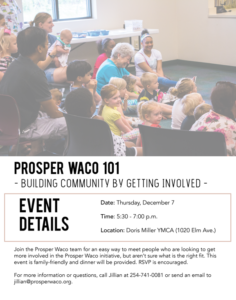 The work continues into 2018! If you want to get involved in the Prosper Waco initiative, there will be a Prosper Waco 101 session on Thursday, December 7 at the Doris Miller YMCA starting at 5:30 p.m. This fun and informative session will cover the history of the Prosper Waco initiative, some current projects, and ways to get involved. This is a child-friendly event and dinner will be provided. Please RSVP as space is limited!
If you are unable to attend the Prosper Waco 101 event, but still want to be involved, please email Jillian Jones ([email protected]) or call 254-741-0081.
From the entire Prosper Waco team, happy holidays and we look forward to the great work our community will do in 2018!
---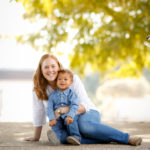 Christina Helmick is the director of communication at Prosper Waco. She is a recent graduate of Baylor University with a BA in Journalism, Public Relations & New Media. Originally she is from Washington, D.C., but has stayed in Waco post-graduation.  She is an active mentor at J.H. Hines Elementary School, enjoys spending time with her family and watching Baylor football. Sic 'em Bears!
The Act Locally Waco blog publishes posts with a connection to these aspirations for Waco. If you are interested in writing for the Act Locally Waco Blog, please email [email protected] for more information.