"What you did for the least of these…"
By Major Anita Caldwell
My husband and I left the USA to serve oversees with The Salvation Army in 2001. When we left, The Salvation Army was well loved and respected for the care and compassion shown to those experiencing homelessness.   Upon our return, I have wondered if attitudes have changed.  I am worried that our national attitude toward "the least of these" has drifted from care and compassion to irritation and impatience.  I hope our community can avoid following this trend.
A truly prosperous city has room for all people, it is a city that not only celebrates its success stories but embraces those who are struggling. I hope that as our own city becomes popular and prosperous we are careful not to turn our backs on "the others," but to open our arms.
The Salvation Army is one of the access points for Waco's Coordinated Entry Program for homeless families.  We are a part of a network of resources available in Waco. Those seeking shelter can come to the Salvation Army to be assessed as to which local program will best serve their need.
When we encounter a person suffering from mental illness, for example, we may refer them to the MHMR PATH program where they are interviewed for appropriate assistance. Sometimes we encounter homeless veterans who just can't bring themselves to sleep inside.  They end up sleeping beside our building which they consider to be a safe place.  We connect them to veteran services and the Veteran's Hospital.
Our primary goal at Salvation Army is homelessness prevention. If a family has an eviction notice, and we have available funds, The Salvation Army can work with the landlord, pay the rent and stop the eviction. This fall, for example, I sat in my office with Helen*, a hard-working mother of one child who works two jobs to pay her bills. Together we reviewed her income and expenses. She concluded that she would need to give up her new car because she simply could not afford the payments. Conversations such as these, also called case management, are a common everyday occurrence at The Salvation Army in each of our programs. We help find the root of the problem and encourage change that sets people free of needing help from others.
If the family is already homeless, we have three small rooms at Sally's House, The Salvation Army Emergency Shelter for homeless women and homeless families. Our goal is to educate, encourage and support these families as they get employment and move to their own apartments with rapid rehousing funds. Once in their apartments, we continue to have case management conversations that encourage successful changes and help them shift from dependence to independence.
The Homeless Management Information System data from the City of Waco, during three months this past fall, showed that 95 percent of people assisted by The Salvation Army are McLennan County residents – people of this county, this city. These are God's children who have lost their way. They could be your parent, your spouse, your sister or brother, or your child.  They definitely need more services than a meal, and that's where The Salvation Army asks the harder questions and seeks to find the real answers.
On a recent warm fall evening, I threw a plastic table cloth on the deck of Sally's House. Three children gathered with their moms as I gave them each paint, brush and canvas. Little wide-eyed Bobby* immediately went for the black and dark colors. You see, this was his first night at the shelter and there were many uncertainties in his little life. It took several words of encouragement before he looked over at Jason's* painting and decided to go for the brighter colors of green and blue. Jason, on the other hand, painted joyfully.  His picture included an open green field, blue sky and bright sun. You see, Jason and his mom had found safety and protection at Sally's House from a domestic violence situation. Jason's life was full of hope and happiness.
No matter how society has changed we still know that Jesus calls us to give the cup of cold water to the thirsty and care to the prisoner, the orphan, the widow… the neediest of Waco. He calls us to be the good Samaritan and to take those we find wounded and hurting to the Inn. That's why we remain steadfast in our mission.
---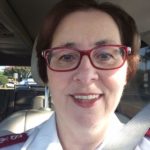 Major Anita Caldwell was born in Olean, NY, to a family of ministers.   She attended and graduated from Kentucky Mountain Bible Institute with a BA in Religion.  Her MA is in Pastoral Leadership from Olivet Nazarene University.  She and her husband, Bradley Caldwell are Majors in The Salvation Army and are Regional Coordinators for this area.  They have served as ministers of the gospel in The Salvation Army for 24 years.  After serving in three USA appointments, they were transferred as Regional Leaders in Moldova, Romania, Russia and the country of Georgia over a twelve-year period.  They received their Waco assignment after serving at International Headquarters in London, UK.
The Act Locally Waco blog publishes posts with a connection to these aspirations for Waco. If you are interested in writing for the Act Locally Waco Blog, please email [email protected] for more information.
*Names changed throughout to protect privacy.
(Visited 23 times, 1 visits today)