How can I help my child become school ready?
By Christina Helmick
Did you know that preparing your child for school starts before they even enter the classroom? School readiness is an essential part of the development of a child before, after, and during their years in school. A child's success is a parent's success, and there are many free resources to support the school readiness journey! Here are two free resources for you to check out:

Vroom is a free, bilingual tool that utilizes daily brain building activities that can be incorporated into a family's daily routine. Activities are based on the child's age and focus on parent-child engagement. Vroom, an initiative of the Bezos Family Foundation, was developed by a group of dedicated scientists, community leaders and trusted brands with input from community organizations and families like yours. Vroom is providing parents and caregivers with activities to boost early learning.

Literacy Kits are another great resource for both parents and children. Waco ISD early childhood experts worked with the library's staff to make sure the items included are items that will help a child become school ready. These kits can be checked out for up to 21 days. The Literacy Kits are funded by Waco Rotary Club and are available at all Waco-McLennan County libraries.
The School Readiness Working Group includes more than 20 organizations across the community that are committed to improving school readiness outcomes. This Working Group meets each month to talk about aligning activities and reviews best practices to bring into the Waco community to make sure all students entering school are prepared for success. If you'd like to join this group, send an email to Jillian ([email protected]) today!
The Working Group looks at data each meeting to make sure the strategies the group implements are addressing the outcomes the community agreed upon. In the 2016-2017 school year, 60% of students entering Kindergarten in Waco ISD were ready to learn, compared to 59% across the state.  Even more impressive is that in Waco ISD if the kindergartners attended a Texas Public ISD, they were 11% more prepared for school than the state average.
Beyond promoting free resources like Vroom and the Literacy Kits, early childhood leaders in our community have developed a list of 10 important activities to do with your child to encourage school readiness! Here they are:
Read to your child every day
Have purposeful conversation
Play, Talk, Read!
Explore through movement and play
Count, Group, Compare
Create a routine, such as bedtime or bath time
Take turns and share
Make and give choices
Limit access to technology
Create opportunities to be helpful, such as allowing your child to help wash dishes
Whether you're a parent, aunt, uncle, grandmother, grandfather, cousin, caregiver, school teacher or a community member dedicated to making sure generations to come are successful in school, it is important to get involved and share activities about school readiness!
Want to learn more about Vroom or the library's literacy kits? Check out "The Work" page on the Prosper Waco website. If you'd like to engage with other parents and community leaders committed to making sure each child is prepared to enter school, join the School Readiness Working Group by sending an email to Jillian ([email protected]).
---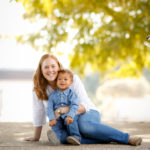 Christina is a graduate of Baylor University with a BA in Journalism, Public Relations & New Media and is currently pursuing a Masters of Business Administration through Tarleton State. She is originally from Washington, D.C., but is proud to call Waco her home. Christina sits on the Board of Directors for Waco Habitat for Humanity and serves as a community advisor for Junior League of Waco. She enjoys spending time with her family and watching Baylor football. Sic 'em Bears!
The Act Locally Waco blog publishes posts with a connection to these aspirations for Waco. If you are interested in writing for the Act Locally Waco Blog, please email [email protected] for more information.