Gardening Waco Part 3: Growing Communities
(For the other parts of this series, click here: Gardening Waco. — ALW)
By Aime Sommerfeld Lillard
This final instalment of Gardening Waco will come full circle back to community gardens in the area. The first thing I would like to draw attention to is that a community garden can be, but is not always, an allotment style garden. I believe that when the term community garden is thrown out, the vision that comes to mind often consists of a large plot of subdivided land where individual parcels are taken care of by families or groups. This type of garden system can be referred to as an allotment style garden. In these gardens, there is typically a written agreement, payment for "rent" or "lease" of the land, and rules that those participating are agreeing to abide by to be a part of that specific community.
Allotment style gardens are great. There is interest in Waco relating to this garden style both from potential participants and those wanting to provide the opportunity. However, regardless of garden style, it is important to fully understand the task at hand before breaking ground. What is the overall goal of the garden? What outcome do you (or your organization) want to see? Is your community garden: a) for the community, b) in a community, c) with the community? What/who is included in the working definition of your community? A garden is a project, or intervention if you will, that should be treated as any other community project to obtain maximum return on investment. Additionally, one doesn't typically start a garden with an end date in mind, so there really shouldn't be that stress of "hurrying" to get it finished. In actuality, the process has the opportunity to be as fulfilling as the product. It is also a way to provide involvement opportunities for some who don't actually want to garden.
Another type of community garden is a garden that is designed for community interaction, with specific opportunities for "digging in the dirt." This type of garden takes considerable planning and in my opinion, the more community input you have, the greater potential project sustainability. This garden is designed as a space to increase community socialization, provide a location for community activities, educate the community, support the community, and provide a few key individuals or organizations with an opportunity to share in care for something meaningful for their community.
I am extremely excited by a current opportunity to consult and design this type of garden here in Waco. Thanks to a Community Centered Health Homes (CCHH) grant from Episcopal Health Foundation to the Family Health Center, I am in year one of a three-year plan to create a community garden space on Colcord Avenue near the Madison Cooper Family Health Center Clinic.
You may be surprised that this is a three-year project, but that is one of the things I am most excited about. The extended time frame provides the opportunity to observe, network, speak with community members, clinic staff, surrounding neighbors and businesses to create a space with their needs in mind.  It gives us time to find out how we could utilize the location to increase green space in the neighborhood, provide an area for small walking trails, a place for families to hang out, a place to hold programs, and place to learn about gardening and how it can be done in a variety of ways.
This first year it won't really look like much is being accomplished. Priority is on community input, discovering ideas and elements for the garden that the surrounding community would like to see in the space. We know it is a garden; it will have herbs, it will have example vegetable beds, it will grow produce to demonstrate what is in the prescription veggie produce boxes, it will have seating and shade. We aren't sure if the shade should come from trees or structures.
How important is it to have places to sit and converse in the garden? Do we need seats for two, or seats for a group to sit around and talk? Do we need tables for card games or neat features that will entertain children? I do know we need a doggie doo disposal system. How, you might ask? Well, we are watching the space. Right now, it is a vacant lot, but we want to see how it is currently utilized. What are traffic patterns, do groups stop to talk there, is there a bus stop nearby, which buildings provide foot traffic, and so on.
You might be reading this and thinking it sounds a little more like a park than a community garden. Here are some differences. The garden will be growing herbs and produce. The produce will be utilized in cooking demonstrations as well as be a teaching tool for "what can you grow right now." It is likely we will have areas of the garden that can be "adopted" by an organization or group. However, I believe it is important for that support to come from within walking distance of the site. All of these things and many more will be decided as we have conversations and focus groups with our neighbors. This project is constantly evolving, what I have presented here has the possibility of changing, and I love that!
---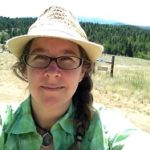 Dr. Aime Sommerfeld Lillard has cultivated a love for nature and gardening through multiple outlets. Dr. Lillard is a Texas A&M graduate with a B.S. in Agricultural Leadership and Development and an M.S. and Ph.D. in Horticulture with a focus on human issues in horticulture. Currently, Dr. Lillard contracts with the Urban Gardening Coalition (UGC) for the Waco Health District's Farmers Market Promotion Program Grant. She works in the Waco area through the vision of UGC to "strengthen local food production, improve access to healthy food, and empower folks to "grow their own" by creating a coalition that can impact a variety of horticultural education and grow through strategic partnerships.