Waco Women's Soccer League: Hey Ladies, Come Play!
By Jessica Russell Morrow
I have lived in Waco, Texas, since July 2012 and am a mother to two Boys (2 ½ and 5 months).
When I was a kid, my parents enrolled me in tons of extracurricular activities including softball, piano, basketball, bowling and golf. However, the one activity that stuck with me the most was Soccer. I grew up idolizing Mia Hamm, Brandi Chastain, Julie Foudy, Kristine Lilly, Joy Fawcett and Abby Wambach.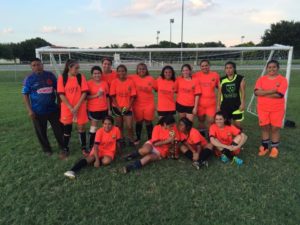 My interest in the sport was kindled by a supportive environment. I played throughout high school for both my high school and the Olympic Development Program. I remember the bittersweet moment of taking of my cleats at the end of the championship game my senior year of high school thinking, "This is it, I guess I won't need these anymore." I thought about giving away my cleats and shin guards. If I wasn't going to play in college why would I ever need them again?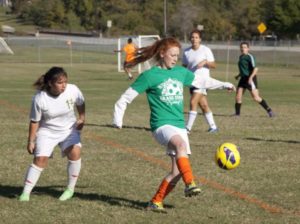 I ended up packing my cleats when I left for college thinking that there was a tiny chance I would get to use them again. Within the first week I found myself making new friends and playing pickup games. I ended up joining a co-ed intramural team that stuck together through college. After college I was sure that my soccer playing really was at an end. However, I was wrong again as I found pickup games and co-ed leagues for adults almost immediately. When I moved to Boston for graduate school there were so many different adult soccer leagues for me to join I could play every day of the week if I wanted. In 2012, my husband and I picked up our lives moved to Waco, Texas. It took me several months to adjust to the heat before finding the Waco Women's Soccer League.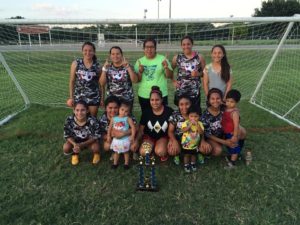 The Waco Women's Soccer League is a Saturday morning soccer league that plays across the street from the HOT soccer fields off Airport Road. The league is run by a few dedicated volunteers and functions with the help of a great relationship with the Texas Association of Sports Officials. Games are 7v7 including goalies. All the players in the league are busy women with a passion for playing. Unlike the sports I played growing up, we don't practice during the week. Players show up ready to have fun and dedicate themselves to two 30 minute halves before going about the rest of their Saturday.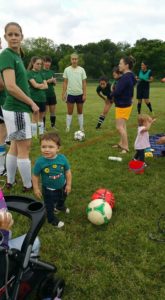 I have played with a team called the Grass Stains since finding this league. My team ranges in age from 19 to late 40s. Since joining, I have met many wonderful women and learned the power of women supporting women. This team has provided invaluable support to its players on and off the field. Off the field we have had players graduate high school, college, graduate, and law school; get married; have babies and return to playing after having babies; suffer injuries (both related and unrelated to soccer); complete marathons, triathlons and road races; and travel the world.
We have women who played Division 1 collegiate soccer passing along with 18 year olds fresh out of high school soccer. We have players who haven't touched a soccer ball in a decade and those who find a way to play every day of the week. We have moms, daughters, yogis, runners, cross fitters, triathletes, bikers, artists, singers, wives, lawyers, nurses, doctors, teachers, coaches, veterinarians, professors, students, chefs, administrative assistants, restaurant servers, and UPS managers. However, our identity off the field doesn't matter as we all share a common love for the game of soccer.
The Spring 2018 season is about to start and I am excited to get out there and look like an idiot as it will be my first full season since having my second son 5 months ago. I have done this post-partum journey before as I have a 2 ½ year old boy. I love having my sons on the sidelines cheering me on. My team has an entire cheering section with Husbands, Pets, Babies, Toddlers, Parents and friends. Teams recognize that family is important and many take turns watching kids on the sidelines while moms go play. We have several Dads who come to help on the sidelines as well.
I now have two boys, a 2 ½ year old and a 5-month-old. I am excited to introduce them to some of my passions and hope to be able to encourage them to develop a lifelong passion and excitement for something. My two year old is always watching what I do, so I am proud to have him watch me participate in sports. Sports, in general, has provided me with a therapeutic outlet and allowed me to make friends in where ever I go. Maybe my kids will like soccer, maybe they will enjoy something else… all current signs point to a passion for eating cheese and knocking over blocks.
Maybe athletics isn't your outlet, but If it is, I encourage you to try out one of the many family friendly sports opportunities in Waco.  So, ladies…Come Out and Play!
---
The Spring Season starts forming teams April 7th! (Just show up at 9 AM and we can get you placed on a team). Signing up doesn't actually commit you to playing every Saturday. Many teams have players come when they can.
What to Bring:
Shin Guards (must be worn during regular season games)
Water Bottle
$35 for League Fees
Cleats (recommended)
Goalie Gloves (if interested in a goalie position)
---
This great organization offers all kinds of adult sports ranging from volleyball to dodgeball to flag football
---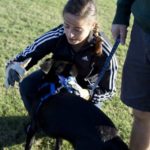 Jessica Morrow grew up in a military family and had the opportunity to live many places including California, Washington, Virginia, South Korea, Italy, Germany and Belgium. She settled in the U.S. after high school and attended James Madison University in Harrisonburg, Virginia where she earned a B.A. in English. She then went on to earn an M.A. in English at Northeastern University in Boston, Massachusetts. She moved with her (then) fiancé to Waco, Texas in 2012. He works as an Engineer at SpaceX. Jessica is currently the Assistant Director of Stewardship at Baylor University. Jessica and her Husband have two boys, (age 2 ½ and 5 months). She enjoys Hanging out with her family, Playing soccer, Running, Travelling, CrossFit and Yoga.
(Visited 171 times, 1 visits today)