Towny Waco: What Makes Baked Bliss Best for Everyone?
(Welcome to the Act Locally Waco/Towny blog series. Towny is an app that exists to connect consumers with local businesses. It's fairly new to Waco and is loaded with answers to the question, "Why local?" Through this blog series, the folks at Towny will be sharing the stories behind some of our high-quality, local products and helping you get to know some of our energetic local entrepreneurs. We hope you enjoy it! Supporting local business is a terrific way to support the Waco economy! Plus, it's just fun to get to know your neighbors. For more posts in this blog series, click here: Towny Waco.– ALW)
By Beth Whittington
"For 12 years, I saw this. Tutoring and mentoring North Waco students, we built real relationship, connection – and then we'd lose them to getting a job because they were needed to help support their families.
I observed that our kids were ill-prepared for real-life jobs – basic job skills like showing up on time, making sure you get a ride, getting along with your co-workers were a big challenge for our students, so a lot of kids lost their jobs as fast as they got them.
It put a seed inside of me. I thought, 'What is it that I can do, practically, to put us in a position where we would have something, a real-life place, for kids to come and learn those skills?"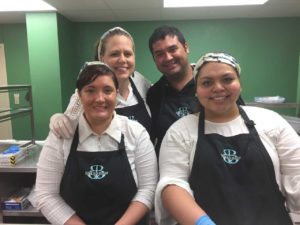 Kim Cutler, Waco resident of 32 years, has (obviously) spent years developing her "part" in caring for unsupported youth through the business of baking.
"I began to roll the idea around in my heart and saw that I practically enjoyed cooking and had already been baking with a lot of our kiddos. I thought it was a role the kids could handle."
She wanted to have something that wasn't a church program but a real-life pressure, where, the kids knew – this is really a job and you really have to be on time, have to do the job well.
Baking was something she knew she could bring to the table with excellence, so Kim began inching in that direction, a little at a time.
Where she inched:
Kim graduated from Baylor University – 1990
Antioch Training School – 1991-1992
Worked among Waco's unsupported youth – 1992-2007
Employed at Starbucks to prepare for running her own bakery – 2007-2014
Went part-time at Starbucks to push Baked Bliss, working out of her house – 2012-2014
Left Starbucks to bake full-time, out of her house, received an offer to bake wholesale goods for a large-scale company, giving her the opportunity to leave the house and get into a commercial kitchen – 2014
Ended the contract with the wholesaler – February 2018
Opened Baked Bliss (1114 N 15th St), Kim's walk-up with outdoor seating + misters, to the public – May 2017 to today!
What's something most folks wouldn't even know that's special about this place?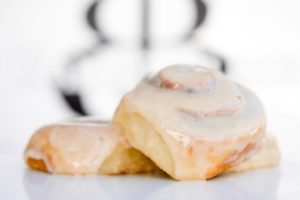 "A majority of our things are from scratch. Premium baked goods sometimes take extra steps. My goal is: let's do whatever it takes to make this the best product we can and put in people's hands. It might require more in labor, but it's going to be worth it.
I think that stems from growing up in a household where, what comes out of the kitchen from my mom, my grandmothers, whenever we had family coming over, you just always did what needed to get done to make this a dish or a meal that was going to be a real blessing for everyone.
What's it take to make a quality product? If i'm treating my customers like family, then it's not going to be, 'Yeah, that's good enough.' We just don't put it out there if it's not going to be exceptional for people."
So, what's on the menu?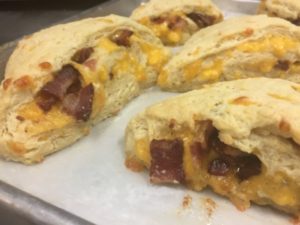 "We offer limited, breakfast menu items like quiche; our breakfast empanadas kind of have a Mexican flair to them. They're made with a lean chorizo with peppers, those are really good. Pastries. We're really well-known for our cinnamon rolls and our bacon cheddar scones. We always have some kind of pie on hand – and some cake. Like a good southern woman, so you have something on hand to offer your guest. A well-rounded sweet and savory menu.
You can order from us, too. Baked Bliss' tag line is 'Baked Bliss is a celebration of all things baked.'
We use food to celebrate life.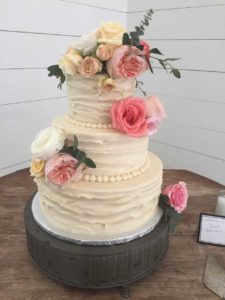 Someone gets a cookie for making a good grade on a test, we bring breakfast items over for having a baby, got engaged – we use a cake to celebrate. We use food to celebrate – I'd like to be a place where people think, 'Oh! We have a little celebration in our life. Let's head to Baked Bliss and get a little something to celebrate with.' Whether that's a wedding cake, neighbor that just moved in, cookies, there's always room to celebrate with a baked good."
What's after breakfast…dessert?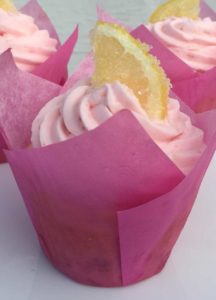 "Haaa, YES. Our chocolate chip cookies do really well. Lemon shortbread and pecan shortbread."
(I catch a practiced-to-perfection gleam in her eye as she describes.)
"It's a rotating cupcake offering – we try to offer at least three or four different flavors a day: two, featured specialty cupcakes and then a couple more standard flavors like chocolate, vanilla, maybe a red velvet. So, there are options. Those are Strawberry Lemonade cupcakes (which is amazing) and a ganache-filled S'more cupcake."
(I tasted these two offerings. If I were a dead woman, this cupcake made me alive. YES. That is a S'MORE. CUPCAKE. With a marshmallow-meringue topping. If I were you, I might think, "S'more cupcake? That's tooooo much." And then I ate it. And wanted five more. Sorry not sorry. True story. YOLO. Etc.)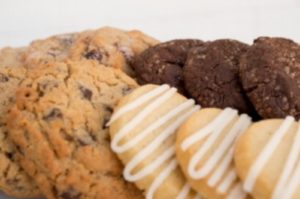 "People are spending their hard-earned money, and yeah, it's a cookie, it's a cupcake, but we live in a day and age where when people eat sweets, it's a treat. You just hope it's going to be something really delicious. That's what motivates me. My prayer is that, what we offer people is the very best that we can give. It just can't be about it just being good enough. It needs to have excellence on it."
When people buy local, What does it mean for the community? 
"I think with buying local, it's so significant to keep the money flowing here, local. That's what I love about Towny, because there's such a strong sense of community in our town to support local businesses. And it really does keep that going. Like when you think of going and getting some pastries from somewhere. Coming to our place … you are definitely keeping the funding IN your community. You're keeping that money flowing to support your community. Our mission at Baked Bliss is to serve the community quality baked goods and to serve peoples' lives. Being able to do that allows us to reach INTO the community, not just food, but to serve them emotionally and being IN the community and being PART of the community. I don't know, that's just a big part of me."
What's the next big thing for Baked Bliss?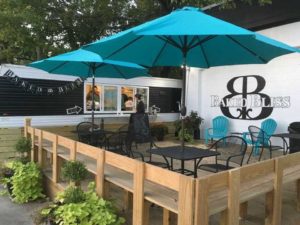 Next-step thinking for Baked Bliss would be solidifying and growing the Baked Bliss name. Longer term goals include taking Baked Bliss to other cities, both in the States and other parts of the world, where we see opportunities to serve. For now, we are still introducing people to the joys of Baked Bliss deliciousness. And learning how to bring our best to the table.
'Bliss' means 'heavenly joy' or 'complete happiness.'  We hope we can create a little piece of Heaven on Earth both in our food, but also in the experience our customers have when they come to visit."
If bliss is what you're after, head over to Towny – don't miss the local perks you + your loved ones can find when you download the app (for FREE). Once you've done that, check out what Kim is whipping up for you at Baked Bliss + change YOUR community, one meaningful purchase at a time.
Baked Bliss welcomes you! Enjoy their mist-ers when there's a line and while you eat your goodies on the porch! (Baked Bliss is located at 1114 N 15th St, open 7AM – 2PM most days.  Closed Tuesdays.  Saturday, 8AM – 1PM. Sunday, 8 AM – 11 AM.)
---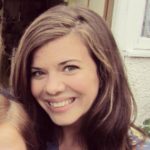 Beth Whittington remembers sitting on the Waco suspension bridge as a girl, visiting family friends. Legs dangling off, watching the Fourth of July fireworks spark the sky. Been a Waco local for the better part of 19 years.  Gaps explainable by the awkwardly untrue term of "ex-missionary"  Beth thrives on: generating ideas + copywriting. Can't wait to: visit South Africa. Favorite part of Waco: Bangkok Royale + the HOTHTC. Wants: everyone in Waco to get Towny because it'll make life better for us all if we let it. 
Take your local support up a notch – pop in Towny + have a look around.
The Act Locally Waco blog publishes posts with a connection to these aspirations for Waco. If you are interested in writing for the Act Locally Waco Blog, please email [email protected] for more information.