Full-time job. Full-time father. Full-time student.
By Madiha Kark with additional reporting by Neyra Bazaldua
Walk in to the Wells Fargo in downtown Waco and you'll probably see him, his smile is quick to appear as he greets customers, his eyes are framed by black rectangular classes, and his round gentle face is marked with a short, maintained goatee.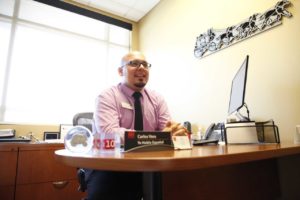 Carlos Vera is the branch manager. In addition to his full-time job, he is also a full-time student and a full-time father to four children. He has an office in the back of the bank, but he is rarely there. Carlos is usually at the front of the bank greeting customers and helping them with whatever brings them in that day.
For Carlos, it's been tough finding the balance between all these roles. "My motivation comes from many places and people. My wife and kids will always be my number one motivation, but I am most motivated when I have made a difference in someone's life." he says. When you hear his schedule it almost feels like he has more hours in the day than the rest of us.
Despite his myriad responsibilities, he carves out time to spend quality time with his kids. He also finds the time to participate in extracurricular activities such as, the Men of Color Success Initiative. The initiative is designed to address challenges for first generation college students, traditionally underrepresented groups, and students in need of academic and personal direction. The students are assigned a mentor to help them succeed.
At 35, Carlos is pursuing an Associate degree in Business Administration, he is not what is considered a traditional student, but he hasn't let his age hold him back. Carlos's mentor Dr. Ronald Hochstatter helped him apply for FAFSA and encouraged him to apply for scholarships through the MCC Foundation. "My first semester, I paid everything out of pocket, tuition, books, everything. I didn't know anything about FAFSA." The next semester he was able to get a refund, he couldn't believe it.
With college prices in the hundreds of thousands of dollars, more families are looking for ways to spend less for quality education. Student loans are one of the most significant debts that Americans carry and at MCC, there are countless options to alleviate that burden, whether through scholarships, affordable classes or providing students with the resources that will help them academically and financially.
Through sheer determination, hard work, and encouragement from his mentor, Carlos applied for the Hoover Title III scholarship and received it. The scholarship will cover his tuition and books, leaving him a little less worried about finances. The experience to be in college has been rewarding in many ways for Carlos, though he feels left out or mature for most activities his fellow students prefer, he appreciates the comradery and willingness to help each other.
Carlos will graduate in fall 2019 and hopes to attend Texas Tech University through the University Center at MCC. MCC has opened many doors for Carlos and he hopes to do the same one day for other students.
---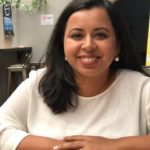 Madiha Kark is a Marketing, Communications and Photography Specialist at McLennan Community College. She holds an M.A. in Journalism from the University of North Texas. She loves to travel, cook, and read nonfiction books.
The Act Locally Waco blog publishes posts with a connection to these aspirations for Waco. If you are interested in writing for the Act Locally Waco Blog, please email [email protected] for more information.
(Visited 34 times, 1 visits today)