McLennan Community College Welcomes New Emergency and Risk Management Coordinator, Frank Patterson
By Cheyenne Atchison
Frank Patterson sat in a slightly broken chair in his nearly empty office.
"It's my first day, and I already broke my chair!" he said.
In March, McLennan Community College welcomed a new staff member to its campus. Frank Patterson, who served as the Waco-McLennan County Emergency Management Coordinator, is now the emergency and risk management coordinator at MCC. Patterson started his career in fire service in 1983, leading him to a job in the petrochemical industry and eventually coming to MCC in 1997 to start MCC's Fire Academy. Two years later, the city had an opening for an emergency services coordinator, and Patterson began his 20-year tenure there.
With his retirement at Waco-McLennan County and the new position at MCC, Patterson looks forward to a new program and direction. When he worked for the city, he built relationships with the local fire and EMS departments at both the state and federal level. Since some of the same disasters that befall a city can happen on a college campus, the same planning efforts he used at the County will be applicable at MCC.
"Weather does not discriminate. MCC is not separate from the city or county," Patterson said. The training implemented in local and state emergencies can be applied to MCC on a smaller scale.
The West Fertilizer Plant explosion in 2013 shows how training is integral to responding effectively in a crisis. Patterson led and worked with the city to respond and recover from the explosion. Because of previous training exercises, everyone was able to respond according to what they had learned and practiced. Since they knew one another and their roles, they were successful, collectively.
With the Twin Peaks shooting a couple years later and other manmade and natural disasters, Patterson and his teams have learned from successes and failures. Although not every situation is the same, there are basic operational procedures to follow. Through training exercises, emergency teams become familiar with these procedures and gain the confidence to apply them to real situations. According to Patterson, the key in just about every circumstance is to find out how big the problem is, to have good situational awareness, and to stabilize the crisis.
"When it comes to public safety in this country, we train together, we exercise together and we respond together," Patterson said.
Throughout the years, Patterson has seen Waco grow exponentially. This growth requires new ways to protect and care for the community. Patterson believes that the development near the Brazos River will be an interesting process to watch. As downtown grows and revitalizes, Patterson believes there is an increasing trend of living in more urban areas. The increasing popularity of Waco means more visitors and challenges, including events like Magnolia's Silobration or a visit from Supreme Court Justice Clarence Thomas. Each event has many moving parts regarding the safety of the city and spectators. With additional pressure and safety requirements, Patterson must collaborate with event organizers to assess risks and how they must respond.
"The city of Waco has always been primed to expand due to its location between Dallas and Austin," Patterson said.
Although some of the same methods for ensuring safety can be used at both the city and campus level, Patterson made it clear there are some distinct differences; one of them being MCC's size. With a smaller campus comes a higher concentration of people in one place, making some situations high profile and giving the campus a heightened sense of awareness. Patterson would like to train students and faculty on how to react to different situations. Ideally, he will create an Emergency Response Team of students, offering courses every semester to the various divisions on campus. By targeting groups with a stable membership, the program will be ongoing and sustainable.
"I think by engaging students and educating them, these safety measures will bleed into other areas," Patterson said.
Patterson and MCC Chief of Police Clayton Williams previously worked together through the Waco Police Department and will now collaborate to implement and improve safety measures at MCC. For Chief Williams, his goal is the safety of everyone on campus, which means ensuring policies are in place and equipping everyone with the right tools to be safe on campus. Patterson's new position includes coordinating those policies to drive response to a positive outcome through preparedness, mitigation, response, and recovery. With Chief Williams and Patterson both on campus, they look forward to providing for the campus community.
"This is it for me; this is coming home," Patterson said. "I will tell you I enjoyed it when I was here for the first time. The culture, the camaraderie, it was a great administration then, and it is now. That shows the amount of stability here on campus. This is it for me."
---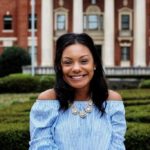 Cheyenne Atchison is a junior at Baylor University studying Marketing and Public Relations, and currently serves as an intern in the Marketing and Communications Department at McLennan Community College.
The Act Locally Waco blog publishes posts with a connection to these aspirations for Waco. If you are interested in writing for the Act Locally Waco Blog, please email [email protected] for more information.