May is National Bike Month: What's the status of biking in Waco?
By Christine Miller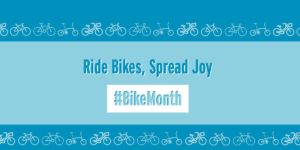 The month of May is National Bike Month. This is Waco's second year promoting and hosting community events to highlight and celebrate the possibilities of the bicycle and the many reasons we ride. National Bike Month is a shared experience by all communities, #BikeJoy, to build a more Bicycle Friendly America for everyone.
How to Participate during Bike Month within Our Community
May 8 & 22: Bike with a Ranger – City of Waco Parks and Recreation – Park Ranger guided tour along the Riverwalk in Downtown Waco. Will highlight historical facts about Waco's river corridor and landmarks along the route. Please meet by 6PM at the Suspension Bridge.
May 15: Ride of Silence – Waco Bicycle Club (Website: https://wacobicycleclub.com/) – A nation-wide, silent procession to honor cyclists who have been killed or injured while cycling on public roadways. Will include a reading of the Ride of Silence Poem, remembrance of local cyclists killed, and then a silent ride for about 6 to 8 miles. Meet at 6PM at City Hall fountain, located at Austin Avenue & N 3rd Street.
May 31: Critical Mass Community Bike Ride – Critical Mass Waco (Website: https://www.facebook.com/groups/47057872309/) – Critical Mass Waco leads a community bike ride the last Friday of every month. Celebrate National Bike Month with Waco's cycling community. Meet at 6PM at City Hall fountain, located at Austin Avenue & N 3rd Street.
Waco – Becoming More Bicycle Friendly One Year at a Time
A couple years ago, the Waco Metropolitan Planning Organization (MPO) issued an online survey about citizen's transportation and travel habits including cycling as a mode of transportation. Two of the most common reasons that created hesitation for Wacoans to choose cycling over driving a car included:
Knowledge of safe routes to ride
Lack of bicycle lanes or paths separated from vehicle traffic to provide a more comfortable route
In 2018 the City of Waco was awarded an honorable mention as a Bicycle Friendly Community from the League of American Bicyclists. City and MPO staff and the active cycling community have been diligently working on multiple projects to continue to improve Waco's bicycle culture and infrastructure for citizens and visitors alike.
How to Know the Best Roads and Routes to Ride around Waco
The City of Waco, the Waco Metropolitan Planning Organization and the Waco Bicycle Club came together over the past year to develop a map of the best roads and routes for riding your bike throughout Waco as a local or as a tourist. These identified streets have a natural inclination to be more bicycle friendly than others and are as direct as possible to key destinations – parks and community centers, schools, shops and business centers. In conjunction with the Convention and Visitors Bureau the first "Cycling in Waco" map is printed and ready for you to use.
You can pick up a free, printed map at the Tourist Information Center (At the Texas Ranger Hall of Fame, 106 Texas Ranger Trail), at the Waco Parks and Recreation Department (201 W. Waco Drive) and at the Waco Convention Center (100 Washington Avenue). You may even find it at your local bicycle shop.
The Cycling in Waco map is also available online at: https://wacoheartoftexas.com/plan/visitors-guide-and-map/
More Bicycle Lanes and Shared-Use Paths are on the Horizon
This is the first year that new bicycle infrastructure will begin to be signed and striped on our Waco streets in many years. In conjunction with the City's Pavement Maintenance Program and previously awarded federally funded grant projects new bicycle infrastructure will soon be on:
Lake Shore Drive from Wooded Acres Drive to N 19th Street
MacArthur Drive from McFerrin Avenue to Alexander Avenue
S 26th Street from Clay Avenue to Bagby Avenue
Elm Avenue from Martin Luther King Jr Boulevard to Forrest Street
11th/12th Streets from Downtown Waco to Garden Drive
Washington Avenue from University Parks Drive to N 18th Street
Londonderry Drive from New Sanger Road to Old McGregor Road
Herring Avenue from N 4th Street to N 15th A Street
Colcord Avenue from N 5th Street to N 18th Street
City staff are applying this year to federally funded grant programs with emphasis on multi-modal transportation to include a shared-use path on Mars Drive near Midway Middle and High Schools and a multi-purpose trail along the former Missouri-Kansas-Texas Railroad right of way in East Waco. The City is also applying to Safe Routes to School federal grants which if awarded will include infrastructure improvements for school-aged bicyclists and pedestrians in future years to come.
Bicycle and Scooter Share Pilot Program
A year-long planning and design process is finally wrapping up and Waco will soon have a bicycle and scooter share pilot program. Expect to see electric-assist bicycles and scooters in the Greater Downtown in June this year. Ride a scooter to your favorite place for a bite to eat in downtown. Take a sunset bike ride along the Riverwalk before you head home for the night. Be a tourist for a day, leave your car behind and enjoy the various local favorites and hot-spots via a bike or scooter. The City looks forward to seeing all of you taking part in this new way to get around town.
---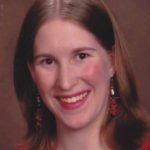 Christine Miller is a traffic engineer in training for the City of Waco Public Works Department. She has been with the City of Waco since 2015 and has been directly involved in improving the infrastructure for the bicycle and pedestrian community. Though she is not an avid cyclist yet, she does own a bicycle and takes it out on fair weather weekends to the Cottonbelt Trail and the Riverwalk and to trail systems in Round Rock and Austin. Maybe you'll see her at one of the scheduled Bike Month rides. She'll happily chat about genealogy, the Women's World Cup coming up this June, and the changes that are occurring in Waco.
(Visited 173 times, 1 visits today)