Voices for our Community's Children: Guidance & Support for CASA Volunteers
(This post is part of a series of posts about CASA – Court Appointed Special Advocates. – ABT)
By Chelsea Oliver, LMSW
When members of our community commit to volunteer with CASA of McLennan County as a Court Appointed Special Advocate, they are matched with a full time CASA staff member, their CASA Supervisor. Our CASA Supervisors are child welfare experts whose job is to support, coach and guide the CASA volunteers in their advocacy for children.
Read on for some Q&A with one of our CASA Supervisors, Chelsea Oliver.
What brought you to the CASA team?
My degree is in social work with a children and families concentration, so I have always had a heart for serving vulnerable populations. What drew me to CASA specifically is the unique role that we are able to play as advocates for abused and neglected children. The opportunity to truly make an impact in their lives and have a rich connection with them throughout their journeys in foster care is a responsibility and a privilege I do not take lightly. It is an honor to work alongside our CASA volunteers and the professionals in this realm while building personal connections with these children in working towards their best interests to find a safe, loving, and permanent home.
Describe your role as CASA Supervisor. How do you guide and coach advocates in their casework?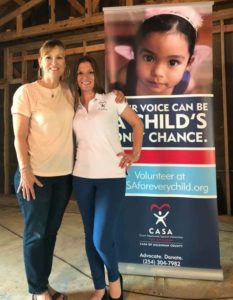 As a CASA Supervisor, I am here to be a guide to our advocates through the CPS process. I help them navigate through their advocacy and case. What this looks like on a routine basis is explaining the processes involved, answering any questions they have, and helping them in speaking with professionals in the field. I also join them on visits with the children or meetings with other professionals and work alongside them as they write their reports to the court. I provide examples and help gather information as needed, as well as provide revisions where needed before submission. We meet monthly to discuss the case. provide updates and make a task list for the next month as well.
What are some ways you support and empower your advocates beyond the technical coaching and supervision?
One of my favorite things to do is to send thank you cards to our advocates. I love being able to support them on a personal level. I also routinely send birthday cards and I try to send out regular e-mails updating them on what is going on within CASA at the moment. I try to really get to know my advocates – Who are they? What do they enjoy and what is important to them? What is going on in their lives? Building up some personal camaraderie can be a good foundation for teamwork.
What are some characteristics you look for in a quality advocate?
The most important thing to building a supportive relationship is communication. I always step in to help my advocates where they need me, and communication is key to that process. Also, it is important to be able to see outside of our own lenses in terms of different cultures and family dynamics. Volunteers who understand and value each child's individuality and their different family backgrounds make for outstanding advocates who really bond with and empower the children and families we work with.
---
To learn more about CASA of McLennan County and the need for more advocates, visit our website at www.casaforeverychild.org or find us on social media @casamclennan.
If you have questions or are ready to begin advocating for children in foster care, email our CASA Recruiter, Kate Gilbert, at [email protected].
Stay tuned for further weekly installments of our CASA story, with upcoming posts from two CASA advocates!
---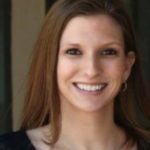 Chelsea Oliver, CASA Supervisor, CASA of McLennan County, is originally from Lorena and currently lives in McGregor with her husband and two kids. She is a Licensed Master Social Worker and has a Bachelor of Social Work degree from Tarleton University and a Master of Social Work degree from University of Texas at Arlington. Chelsea has past experience with elderly and medical social work and has enjoyed returning to her passion of working with children and families in her work at CASA.
The Act Locally Waco blog publishes posts with a connection to these aspirations for Waco. If you are interested in writing for the Act Locally Waco Blog, please email [email protected] for more information.
(Visited 180 times, 1 visits today)