Top 10: The Tool Shed thrift shop: a new Waco store to benefit Friends for Life
Top 10 "Most Opened" Blog Posts of 2019: # 7
By Easton Preston, MSW
Friends For Life (FFL) has opened a thrift shop to help fund our programs serving the elderly and people with disabilities. Instead of a normal resale shop with clothing and furniture, the Tool Shed refurbishes and sells used tools of all kinds. FFL got the idea of the Tool Shed Thrift Shop from one of our most helpful volunteers, Kevin Lane. Kevin and his wife recently moved to Hewitt and came to FFL's January open house.
After hearing Inez Russell's stories about FFL, Kevin approached Inez and her husband, Bill, about a Tool Thrift Shop in Fairport, New York that raises money for a charity that serves the elderly. That volunteer-staffed store collected tool donations and sold them for 50-90% off retail price. (Learn more about them here:https://www.youtube.com/watch?v=aXa9gHpBhlM&t=6s). It was such a great and unique idea that we decided to bring it to Waco. With a lot of help from Kevin and the Thrift Shop in New York, we moved forward on this idea this past March. Between March and August, we started advertising and collecting donations and volunteers. The soft opening was on August 14th and it has been going great ever since. In the past four weeks, we have customers that come in weekly to check out the new tools we have at great prices.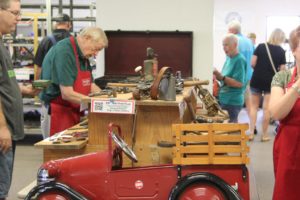 Over 100 people attended our grand opening celebration including Jimmy Don, who has done work for Joanna Gaines on Fixer Upper. Jimmy Don made and donated a metal sign of our logo that is displayed at the shop. Some of the festivities included raffle prizes including tickets to Baylor football, basketball, soccer, volleyball tickets, a Common Grounds gift card, a $50 gift card from Waco Custom Meats, a Magnolia gift bag and tour, a necklace from Waco Jewelers, gift cards to The Tool Shed, and a $50 Academy gift card. There were coffee and donuts donated by Dunkin Donuts and hot dogs donated by Super United IGA in Hewitt. Paul Catalina from ESPN came out for remote broadcasting and interviews. We even had an online silent auction of vintage, unique, and antique tools. Thank you to all who came out, donated, and helped us celebrate our official opening!
The Tool Shed depends on the community to help keep us running. Donations of old, new, used, or broken tools and hardware, volunteers to help, and shoppers are always needed. We need volunteers for a wide variety of things. Volunteers can help run the cash register, collect donations, paint, clean tools, fix tools, stock shelves, price tools, sort hardware and even help educate customers. Knowledge of tools is not needed. Volunteer hours are flexible. Come for two hours once a month or come every week, whatever fits in your schedule. Donating is easy! Stop by the Tool Shed to drop off a donation between 2 and 6 PM Wednesday through Friday or Saturday 10 to 3. Because of the help from Texas Junk Removal, we can also pick up your donated tools if that is easier for you. Contact Easton at the Tool Shed to arrange pick-ups or another drop off time.
The Tool Shed is located at 430 Lake Air Dr. It is currently open for customers Thursday and Friday, from 2:00-6:00 pm and Saturday from 10:00-3:00. We hope to see you all there!
---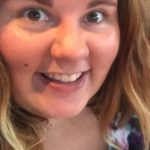 Easton Preston is the Communications Coordinator & Tool Shed Manager at Friends for Life. In 2017, Easton moved to Waco from Dowagiac, Michigan, to attend Baylor's Diane R. Garland School of Social Work with a community focus and in 2018 graduated with a Master of Social Work. In her spare time, she loves all types of crafting including quilting, making custom cups, home decor and more. Contact Easton at [email protected] or 254.772.8100 ext. 501
(Visited 907 times, 1 visits today)