Can you learn from confessions? Baylor's Confessions of an Entrepreneur speaker series invites local business owners to campus and lets them dive right into their confessions.
By Kathy Carr
I confess.
I drink too much coffee. I eat too much popcorn, specifically dill pickle popcorn. I have full conversations with my dog. I am a Grey's Anatomy super fan. Seriously.
There's nothing exceptionally juicy there and you really didn't learn anything life changing. Well, if you've never had dill pickle popcorn you are now destined to try it for no other reason than pure curiosity.
But for those of you who crave a little more dirt or something with a skeletons-in-the-closet effect, then maybe Confessions of an Entrepreneur (COE) is just for you. Admittedly, COE isn't quite as salacious as Luke finding out the identity of his father or the whole "we were on a break" debate. However, there really is a lot of good stuff jam packed into these one-hour COE events.
Not familiar with COE? COE is a lunch-time speaker series (12:30 pm – 1:30 pm) on Baylor Campus, hosted in the Hankamer School of Business by the Baylor Entrepreneurship Department. The purpose of COE is two-fold: to promote local businesses and to show the audience that there is more than one path to successful entrepreneurship.
COE is now in its fifth semester, and we've had such an eclectic group of local business owners take the mic. We've heard confessions of hitting rock bottom, redirecting a family business and simply changing career paths. So many different journeys to entrepreneurship.
We've learned the specific details of operating a non-profit, running a coffee house, owning a juice bar and promoting Waco tourism. Have there been hurdles? Absolutely. Have there been doubts? You bet. Have there been sleepless nights? For sure. Do they all think Waco is the coolest place to have a business? Well, duh. We've learned so much from these entrepreneurs.
The fine points of each story have been diverse, to say the least. But there is one overwhelming characteristic of each entrepreneur that will grab you and have you on the edge of your seat… PASSION.
Derek "McDreamy" Shepherd was known to say "it's a beautiful day to save lives" before his surgeries.
I can only imagine the COE speakers going to work each morning and saying things like it's a beautiful day to blend the perfect smoothie or it's a beautiful day to brew the best happy-in-a-cup or it's a beautiful day to delight with did-you-know Waco facts.
The COE talks are both informational and entertaining wrapped together in a beautiful green and gold bow. Will the speaker confessions completely change the direction of your life? Probably not. But they will certainly leave you with a I-never-thought-of-that moment or two.
There are typically two COE events a semester. They are always free of charge and open to the public. The next COE will be Tuesday, October 1. Catherine Ballas and Angela Beeler of REFIT Revolution will take the mic and confess. This talk will not be boring. In case you missed it the first time, this talk will not be boring.
You can almost hear Catherine and Angela say something like it's a beautiful day to share the love of fitness!
Stop by, grab a snack, pick your chair and enjoy the talk. It's confession time.
Confessions of an Entrepreneur with Catherine Ballas and Angela Beeler of REFIT Revolution
---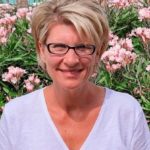 Kathy Carr is a Program Manager in the Baylor John F. Baugh Center for Entrepreneurship & Free Enterprise. She enjoys sipping a good cup of coffee and exploring all of the lovelies that Waco has to offer.