Prosper Waco Hires Tiffiney Gray as Senior Content Specialist for Health
Press release –
Prosper Waco is pleased to announce the hiring of Tiffiney Gray as senior content specialist for health. In this position, Gray will develop, coordinate and implement projects and initiatives that advance benchmark indicators in health for Prosper Waco. Gray will advance the work of collective impact by strengthening community relationships, networks and partners in the Waco area. In addition, she will be implementing a Collaborative Approach to Public Goods Investment project by researching and designing an effective intervention based on research showing the impact of addressing social determinants to change health outcomes.
"Tiffiney Gray brings experience and leadership to advance health goals for our community," said Prosper Waco CEO Suzii Paynter March. "Tiffiney will put her experience in medical research and community engagement to use with a national research team studying Waco and 14 other cities for behavioral health practices."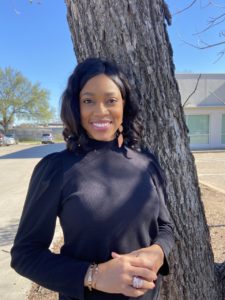 Gray has formerly worked as a research and development officer at Jackson State University, where she designed and secured funding for programs supporting early childhood education, minority student retention and campus wellness. She was previously director of The Salvation Army Corps Community Center in Jackson, Mississippi, a resource for children and families providing after-school enrichment and cultural programming. Recently, Gray managed multiple community engaged research (CEnR) projects at the Medical College of Wisconsin to include Community Health Improvement for Milwaukee's Children (CHIMC), Earlier is Better (EIB), and Milwaukee Prevention of Opioid Misuse through Peer Training (Milwaukee PROMPT) with funding support from the National Institutes of Health (NIH), Advancing a Healthier Wisconsin Foundation, Pfizer Foundation, and the Robert Wood Johnson Foundation. At MCW, Gray also supported graduate student and medical resident learning as coordinator for the Community Pediatrics Training Initiative (CPTI) and the Community Health Improvement III Course in the Department of Family and Community Medicine. Gray completed her master's degree in sociology at the University of Mississippi and has a longstanding passion for social justice and advancing health equity.
Prosper Waco is a collective impact initiative focused on addressing issues facing the Greater Waco community in education, health and financial security. As a facilitator and convener, Prosper Waco encourages collaboration among nonprofits, city and county governments, businesses, foundations and churches. The goal is to build on and increase the effectiveness of current efforts
and to develop new strategies to bring about measurable and sustainable positive change within the focus areas. For more information, please contact [email protected]
(Visited 427 times, 1 visits today)