By The Rev. Aaron M. G. Zimmerman
Jesus said, "Be rude unto others, as you would have them be rude unto you."
OK, he never said that.
But he might if he were faced with a pandemic.
Let me explain. The day after the mayor's shelter-in-place order, I went for a run. It's my favorite way to blow off steam, and like everyone else, I have been pretty stressed in these days of Coronavirus.
As I returned home (feeling much better), I ran into one of my neighbors. He was taking a walk around the block. He approached and we started to chat.
He was about ten feet away.
We talked about the new world of Facebook live-streaming.
He moved a little closer. Eight feet away.
We talked about the challenges of doing church these days.
He got a little closer. Seven feet away.
As the conversation veered into billiards, I started to get nervous. We were about to violate the social distancing six-feet-apart rule. And he's at risk: He's older and lives with a 90-year-old.
But I didn't want to be, you know, not nice. Could I tell him to back up? It felt, well, downright rude! I faced a dilemma: what is proper etiquette during Coronatime?
Then I remembered what Waco's CEO (Chief Etiquette Officer) Sarah Aynesworth told me: Etiquette is not fundamentally about salad forks and stationery. It's all about showing hospitality to other people, about honoring and respecting others. In other words, we are polite in order to be kind to others.
This was my realization: in a time of a highly contagious pandemic, when I could be sick and not even know it, when vulnerable people are at great risk, and when medical supplies are in short supply, the most polite thing to do is to be rude.
So here's what I did. I held up my hand. Just like Diana Ross and the Supremes did in 1965 when they sang "Stop in the Name of Love." Just like we did in the 1990s when "Talk to the hand" was a thing.
And I told my friend, "I don't mean to be rude, but for the sake of our families, we better follow this six-feet-apart rule."
My neighbor graciously backed up.
To paraphrase Elvis Costello, in these days, it's rude to be kind. So be rude! In the name of love, health, and public safety, be rude.
I invite you to join me in adopting the new Caronavirus salute: Hold up that just-washed-for-twenty-seconds hand and say, "In the name of love, back up!"
It's what Jesus would do.
---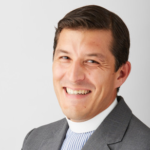 The Rev. Aaron M. G. Zimmerman has served as the Rector of St. Alban's Episcopal Church since 2013. He co-hosts a popular preaching podcast called Same Old Song (link: https://thesameoldsong.fireside.fm) and serves as a trustee of the Waco Foundation. He is an avid trail runner so keep an eye out for him in Cameron Park, his favorite spot in Waco.
The Act Locally Waco blog publishes posts with a connection to these aspirations for Waco. If you are interested in writing for the Act Locally Waco Blog, please email [email protected] for more information.