Corona threw college students for a loop. Caring professors made it work.
By Derby Carlson
I walked into the class with a sheepish smile on my face. It was the first day, and I was determined to make a good first impression, not just on my fellow students but also on the teacher. The only person I knew waved me over to an empty chair, and I immediately pulled out a journal to take notes. Do people take notes in English class? And then, the man himself walked in.
He walked in with a stack of quizzes.
My heart rose to my throat and I know I must've looked insane, staring at him as he passed out them out. But when he got to me, he paused and asked me what my name was again. I awkwardly laughed. "Derby," I said, "But this is my first day. I transferred from another class."
He looked immediately relieved. "I was afraid that I had forgotten you and didn't want to seem like an asshole professor."
I knew in that moment that my worries about having to "impress" this professor were not necessary. I just needed to be me and continue to work hard.
Now that I'm writing it, this sounds like the beginning of a high school drama… but this was college.
I had gotten into an English 101 course with a New York Times Bestselling Author. Our class had 14 students ranging from freshmen to seniors, all wanting to say they took a class from him. We met three times a week and I always sat next to one of sorority sisters, Ellie.
We loved the class.
I had a feeling that I would. I love reading and writing, and I wanted this man to be one of my mentors. But Ellie…she was the complete opposite. I asked her once if she ever wanted to take another English course with me, and she frowned, saying, "Derby. This is the only English I'll ever take."
But, this wonderful man made everyone care about the English language. I think it was because he cared so much about us.
When COVID-19 caused classes to go online, I was crushed. Not only because all my friends were going to be in different states, but because I was afraid of how online learning would go. I was afraid that this relationship that I had worked so hard to build with my potential mentor suddenly would be for naught. I felt much better when, after all the emails that the school sent, I got one from my English 101 professor.
In the email, he said that he was very saddened that our semester together had been cut short. He said that if we needed anything to just email him, and he would try to help us.
He was as good as his word. A few days later, I started the process to apply to be a counselor at my college's Young Writer's camp. The application asked for a reference, and I realized a reference from my professor would be perfect. So, I shot off an email asking if he would do it. He responded about an hour later. "For sure," he said. "That's wonderful!"
Not only did he care, but he also wanted to keep us in light spirits.
Before our first Zoom class started, everyone waited on mute for him to join us. It was extremely awkward. We were all just looking at each other, classmates across the country, but we could say anything. Then, the legend himself logged on. A wheeze escaped from my body when I realized what he was wearing.
"Hello guys," he said, cheerfully. A dark black and white bandana covered his nose and mouth. He looked like a cartoon robber about to rob a bank. He reached up and pulled down the make-shift mask. He smiled a sheepishly at the camera. "My son asked me to wear a mask for y'all every day to keep y'all in good spirits. I thought it was a great idea." I immediately got a text from Ellie: I love this man.
Even though we didn't have our classes in person anymore, there was a silver lining. As we prepared to write essays about the books we read in class, we got to have one-on-one conversations with him to discuss what we were going to write. Before going on-line, it would've been very hard to get this personal time with him. Normally, he would have been gone every few weeks to New York City, or to a conference to give a talk. With everyone staying home, we had more time for conversation.
So, despite not having class in person, I know my education did not falter. I would like to thank the New York Times Best Selling Author who made sure that was the case.
---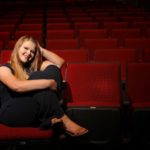 Derby Carlson just finished her freshman year at the University of the South in Sewanee, Tennessee. She is also a 2019 Waco High graduate.
(Visited 212 times, 1 visits today)