CWJC: Staying In and Stepping Up
This is part 1 of a 4-part series on The Christian Women's Job Corps of McLennan County. For all of the posts in this series, click here: CWJC. — ALW
By Lydia Tate
"I want to show my son school doesn't have to be scary."
"I have the confidence to dream again."
"I found my calling."
"CWJC gave me the skills and the foundation I needed to actually live."
As I read these words just over 10 months ago on a local charity's website, my pulse quickened, and I got goosebumps. I read on to find that CWJC not only impacts the Waco area – but chapters of this organization impact women around the world. More goosebumps. Nurturing women, transforming lives…Equip, Encourage, Empower…some of their key slogans and more great reasons to align with CWJC Waco. I sent my resume to the Board of Directors, I prayed and asked God to equip me.
Christian Women's Job Corps (CWJC) of McLennan County is a dynamic organization empowering the lives of women over the age of 18 in our area. The women who seek CWJC out are hungry for change, transformation, and accountability to meet their goals. They are often scared too. With the help of our steady volunteers, women receive one-on-one mentoring, case management, tutoring, and training. Our classes include money management, computer skills, job retention, resume building, interview skills, communication, Boundaries, GED prep, Bible study, and personal development topics. With a holistic, goal-oriented, positive approach, women graduate from CWJC's programs feeling empowered and confident. And they've done this since 2003 for hundreds of women with the help of thousands of volunteers.
Like I said before: goosebumps.
Becoming a part of CWJC's mission was like diving into a beautiful lagoon. It was easy to see why so many lives were being changed and why I got "all the feels" reading testimonial after testimonial. Then as I learned more – I saw how deeply invested in the community CWJC was and is becoming. I believe deeply in what I'm seeing modeled by CWJC – partnership is powerful. From our community partners to our volunteers, our donors to our interns – partnership is powerful.
CWJC Waco is on a partnership journey right now: normally we would be preparing for our annual dinner and silent auction on Sept. 22 called Baskets of Hope – a celebration of CWJC's impact to be sure. With COVID coming to town, we knew going into the summer that this event would be compromised.
"Staying In and Stepping Up" was the necessary choice CWJC made this year. Our grand celebration of the great work CWJC does has had to take a pandemic shift to www.wacobaskets.com. This year we traded the party for "the ask." This year we are asking for GED scholarships so 100 women can get their GED in the year to come. This year we are asking for laptop fund donations to help us provide for technology needs in light of our enhanced need for digital instruction in the pandemic. This year we are asking for monthly donations that can be matched by our underwriter, TFNB – Your Bank For Life. And this year, instead of tables and baskets – we ask for your generous sponsorships that provide Joy, Hope, Faith, and Love to the women of CWJC. Join CWJC in the mission of empowering lives by Staying In and Stepping Up at www.wacobaskets.com or call 254-757-0416 for more information.
---
---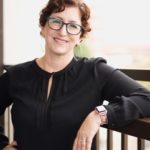 Lydia Tate has happily called Waco home since 2011, after spending most of her life in the Houston area. During her time as an undergrad at Houston Baptist University, Lydia found a passion and calling for the work of women's ministry. The joy of bringing women together to support each other became a career in nonprofit work at Sigma Phi Lambda as their first national Executive Director. Lydia is inspired by the great work that CWJC does in the community. She would love to share conversation with you over a warm beverage and chat about the mission of CWJC and how you can be a part of its vision. Lydia can also be found singing, playing piano, playing board games, and serving at her church, Calvary Baptist. She also enjoys life with her husband, David, their three sons, and their amazing dog, Cami.
The Act Locally Waco blog publishes posts with a connection to these aspirations for Waco. If you are interested in writing for the Act Locally Waco Blog, please email [email protected] for more information.