Renovation Complete at Historic Greenwood Cemetery
Press release, City of Waco. Additional Notes, Ashley Bean Thornton
The City of Waco is holding a Virtual Ribbon Cutting to mark the completion of the renovation of the Greenwood Cemetery. The edited virtual ribbon cutting celebration ceremony will air on WCCC-TV (available on Spectrum and Grande cable channel 10 and on the web at www.wccc.tv) at 10 a.m. on Tuesday, September 15.
Greenwood Cemetery is Waco's second oldest cemetery, dating back to 1875. While Greenwood is the final resting place for many of Waco's famous and widely celebrated citizens, it has struggled with the legacy of a segregated past.
The $435,000 improvement project was a collaborative effort to remove the boundaries that separated the "White section" from the "Black section" and place the entire cemetery within the City of Waco's care. Working together were families, citizens and former cemetery association members along with the Texas Historical Commission, Texas Department of Transportation, People's Cemetery Association, McLennan County, Methodist Children's Home and the City of Waco.
Here are some brief notes about just a few of the notable people who are buried at Greenwood.
Robert Bevis (1889 – 1972)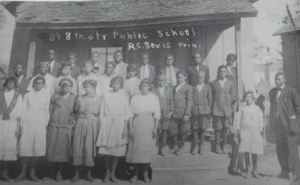 Robert Bevis was born in Austin. He attended Tillotson College there.  He later received a Master of Arts from Denver University in Colorado.  He organized South Waco Colored Elementary School (later named Oakwood School) in 1914.  He was the first principal and served in that role for for 44 years (1914 – 1959), minus one year for serving in WWI.  In November of 1915 South Waco Colored School moved into the first brick school for Negroes to be erected in Waco.  
Jules Bledsoe (1899 – 1943)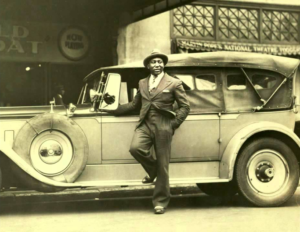 Even as a young child, Jules Bledose loved to sing.  He gave his first performance, age five, at New Hope Baptist Church. In 1918 he Graduated Magna Cum Laude from Bishop College.  In 1920 he began studying medicine at Columbia University.  After taking voice lessons, career plans shifted. In 1924 he made his professional music debut at the Aeolian Hall in mid-town Manhattan.  In 1927 his portrayal of Joe in Jerome Kern's Showboat launched him into the spotlight. His version of  "Ol' Man River" became a classic.  Known internationally, he performed across the United States and in Europe.  Despite racial discrimination his immense talent and skill earned him the right to perform with BBC Symphony in London, the Royal-Dutch Italian Opera Company, and the Cosmopolitan Opera Association in New York.  He was also a composer. He composed several songs and an opera titled "Bondage" based upon Harriet Beecher Stowe's novel Uncle Tom's Cabin.
Andrew "Lefty" Cooper (1896 – 1941)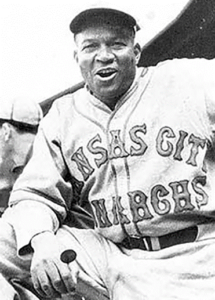 Born in Waco in 1896/1898, Andrew Cooper attended A. J. Moore High School and Paul Quinn College.  Prior to the 1940s, Black people could not play baseball in the American Major Leagues.  Cooper had successful careers in both the The Negro National League, and the Negro American League. He played for both Detroit and Kansas City. Cooper was known as one of the best pitchers in baseball.  He became player/manager of the Monarchs in 1937. By 1940 he had led Kansas City to three championships. Cooper died in 1941 only a few years before Jackie Robinson integrated the major leagues 1946.  In 2006 Andrew Cooper was inducted into the Baseball Hall of Fame.
Estella Maxey – (1904-1948)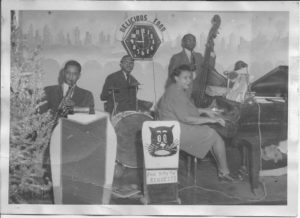 Estella Maxey was an orphan.  She was adopted by Gussie Moore and raised on South Second Street near Baylor.  Even as a child she was fascinated with music and would slip away to pick out tunes on the piano.  She had perfect pitch. During the depression she organized an orchestra to accompany her on the piano and began to play and sing to make a living.  Gradually she began playing dance music.  Soon she was "all the rage" playing at private parties for all the rich people in town. A generation of young people in Waco learned to dance to the sound of Stella singing "My Blue Heaven," "Lover, Come back to Me," "You're my Everything" and other hits of the time.  When she died in 1948, the Waco Tribune-Herald ran her obituary on the front page.
Dr. Vivienne Malone-Mayes (1932 – 1995)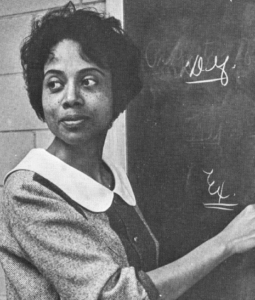 Vivienne Lucille Malone grew up in Waco and graduated at age 16 from A.J. Moore High School, not far from the Baylor campus. She earned bachelor's and master's degrees in mathematics from Fisk University. She chaired the math departments at Bishop College in Dallas and then Paul Quinn College, which was in Waco at the time. Because she wanted to take more graduate-level classes courses, she applied to Baylor in 1961, but she was rejected because of her race. In 1962 she enrolled at the University of Texas at Austin, which had been required by federal law to integrate. She persevered to become the second African-American and the first black female to earn a PhD in mathematics from the University of Texas.  After earning her PhD, she returned to Waco where she was eventually hired as the first African-American faculty member at Baylor University in 1966.  By 1971, Baylor Student Congress named her as an Outstanding Faculty Member of the Year. 
(Visited 296 times, 1 visits today)