The 4th Annual Deep in the Heart Film Festival Goes Virtual and Goes Big and Creative for Two Consecutive Weekends!
By John Wildman
The Deep in the Heart Film Festival makes a virtual return to Waco, and Texas, and for some of their offerings – the rest of the country, for its 4th edition, to be held on consecutive weekends September 25-27 and October 2-4. The film festival has built a reputation as an entertaining "home for filmmakers" and established itself as a taste making film event for the city in a remarkably short time and you can look no further that the Opening Night screening of local filmmaker Chris Hansen's festival-favorite SEVEN SHORT FILMS ABOUT (OUR) MARRIAGE for proof. Following that you can binge on the fest's ambitious lineup of themed short film programs, featuring multiple first-time team ups with local Waco arts organizations, and more innovations within the virtual space as well as filmmaker hospitality from afar. You'll have plenty of opportunity to catch something funny, dramatic, weird, enlightening, and surprising, as the film festival will be screening 123 films (7 features, 116 shorts and music videos) over the course of the two weekends.
Led by co-founders and directors Samuel Thomas and Louis Hunter, Deep in the Heart FF was forced to go to an all-virtual presentation due to the limitations and safety concerns set by COVID-19. However, rather than taking a step back due to the pandemic, they have continued the growth of the film festival, innovating, expanding their footprint in the city, and taking advantage of the virtual space to "introduce" those in other areas of Texas and the country to the charms and personality of Waco.
In addition to Hansen's romantic drama, SEVEN SHORT FILMS ABOUT (OUR) MARRIAGE, Michael Erger's PESCADOR, a serio-comic film which follows a recently divorced biochemistry professor's efforts to obtain her pot smoking boyfriend's "lazy sperm" during a fraught evening will make its world premiere. O. Corbin Saleken's THE DUMMY FACTOR is an entertaining Canadian thriller about a 12-year-old who recruits his friends to help him solve the mystery of a couple missing children with a host of suspects in their town to choose from, and Jonathan Seaborn's documentary DREAM WITH ME focuses on a "Dreamer" who took advantage of DACA, the Obama-era Deferred Action for Childhood Arrivals program. When the Trump administration rescinded the program, her life is immediately thrown into a state of limbo. The screening of the film will mark Deep in the Heart FF's first film presentation partnership with Waco Immigrants Alliance.
Other films featuring first-time partnerships with Waco-based organizations include; Jordan Bunch's LOVES GOD, LIKES GIRLS. Co-presented with Waco Pride Network along with a LGBTQIA+ shorts program entitled "Hearts and Minds," the film tells the story of a gay woman growing up in a small town in West Texas in the 60-70s in a conservative local church. The Waco Cultural Arts Festival will partner with the film festival for the first time for two screenings; Aaron and Amanda Kopp's animated film LIYANA, looks at the imaginations of five children in Swaziland as they create an original African tale about a girl on a dangerous quest. The film also features the executive producing debut by actor Thandie Newton. Jude Fokwang's documentary SOMETHING NEW IN OLD TOWN looks the lives and activities of young people in Cameroon, who strive to change their community, notably as "searchers" of locally adapted solutions.
Those are the features, but you would be wise to check out a few of Deep in the Heart FF's themed short film programs. It's a specialty of this film festival and not something that you would ever find on Netflix or Amazon Prime. These cinematic "mix tapes" go far beyond basic "drama" or "comedy" programs, led by a horror and oddity-themed block of shorts entitled "Friday Night Frights," which includes a mini-shorts combo from women directors entitled FATALE COLLECTIVE: BLEED, which launches the second weekend of programming on October 2. Other programs include the appropriately themed "2020 in a Nutshell," a Texas film and filmmaker focused "5 Star, Lone Star," a family-friendly program entitled, "Saturday Family Matinee," and another disturbing collection of short film curiosities entitled, "wtf?!?" Seriously, you want to carve out time to watch these.
Adding to the film festival experience beyond the screenings and Q&As for film fans, the Deep in the Heart Film Festival will feature access to a virtual Red Carpet on Opening Night, script readings, filmmaker panels, and an interactive scavenger hunt.
 
The scavenger hunt will challenge audience members to pay attention and find "easter eggs" in the background of film scenes or recurring themes and items. Wacoans and Texans who find the items and targeted themes will be entered into a drawing for a Waco-based prize pack (including restaurant gift cards, Dr. Pepper Museum passes, and a Magnolia Market T-Shirt). For aspiring filmmakers, there will be two filmmaker panels, including Inclusivity and diversity in Screenwriting – "Write What You Don't Know". As opposed to the adage, "Write what you know," this panel will discuss creating well rounded, authentic characters that do not share the same live experience as their authors. The second panel, Filmmaking and COVIDwill address how filmmakers go forward making their films working within a new pandemic reality. The panel will examine the protocols and best practices on set, and discuss how the filmmaking world has changed from story concepts all the way to playing the festival circuit. Whether you want to try to make a film or sit back and watch a bunch of them, Deep in the Heart Film Festival will be offering more than enough to keep you engrossed for a couple weekends. For passes, tickets and more information on the Deep in the Heart Film festival, please go to: https://www.deepintheheartff.com/.
---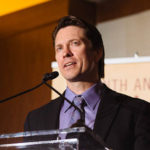 John Wildman, Filmmaker, Film Journalist, and Film Festival veteran
(Visited 95 times, 1 visits today)