New Act Locally Waco T-shirt shows off Animals of Waco
(Press Release) An orangutan, a duck, a mammoth and a bear — the 2020 Act Locally Waco T-shirt shows off the wild side of Waco! Designed by local artist Hanna Braud, the shirts are on sale now! Order yours today and proudly show the world you are "Wild about Waco!"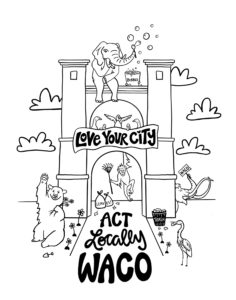 Here are some fun facts about the animals on the shirt:
Razak – Razak is the youngest member of Cameron Park Zoo's group of Bornean orangutans. He was born January 12, 2017 in Waco, Texas. He shares the orangutan habitat with his parents, Mei and Kerajaan (KJ); his aunt, Kutai; and Mukah, the other adult male orangutan at Cameron Park Zoo. You can see a statue of Razak and his Aunt Kutai at the University Parks entrance to Cameron Park Zoo. The name "Razak" means "protector."
Wise Elephant – The Bubble blowing elephant on the top of the bridge is our nod to "Wise Elephant" one of the sculptures in the Waco Sculpture zoo. The sculpture zoo is a collection of 28 animal-based artworks along the Brazos River trail between downtown Waco and the Pecan Bottoms entrance to Cameron Park Zoo. (Find out more at the Creative Waco website.) Wise Elephant was created by artist Trevor O'Tool. It is a humorous take off on the famous Rodin sculpture "The Thinker." Wise Elephant is life-sized, so you can sit beside him and see how big you are compared to an elephant!
Waco Mammoth – The Waco Mammoth National Monument preserves the nation's first and only discovery of a nursery herd of Columbian mammoths. Columbian mammoths were up to 14 feet tall and weighed as much as 20,000 pounds. More than twenty-four Columbian mammoths have been found at Waco Mammoth National Monument…and counting! The Waco mammoth fossils are organized by letters of the alphabet. Staff fondly refer to Mammoth "Q" as Quincy and Mammoth "W" as Wanda.
Baylor Bear – Baylor has had a live bear mascot since 1918. The first bear, Ted, was donated to Baylor by the 107th Engineers of the Army's 32nd Division. They were stationed at Camp MacArthur in Waco during WWI. The bears live in a special bear habitat on Baylor campus which is currently licensed by the USDA as a Class C Zoo. Since 1974, all of the bears have been named "Judge" in honor of Judge R.E.B. Baylor and Judge Abner McCAll who was president of Baylor from 1961 – 1981. The current bears are Judge Joy and Judge Lady. They are named after the wives of two former Baylor presidents. Judge Joy and Judge Lady are biological sisters and have lived at Baylor since they were cubs.
Ducks & Heron – The ducks and the blue heron represent some of the abundant wildlife, especially birds, in the Waco area.  The Great Blue Heron is a huge bird with a wingspan of 5 1/2 to 6 1/2 feet!  They are frequent visitors to the Brazos River and the Lake Waco Wetlands.  It's also fun to see how many different kinds of ducks come to swim on the Brazos River.  Some you may see are the Black-bellied Whistling Duck, the Mallard, and the Pied-billed Grebe.
---

(Visited 296 times, 1 visits today)