Waco Pride Network announces Vision 2025: Waco Needs Community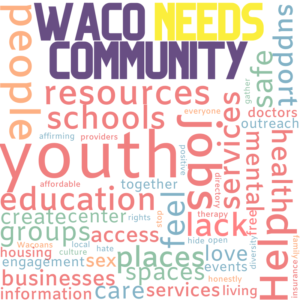 Press Release – Over the past month and a half, Waco Pride Network has gathered input from Waco's LGBTQ+ community and its allies on what the community's most pressing needs are, what Waco could be in five years, and what Waco Pride Network can do to pursue that vision. Today, that process reaches its conclusion with the announcement of Vision 2025: Waco Needs Community.
In the vision statement, Waco Pride Network notes, "When we sat down to look at the responses we received, we decided to focus on the words people were using. Three words immediately jumped off the page: Waco needs community. Suddenly, all the needs, fears, and dreams that had been expressed centered themselves around that message. Waco needs community. Waco needs community space. Waco needs community resources. Waco needs community support."
The vision statement focuses on the words Waco's queer community and its allies submitted during the public input process. "We need places to be together," wrote one individual. Waco Pride Network is responding with a commitment to pursue dedicated community spaces in Waco and a vision that these and other safe spaces be available and easily identifiable within five years.
"There's still a stigma," writes another individual, "which in turn can and does lead to bullying and being left out. I haven't noticed it as much here as in the TX Panhandle, but it's there. Kids are worried about being seen as 'different', especially when school is their only real safe haven. Quite a few have problems at home." The vision highlights the need for community support both within Waco's queer community and between Waco's LGBTQ+ folx and Waco in general. "The need here is deeply felt. Our community feels disconnected both from itself and the greater Waco community. We do not see ourselves in business, community, or civic leadership. We do not feel that Waco is for us."
Ultimately, the statement commits Waco Pride Network to pursuing a Waco with:
Physical Spaces that are committed to the use of the LGBTQ+ community
Safe Spaces that are readily available and easily identifiable
Resources that are identified as accessible and safe
Regular community engagement through events and a thriving digital community
The greater Waco community acknowledging the issues faced by the LGBTQ+ community
An LGBTQ+ community that feels supported by the Waco community, at large
Regarding what you can do, Waco Pride Network has a number of suggestions. "Keep an open mind and engage with the LGBTQ+ people you know," the statement says. "If you are welcoming and affirming…MAKE it known, hire an LGBTQ+ employee, serve an LGBTQ+ customer, or fund an LGBTQ+ entrepreneur."
Waco Pride Network works to foster Waco's LGBTQ+ community. The full vision statement can be found on Waco Pride Network's website (wacopride.org) and sections of the statement will be shared throughout the day on social media.
---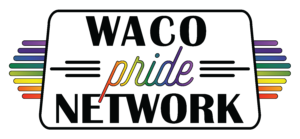 Waco Pride Network was officially founded in July 2018 as a nonprofit serving the LGBTQ+ community of the Greater Waco area. Waco Pride Network's keystone event is the annual OUT on the Brazos festival held each October. The all-volunteer organization continues to grow each year through community support.
(Visited 283 times, 1 visits today)