New MCC project aimed at increasing success of Hispanic and underserved students
By Olivia Evans
McLennan Community College has a long-standing focus on providing quality education to under-served populations in Central Texas. The College will continue those efforts with the help of a $3 million Title V grant from the Hispanic-Serving Institution (HSI) Program of the U.S. Department of Education. The grant will fund a project entitled First Year Focus: Developing Academic and Co-Curricular Student Support Structures to Improve First Year Outcomes. The College will receive about $600,000 annually over a five-year period.
With this project, McLennan will work to increase course completion, graduation, and transfer rates of Hispanic, low-income, and first-time-in-college students. The primary goal is "to build innovative support structures to create enriching academic opportunities that foster student success."
"When students drop out or stop out, most of the time it's not because they can't do the work. It's because life gets in the way. Providing more support will help them overcome the barriers that derail their progress," says Paula Unger, McLennan sociology professor and grant project director.
To serve McLennan's Hispanic and other underserved students, the program will implement a three-pronged approach to supporting first-year students: student engagement, supplemental instruction, and revamping the freshman orientation course, Learning Framework. This restructuring will focus on academic support services, peer leadership, career planning, financial literacy, and cultural competency.
"Our Title V efforts are about equity and meeting students where they are," says Unger.
The First-Year Focus Team is confident that these newly-implemented programs and resources will be beneficial not only to Hispanic students in achieving academic success, but to all first year and returning McLennan students as well.
"As a College, we can't progress if those who need a little extra help are ignored or left behind. Our community needs everyone's gifts," says Unger.
---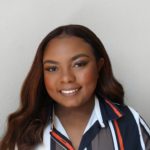 Olivia Evans is an intern in McLennan Community College's Marketing and Communications office. She is a senior at Baylor University studying Public Relations and Corporate Communications. Olivia is a Houston, Texas native and plans to work in sports and entertainment digital marketing.
(Visited 252 times, 1 visits today)