Thankful to Keep Waco Beautiful and this wonderful group of volunteers who, along with the Waco Parks and Recreation crew, worked together to establish a new garden at Bledsoe-Miller Community Center!
Featuring native, pollinator and drought-tolerant plants, the sensory garden will include a pathway park visitors can use to stroll through and enjoy the vegetation. A plant identification sign will also be installed in the coming days.
The project was made possible through a Keep Texas Beautiful grant, and we are grateful for beautification projects like these that the entire community can enjoy.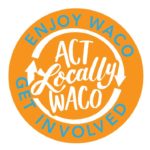 By Ashley Bean Thornton On February 21, 2013, I sat in a booth in my satellite office, Whataburger, visiting with…
Read More
Jobs & Job Related
Send your job openings to [email protected]
COOPER FOUNDATION is hiring for a full-time Operations Assistant: https://cooperfdn.org/about-us/work-here/

CASA is seeking to fill the following position:

Advocate Supervisor: Click here for the job description. To apply, please email cover letter and resume to Program Director Chelsea Sanchez at 

[email protected]

.org. 

McLennan County Dispute Resolution Center is seeking a full-time Executive Director and part-time Case Manager/Volunteer Coordinator. To apply, email a cover letter and resume to the transition team at

[email protected]

. Visit www.drcwaco.com for more information about the organization.
Mission Waco Mission World has three job openings – Community Organizer (part-time). Visit their website for more information.
Region 12 Education Service Center is seeking to fill three positions – Administrative Assistant - HOT Workforce Development Board, Secretary Il - Special Education, and Accountant III. Learn more and apply on the Region 12 website.
Waco Habitat for Humanity is seeking a Construction Supervisor to work with volunteers and homeowners to build Habitat homes.  See job posting here: https://wacohabitat.org/career-opportunities/.
Department of State Health Services Region 7 is seeking a Social Worker/Case Manager. Please click here for more information.
BAM Builders is seeking a Business Finance Manager. This position is responsible for monitoring BAM's accounting records and financial reports, analyzing statistical information, and managing payroll processes. Apply at Indeed.com.

Kimbrough Street Management

is accepting applicants for a

Cleaning Professional

position. Please post this opening in your weekly newsletter, until it is filled. Victory Employer Services is hiring multiple candidates. The link to apply is: 

Cleaning Professional.

Heart of Texas Builders Association

is seeking an

Executive Director

. This position is

 chief administrator for the organization and participates in development of policies. The Executive Director plans, organizes, directs, and coordinates programs and activities of HOTBA to ensure objectives are accomplished, plans fulfilled, and member needs are met. 

Link to apply:

Heart of Texas Builders Association: Executive Director

Greater Waco Legal Services has three open positions:

Family Abuse Center has three openings: full-time receptionist, full-time legal advocate, and part-time resident advocate.
Ascension DePaul Center has several open positions: Intake Specialist, Partial Hospitalization Program (PHP) Counselor, and Inpatient Counselor. The license requirements are LMSW, LCSW or LPC. Click on each position to see the details. (The descriptions look similar, but each one is different in details.)
Four Columns is seeking a Communications Specialist. Our Communications team is responsible for creating outstanding content for our clients, writing press releases, pitching stories to media outlets, and managing social media, among other related duties. 

Our ideal candidate will be able to demonstrate a strong ability to work independently to achieve core job functions — and a strong ability to collaborate with a team to create valuable marketing materials for our clients. We are primarily searching for a candidate with technical, oil and gas and/or technology writing experience. Communications team members frequently conduct extensive research into a wide variety of topics, thus the ability and desire to learn continuously are crucial to long-term success. 

Applicants can send their resumes to 

[email protected]

. More information is at LinkedIn

.

Waco Family Medicine: currently have approximately 34 positions open. Click here to view their postings.
McLennan Community College 

 – For more information or other jobs at MCC, see

MCC's Job Board

.

Methodist Children's Home has several openings. Head over to their website to view all 10 job postings.
(Visited 65,800 times, 36 visits today)