By Ashley Bean Thornton
One of the best things I did last year was to participate in the KWBU pledge drive for the first time.  I love KWBU; I love the people who work at KWBU; and I love that Waco is the kind of community that supports a public radio station, so when they asked, I was glad to help.  I only live about three miles from my work, however, and I do most of my radio listening in the car. This limits my exposure to some of the shows. As the time for the pledge drive drew closer, I felt the need to do a little extra NPR-loading in order to at least give the illusion of knowing what I was talking about during my "on-air" debut as a pledge-encourager.  So it was that I listened to my first Ted Radio Hour, and so it was that I was exposed to a new idea that has profoundly deepened my thinking about building a community together.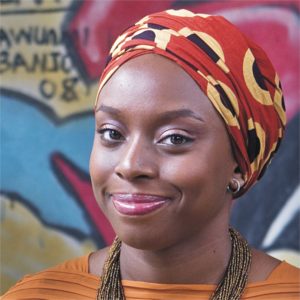 This new idea was a gift from Chimamanda Adichie, a storyteller and writer from Nigeria. Her Ted Talk is entitled "What Are The Dangers Of A Single Story? It is a beautiful talk, made more delightful by hearing it in her own engaging voice.  A story she tells toward the beginning of her speech captures the heart of her main idea for me, here it is:
"I come from a conventional, middle-class Nigerian family. My father was a professor. My mother was an administrator. And so we had, as was the norm, live-in domestic help, who would often come from nearby rural villages. So the year I turned eight we got a new house boy. His name was Fide. The only thing my mother told us about him was that his family was very poor. My mother sent yams and rice, and our old clothes, to his family. And when I didn't finish my dinner my mother would say, "Finish your food! Don't you know? People like Fide's family have nothing." So I felt enormous pity for Fide's family.

Then one Saturday we went to his village to visit, and his mother showed us a beautifully patterned basket made of dyed raffia that his brother had made. I was startled. It had not occurred to me that anybody in his family could actually make something. All I had heard about them was how poor they were, so that it had become impossible for me to see them as anything else but poor. Their poverty was my single story of them."
Adichie goes on to tell how, when she came to America as a student, she experienced firsthand the negative effects of the single story.  Most Americans she met had a single story about Africa – a story of deprivation and backwardness – and that lens distorted their view of her.  She explains in the speech that this notion of a "single story" is inseparable from the idea of power.  A profound kind of power is the power to tell a story about a person, or a people, and to have that story "stick" as the definitive or "true" story.
Near the end of the talk she offers this statement: "The consequence of the single story is this: It robs people of dignity. It makes our recognition of our equal humanity difficult. It emphasizes how we are different rather than how we are similar."
Wow!  I don't know if I helped KWBU raise any money during their pledge drive, but I will be thankful for a long time for the gift of this idea.
Who among us wants to be defined by a single story, especially if that single story is the story of our weakest moment or the worst thing about us?  How often have we done that to someone else? Have we taken bad advantage  when we were in the position of power to make a story stick? How do we approach some of our local challenges differently when we make sure to let the stories of resilience, creativity, fun, faith, work and determination drive our work along with the stories of poverty, need, mistakes, prejudice and disappointment?  What if we choose not to flatten and simplify our understanding of each other, but to enrich and complicate that understanding by gathering more stories?  What if people take back the power and responsibility of telling their own stories? What kind of world – what kind of Waco – might we build if we remember together that there is always more than a single story?